THE MODERN MINT BLOG
What is the seasonal food of July? What are the farmers and growers currently harvesting for our plates?
(Please note there are a few adverts on this page – why? Because we like the companies, they produce great food, and we want to encourage you to support their work – fuelling your body with the best food you can is important. As they say, it is better to pay the greengrocer than the doctor!)
Some pretty delicious stuff actually – this is the best of the British season and if it is locally grown and organic, you will hardly need to cook it (yesterday, from Riverford Organic, we got broad beans. They are already gone!)
Vegetables in season in July…
Samphire (get in quick with this one!)
Globe artichokes
Broad Beans
New Potatoes
Asparagus (though not for much longer! And the taste is so different to last month during the first week of harvesting…)
Wet garlic
Spinach
Runner beans
Nettles (use the young leaves, not the older ones… so cut a patch down if you have to and wait for them to resprout)
Lettuce
Radish
Elderflower (for champagne or cordial, of course)
Carrots
Cucumbers
French beans
Sugarsnap peas
Watercress
A number of herbs (for example basil, fennel and mint… don't be mean when you cook, use a big handful!)
Fruit in season in July…
Gooseberries
Cherries
Blackcurrants
Redcurrants
Raspberries
Strawberries (for Wimbledon. Raspberries are just as good though!)
We hope you grow at least some vegetables, herbs or fruit in your garden (or on your balcony, or wherever…)
If we could recommend one plant to start with? Rosemary. It looks after itself, smells amazing and you can harvest it for cooking with or using in flower arrangements. Perfect.
For more on how to eat seasonably (and the taste benefits are enormous) you need to read these…
June 27 th 2014
Sep21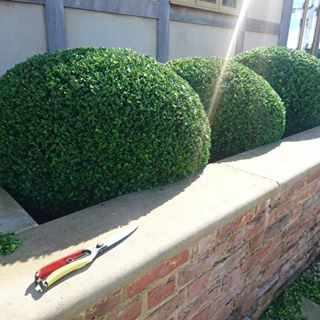 I was asked by the European Boxwood & Topiary Society to help out with answering a common question – How to sharpen your shears? So we spent a fun day making a video, that hopefully will help you make sure you have sharp, shiny blades to do your topiary pruning with. And you can find here more examples of the topiary I make with my sharp blades.
Aug16
You can get a ticket for this new talk I'm giving at the European Boxwood And Topiary Society here – TALK TICKETS It is on the 25th August at 6pm. It should be great fun and I'm very excited to be sharing some recent thoughts about topiary with people – and how it might work in a modern garden.
Jun14
If you have a subscription, you can check out an article about bespoke ideas for your garden in the Telegraph. There are some great crafts people there, so check it out. Click Here To See The Article About my Topiary Work In The Telegraph