THE MODERN MINT BLOG
We at Modern Mint had a lesson in scything the other day when visiting Waltham Place.
Here are 9 things we learnt…
1) It is normal to scythe without your shoes on (it is near impossible to cut your own foot, though very easy to cut your hand when cleaning or sharpening the blade…!)
2) English scythes have curves, Austrian scythes less so, and Eastern European scythes are straight. There are also lightweight scythes from the USA made of aluminium. These seemed to divide opinion between love and hate.
3) You know you are scything well when you hear a swuuushh… swuuushh… swuuushh… it is the most beautiful sound. Not that we heard it much when we were scything…
4) Scything is on the increase, with the factory in Austria that makes them struggling to keep up with demand.
5) You should not walk on the meadow before it has been cut – the scythe is used to create a pathway into the field for you to walk on. In Austria a hay field is treated with great reverence – it is said that if the crown jewels were placed in the middle of a hay field, an Austrian would not take them because they would not step onto the uncut meadow.
Of course, if they are that keen on scything, they may cut themselves a path towards it…
5) It is 70% technique and 30% grunt.
6) A great resource for purchasing scythes is here at The Scythe Shop. And you can learn a lot about scything by going here to the website of the Scythe Association.
7) The people who we met on the scything course were people who normally use strimmers and are getting sick of them. They mush up all the grass, are heavy on the arms and back, cost money to buy and the cord takes time from your day when you have to stop and fiddle about replacing it.
8) A good scyther can mow an acre of field a day. That includes clearing it up to!
9) It is better to cut grass when it is wet – so work can start earlier in the morning than with a mower, and because it is quiet can be done later at night.
How do we think Scything make be of use?
Savings on fuel and benefits to health are the obvious ones, but we think the most important reason to embrace scything is that it is easier to store the equipment. A small London garden may have a lawn, in which case it will also need a mower and a shed to keep that mower in.
Whereas a scythe can be placed on the wall (as we wrote about in My Garden) or even kept inside. It becomes an ornamental feature, as well as a useful one. Our favourite kind of product.
We are thinking about offering a scything service for the small lawns of London – does anyone think they would be interested? Email us or tweet to let us know your thoughts about scything!
July 29 th 2014
Oct11
Need a talk for your garden club? Via Zoom because of Covid-restrictions this winter? Then I can help! It is great you are trying to keep your club going, and though Zoom is not the same as getting a group together and talking about gardening live, of the moment, right now it is the best alternative we have got. How I Do A Zoom Talk For Your Garden Club I'm very happy to do Zoom talks and have moved about 20% online so far (from end of March 2020 to the start of October 2020) – although that number is …
Oct09
Just a quick message from a garden club last night after I gave a talk for them via Zoom… Hi Darren, We would just like to thank you for a very enjoyable and fun talk this evening for our first Zoom meeting! Think we can say that everyone enjoyed it, we have already had positive feedback from some of the members, obviously the way forward at the moment! We were certainly very pleased with the turn out for the first virtual meeting! If you are a garden club speaker and want to give it a try, then please do …
Sep21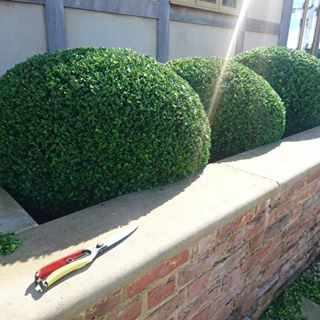 I was asked by the European Boxwood & Topiary Society to help out with answering a common question – How to sharpen your shears? So we spent a fun day making a video, that hopefully will help you make sure you have sharp, shiny blades to do your topiary pruning with. And you can find here more examples of the topiary I make with my sharp blades.