THE MODERN MINT BLOG
This June, we have been talking about planting trees in the UK.
Why Plant Trees In The UK?
Our recent Chelsea Fringe project was about using your garden to capture carbon.
One way of doing that was to plant trees. Trees take carbon from the air and turn in into…. themselves. Trees and woodlands are not actually the largest stores of carbon on the planet – that accolade goes to our oceans, followed up by our soils – but planting trees are a great way to capture some CO2 and keep it locked up, so that it does not contribute to warming our climate to a ridiculous (that means inhospitable) level.
We decided that in June, for every sale we had online we would plant trees here in the UK. It helps our landscape become a place full of woodlands, encouraging birds and bees and other insects to find home, improve their food chain and generally make the UK a more beautiful place to live.
Who wants to live in a denuded, harsh landscape?
Not us.
How To Plant A Tree In The UK
We don't currently have the space here at Modern Mint to plant a tree for every sale from our online shop, but there are places who can make it happen for you – and they are fantastic organisations to support.
The first, and the one we will be using for this tree planting project, is Village Farm.
We love Village Farm and what they are doing. We have written about them before and they were an inspiration for our capture carbon project. Do check them out.
The other place we suggest you look at is the Trees For Life project, who are restoring the Caledonian Forest and rewilding the landscape in the Scottish Highlands. It is quite something.
So far we will be planting 15 trees here in the UK, from sales online in June.
If you want to make that number bigger, either go visit our shop and make an order – it can be the cheapest thing, it really does not matter. We will still plant a tree. Or visit either Village Farm or the Trees for Life project and 'start a grove' of your own.
Planting trees in the UK is a great thing to do. Go make it happen – for Queen, for country… and for your future, most importantly!
June 30 th 2017
Sep29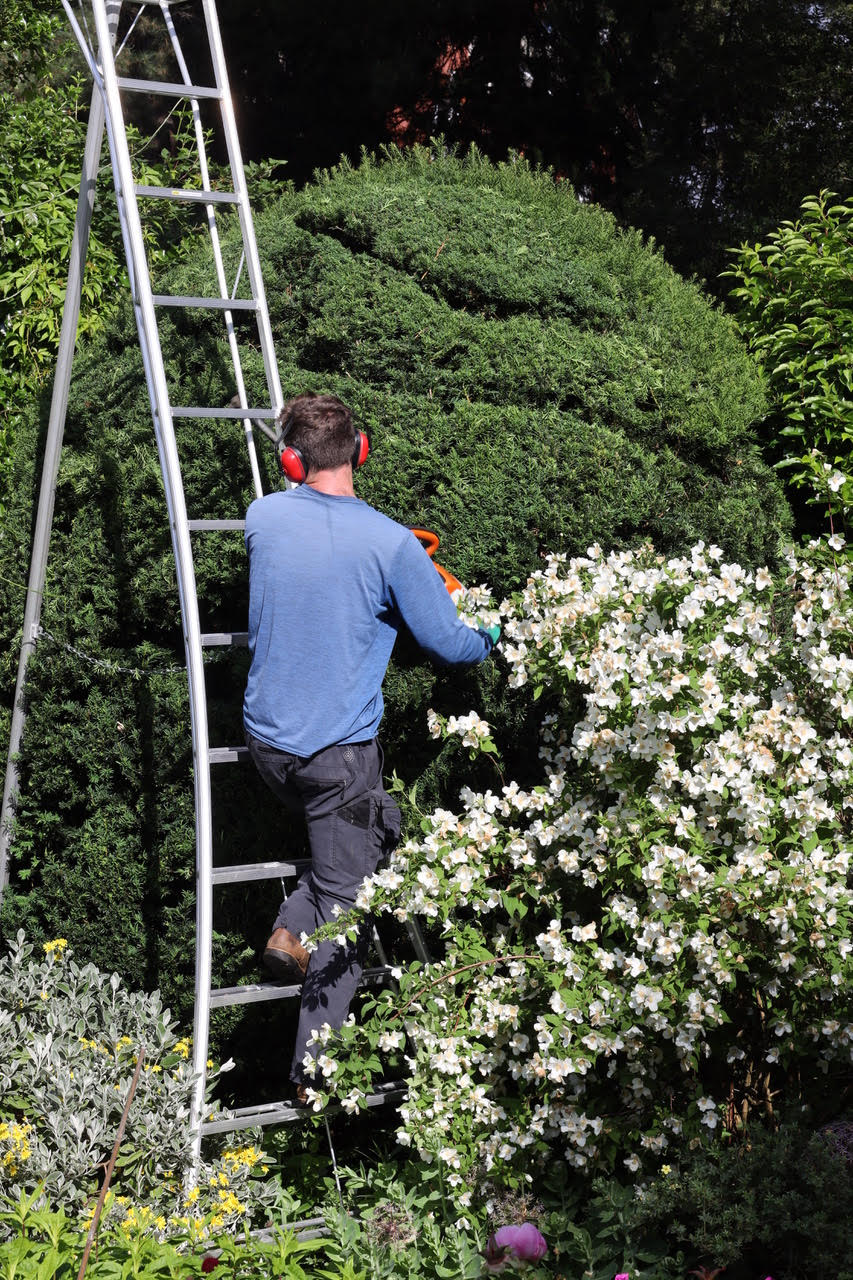 Making a new topiary out of the large, dull facade of a Taxus blob… My work was to change it up from a 'jelly drop' shape and give it texture, open it out and let the light through, and make it a sculptural feature in the background of the garden in summer… yet a major part of the garden in winter. A few more years before it becomes something special, but there was far more leaf and growth inside the plant than I thought and so it will not take too long for it to gain in character and become …
Sep27
Two weeks ago I was invited to teach topiary at the garden of Griselda Kerr, the author of The Apprehensive Gardener. I love teaching and sharing skills, but I was placed on the spot in the afternoon and asked to show how I would make a new topiary from an existing shrub. So below is a speeded-up video of me creating a cloud-pruned topiary from an old boxwood tree. I particularly love the ending when the class get involved….! See the video here. One hour was all it took, and though it needed a little tidying-up, it was made by …
Sep27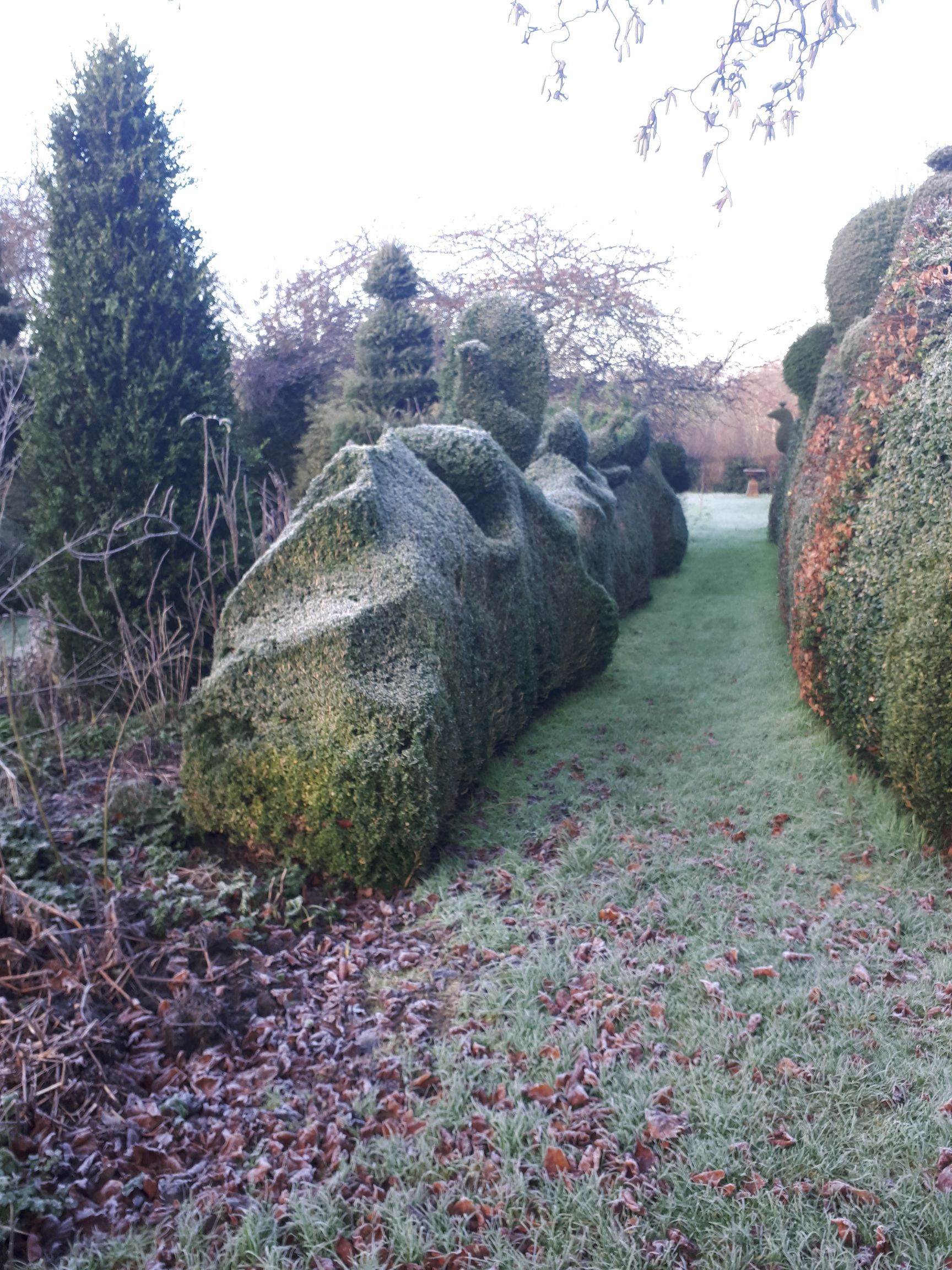 Charlotte Molesworth, my topiary mentor, and I are running our popular topiary workshop again in 2022. You can email me for details – or go here for information, your ticket and to find out about dates. Book A Spot On A Topiary Workshop, September 2022