THE MODERN MINT BLOG
Awhile back the internet and its web of click throughs led us to discover a relatively new farm right on the tip of the South Devon coast. We read a little about it, bookmarked the website to revisit, then promptly forgot it.
Then this interview with the farmer, Rebecca Hosking, appeared on the BBC – Wild Farming.
A brilliant 20 minutes of radio where Rebecca explains why they farm the way they do and what they hope to achieve, namely turning a neglected piece of land that would fail to inspire if farmed conventionally into a wildlife rich, productive habitat that sequesters carbon in the soil and provides nourishing, healthy food.
We have spent the evening reading the Village Farm blog. We hope you will do the same…
Read the Village Farm Blog now.
Wild farming at Village Farm – could this be the future of more farms?
July 21 st 2016
Oct11
Need a talk for your garden club? Via Zoom because of Covid-restrictions this winter? Then I can help! It is great you are trying to keep your club going, and though Zoom is not the same as getting a group together and talking about gardening live, of the moment, right now it is the best alternative we have got. How I Do A Zoom Talk For Your Garden Club I'm very happy to do Zoom talks and have moved about 20% online so far (from end of March 2020 to the start of October 2020) – although that number is …
Oct09
Just a quick message from a garden club last night after I gave a talk for them via Zoom… Hi Darren, We would just like to thank you for a very enjoyable and fun talk this evening for our first Zoom meeting! Think we can say that everyone enjoyed it, we have already had positive feedback from some of the members, obviously the way forward at the moment! We were certainly very pleased with the turn out for the first virtual meeting! If you are a garden club speaker and want to give it a try, then please do …
Sep21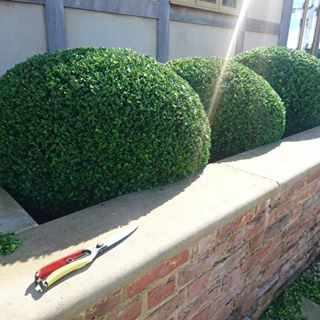 I was asked by the European Boxwood & Topiary Society to help out with answering a common question – How to sharpen your shears? So we spent a fun day making a video, that hopefully will help you make sure you have sharp, shiny blades to do your topiary pruning with. And you can find here more examples of the topiary I make with my sharp blades.