THE MODERN MINT BLOG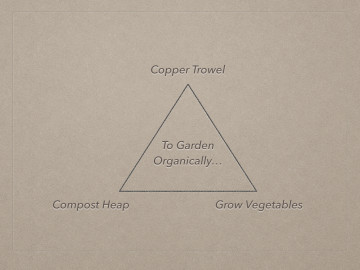 Do any of you read Permaculture Magazine? We have just found out about it and are very excited to see they not only sell lovely copper tools, but also have a fantastic website. On it you can:
Sign up to Permaculture courses.
Hear podcasts and watch videos about how people are changing the way they live to be more resilient and self-sustaining.
Find recipes for making use of plants and weeds you may not think about eating.
Get solutions for your own permaculture experiments.
(Oh, and you can of course buy the magazine….)
What is Permaculture?
"Permaculture is the design of an ecologically sound way of living."
We thought this quote was beautiful and really inspires us to think about how we garden, work and live.
We hope you will take heart from this phrase and begin to question, then seek answers, for a way of life that suits both yourself and the world around you.
If you want to know more about gardening organically, try this blog: Manifesto for the Modern Gardener.
July 5 th 2016
Feb10
There seems to be some underhand shenanigans going on here. Bob Flowerdew is threatening to resign. We face losing the UK's cornerstone organic garden. So please take a look at what is going on via the Facebook group…. go on! Go Now! Save Ryton Organic Gardens!
Feb06
Today we will be looking at Garden Design Trends in 2018. Just so you are in the know about what is cool and what is not cool in the 12 months ahead…. For the past like, million years I have shared my thoughts on what the gardening industry tell us the latest trends are going to be. If you are interested, you can see here the garden design trends for 2017. Or take a peek at my favourite of all the posts I have written – Alternative Garden Design Trends. This is my individual take on what the latest garden design …
Feb06
Well now, this is interesting…. UK Plans 50 Million New Trees in Northern Forest Likely? See the pitfalls? We love the idea and wholeheartedly support as much tree planting as possible. But are seriously doubtful that this is more than a sticking plaster solution to England being so vastly 'under-treed'…. or should that be 'overfelled?' Yet whether this idea happens or not, all we ask is that you please make sure you plant as many trees as you can in your garden!