THE MODERN MINT BLOG
Copper Tools. Why Do We Sell Them At Modern Mint?
You are probably reading this post because you have either just bought, or just received as a gift, a copper gardening tool. Or perhaps you have seen them somewhere and want to find out more about the benefits of copper gardening tools.
I first saw them at a biodynamic farm in Berkshire a few years ago.
Staff were using them in the most wonderful vegetable and fruit garden I have ever seen. There were some plants that had damage from pests, the odd crop that wasn't cropping, even a few weeds sprouting up here or there – yet still the garden was abundant with produce and the atmosphere in the vegetable patch was of a place that was loved and looked after with care.
This first experience of a garden where copper tools were used left me wanting to know more, so I bought a trowel and got out into the garden myself…
Why The Fuss About Copper Tools?
What I saw at the biodynamic farm showed that using copper tools on a regular basis will help your plants fend off attack from slugs and snails.
How?
Mammals, like us, have iron in our blood. It means we have our own independent magnetic field. Slugs and snails have blood based on copper, which means they don't have an independent magnetic field and so are more sensitive to the earth's magnetic force. Using non-copper tools to turn the soil you will leave a 'signature' in the magnetic field.
A snail comes along at night, following the lines of force they sense so easily, then get stopped at where you disturbed the field. It doesn't know where to go, so waits, and as it waits it notices the…
Lettuce
Hosta
Chard
Your Precious Vegetable….
… and so it starts to eat.
Goodbye lettuce. Good morning devastated vegetable patch!
(To get a sense of how the snail feels, imagine this. You are meeting a friend in a pub, are finding your way there by the maps on your phone. You have direction and purpose right up to the moment when your phone loses signal…
Then you get stuck. The signs are no longer there. You are lost. Confused. You need to take a moment to calm down and sort out what is going on. Maybe even get a cup of tea, if possible…
Of course, for cup of tea, read – lettuce.
By using copper tools you are guaranteeing a signal, a direction, for the slugs and snails. Keeping them moving and busy and away from your plants.)
Are Copper Tools Actually Made Of Copper?
Copper in its pure form can be moulded and spun into complex shapes without suffering any cracking. Adding a little tin to copper makes an alloy (bronze) that makes it even stronger and tougher. That is what the blades of all the tools are made of, each one individually crafted by hand.
Being bronze it means the tools won't rust, are hard wearing, have sharp edges (so please be careful) and I have noticed over the years of using mine that they slice into the soil far easier than steel does.
How Long Do The Tools Last?
The handles are guaranteed for two years and are made of European hardwoods – ash, beech and lime. They are beautiful and light and every bit as fine and lovely to look at as the copper. You should oil the handle with linseed every so often. The bronze blades have a 25 year guarantee.
With this guarantee the tools will last you a long time and so they fit into our philosophy at Modern Mint of only selling products of a fantastic quality – buy once, buy well.
How Do I Look After My Copper Tool?
Over time the tool heads will develop a slight brown patina. However that can be cleaned off with a metal polish if you want to restore the original shine. As with any garden tool, store out of the rain and direct sunlight when not in use.
There are two ways you can sharpen the tools; either file with a fine metal file or put the blade on a piece of wood and hammer it. If you use a file, run it slowly at an angle to the blade, at about a quarter of the speed with which you would sharpen a steel blade.
What Do People Say When They See These Tools In Person?
"These are too good to use!"
I think this is the phrase I hear most often after giving a garden talk! But please please please (and we mean this seriously) buy them and USE THEM – they are not sculptures, they are not meant to be hung on the wall.
Where of course they do look beautiful, but….
These are hard-working tools. They should serve their purpose.
Some people pick them up and start trying to bend and break them. The first time this happened, I got mad…
"What are you doing! Do you go into Wilkinsons and do this to their cheap hand forks?! Why pick on a product that is beautifully and carefully made, rather than mass produced?!?"
I am paraphrasing some of that. I'm not sure I sound quite that pretentious. (Or do I?)
The man looked at me, then the hand fork, then back at me.
He tried to bend it again.
It didn't break.
I started to laugh, both of us surprised by the way a garden tool could inspire such absurd behaviour in us. But that is the passion these beautiful copper tools inspire in people…
The hand fork had proved a point – well-made tools work.
The man bought it. A trowel too.
Who Else Uses Them?
Charles Dowding of the No Dig Philosophy is a massive fan. Waltham Place use them, as do Petersham Nurseries.
We use them and we are pretty passionate gardeners…
The Best Copper Tool To Start With?
The hand tools are a great place to start. The Mira trowel is great because it has a sharp, pointy end to dig up pernicious weed roots from the soil. The Castor trowel is great in the vegetable patch and is known as the classic trowel.
For something a little rarer, you can always try a Nunki Weeder… for the gardener who has everything…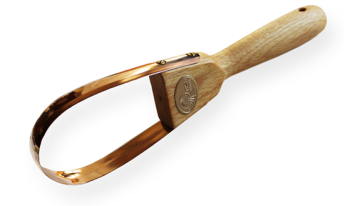 The full range can be found here.
If we haven't answered a question you have about the tools drop us an email. I'm more than happy to help!
July 10 th 2015
May03
Over the last two years I have been involved with a couple of projects that have ended up being recorded, then placed on Youtube or Instagram. I'm hoping they will be useful to you, so I have decided this morning to pop them together in one handy blog post so that you can bookmark the page and revisit when you need some inspiration for your topiary. See below then, a few videos about topiary I have recently been involved with… Garden Masterclass – Provocations of a Modern Topiarist Transforming Topiary Topiary Teacher Put On The Spot https://www.instagram.com/p/CTj-EfOKRL6/ In the above …
May03
Mark Zlotsky is an artist based in New York, and today I just wanted to share his project 'Topiary Tango'. In his introduction to the project he talks of topiary being a forgiving art, which I love and is soooooo true…..! For proof, just take a look at some projects I have made with a sharp pair of shears, a hedgetrimmer and a pruning saw. Do check out Mark Zlotsky's project, because although his interest began by looking at topiary through the prism of architecture and the relationship of one building to another, he touches directly onto a way of …
Apr27
Gardenista, the online magazine about gardens and design, have interviewed me about topiary. The article is called 'Rethinking Topiary: A Garden Tradition Loosened Up' and was published this morning. Written by the excellent garden writer Clare Coulson, I share some thoughts on using deciduous plants, how to clip (name-dropping Anne Lamott and her book on writing at one stage… oh, how I wander off subject sometimes!) and how to improve topiary by what you plant around it. Do take a look at the article in Gardenista. Or for more about my topiary work, check out the topiary page.