THE MODERN MINT BLOG
Why do we sell copper tools at Modern Mint?
You are probably reading this post because you have either just bought, or just received as a gift, a copper gardening tool. Or perhaps you have seen them somewhere and want to find out more about the benefits of copper gardening tools.
We first saw them at a biodynamic farm in Berkshire a few years ago – they were using them in the most wonderful vegetable and fruit garden we have ever seen. There were some plants that had damage from pests, the odd crop that wasn't cropping, even a few weeds sprouting up here or there – yet still the garden was abundant with produce and the atmosphere in the vegetable patch was of a place that was loved and looked after with care.
This first experience of a garden where copper tools were used left us wanting to know more, so we bought a trowel and got out into the garden ourselves…
So why the fuss about copper gardening tools?
What we saw at the biodynamic farm showed that using copper tools on a regular basis will help your plants fend off attack from slugs and snails. How? Here comes the science bit…
Mammals, like us, have iron in our blood. It means we have our own independent magnetic field. Slugs and snails have blood based on copper, which means they don't have an independent magnetic field and so are more sensitive to the earth's magnetic force. Using non-copper tools to turn the soil you will leave a 'signature' in the magnetic field. A snail comes along at night, following the lines of force they sense so easily, then get stopped at where you disturbed the field. It doesn't know where to go, so waits, and as it waits it notices the lettuce/hosta/chard/YOUR PRECIOUS VEGETABLES… and so it starts to eat. Goodbye lettuce, good morning devastated vegetable patch!
(To get a sense of how the snail feels, imagine you are meeting a friend in a pub, and are finding your way there by the maps on your phone. You have direction and purpose right up to when your phone loses signal… and then you get stuck. By using copper tools you are guaranteeing signal for the slugs and snails, keeping them moving and busy and away from your plants.)
Where and what are our copper tools actually made of?
The tools we sell at Modern Mint are individually handmade. Copper in its pure form can be moulded and spun into complex shapes without suffering any cracking. Adding a little tin to copper makes an alloy (bronze) that makes it even stronger and tougher, and is what the blades of all the tools are made of.
This means the tools won't rust, are hard wearing (the heads have a 25 year guarantee!) have sharp edges (so please be careful) and slice into the soil far easier than steel.
How long do the tools last?
The handles are guaranteed for two years and are made of European hardwoods – ash, beech and lime. They are beautiful and light and every bit as fine lovely to look at as the copper. You should oil the handle with linseed every so often. The bronze blades have a 25 year guarantee.
With this guarantee the tools will last you a long time and so they fit into our philosophy at Modern Mint of only selling products of a fantastic quality – buy once, buy well.
How do I look after the tools?
Over time the tool heads will develop a slight brown patina, however that can be cleaned off with a metal polish if you want to restore the original shine. As with any garden tool, store the tools out of the rain and direct sunlight.
There are two ways you can sharpen the tools; either file with a fine metal file or put the blade on a piece of wood and hammer it. If you use a file, run it slowly at an angle to the blade, at about a quarter of the speed with which you would sharpen a steel blade.
What do people say when they see them at the Modern Mint market stall?
"These are too good to use!"
But please please please (and we mean this seriously) buy them and USE THEM – they are not sculptures, they are not meant to be hung on the wall. These are hard-working tools and they should serve their purpose.
Some people pick them up and start trying to bend and break them. The first time this happened, we got mad…
"What are you doing! Do you go into Wilkinsons and do this to their cheap hand forks?! Why pick on a product that is beautifully and carefully made, rather than mass produced?!?"
The man looked at us, then the hand fork, then back at us.
He tried to bend it again.
It didn't break.
We started to laugh, each of us surprised by our absurd behaviour towards a garden tool (but that's the passion these beautiful copper tools inspire in people…)
The hand fork had proved a point – well-made works. The man bought it, and a trowel too.
Who else uses them?
Charles Dowding of the No Dig Philosophy is a massive fan. Waltham Place use them, as do Petersham Nurseries. We use them and we are pretty passionate gardeners…
What are the best tools to start with?
The hand tools are a great place to start. The Mira trowel is great because it has a sharp, pointy end to dig up roots from the soil. The Castor trowel is great in the vegetable patch, as is the Phoenix hoe. For something a little rarer, you can always try a Nunki Weeder… for the gardener who has everything…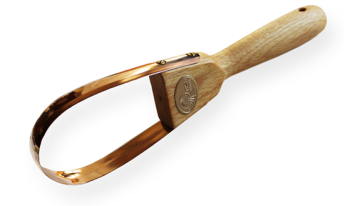 The full range can be found here – and if we haven't answered a question you have drop us an email at shop@modernmint.co.uk or call us on 01245 357654 for a chat.
Where on our shop can you buy the copper tools?
You can buy our copper tools here. 
July 10 th 2015
July 10 th 2015
Sep11
We now have everything back in stock on the pruning tools front – hurray! Take a look at what you might like for doing any cutting and clipping this Autumn…. Also, please note the following: We Are Away From Wednesday 12th September, Until Thursday 20th September, So No Orders Will Be Sent Out During This Time! Is that ok? If you do make an order and then realise we won't be sending it out, then we will send you a refund when we get back. Just let us know via email what you prefer. Otherwise, we will send out the …
Sep08
Sorry to people asking for some of our pruning tools, but we have run out of a few items and are waiting for more to arrive. I did a number of garden talks this week and demonstrated the quality of some of the tools. This led to a run which I hadn't anticipated! So apologies again if you are missing out, but everything should be back in stock by next week. Many thanks for all your support here at Modern Mint! Darren
Aug20
A brand new garden talk for 2019? My, what exciting news! Having had a busy summer, with the topiary work exploding after the Guardian article, I have plans to write a new garden talk for next year. So far I have written 6 different talks in the 4 years I have been running Modern Mint, 4 of which are still available for you to book. They are: What Do I Do With This Space? A garden talk that looks at how other cultures treat their outdoor spaces. A mixture of funny stories and practical advice, it shares techniques people from …