THE MODERN MINT BLOG
Penelope Hobhouse is a garden designer, lecturer, historian and writer. Below is her gorgeous book 'Gardens of Persia', an unusual gardening book in that it traces the history of paradise gardens – an eye-opener to the use of water and stone to us here in the UK who haven't (yet) visited Iran.
We have been meaning to write about Penelope Hobhouse for awhile, as it is her books we often dip in and out of when searching for inspiration or a spark of creativity. Especially since hearing of her latest garden 'Dairy Barn' in Somerset.
The garden is a tiny, courtyard garden
 and we fell in love with it the minute we saw photos. Check out our Pinterest page to see for yourself! We think what appeals is that it is so small (around 23 metres square) and the single storey brick house runs on an L-shape around two sides of the garden. Small enough to feel like a minimalist, big enough to look after properly. Or is it?
"Too many plants… I moved here in a great hurry. I bought 64 pots of plants with me and now I've got to weed things out."
Plants that are taking over and packing the space include:
Nnepeta racemosa 'Walkers Low'
Lepechinia hastata
Verbena bonariensis
Acanthus sennii (from Ethiopia, which she is growing outside for the first time.)
Stauntonia hexaphylla
Carpenteria californica
Solanum jasminoides 'Album'
Acacia pravissima
Valeriana officinalis
Chamaenerion angustifolium 'Album'
Self-seeded poppies
Eryngium ebracteatum
Phlomis fructicosa
Salvia nemerosa 'Caradonna'
Alliums
Nectaroscordums
Hoheria angustifolia (Not reliably hardy, from New Zealand.)
Boltonia asteroides
Olearia 'Waikariensis'
Punica granatum f.plena (A pomegranate…)
Teucrium
Phillyrea latifolia (good for use in organic topiary.)
Lathyrus odoratus 'Matucana'
Euphorbia x pasteurii
Bupleurum fructicosum
Campanula pyramidalis 'Alba'
Umbellifers of all kinds
Myrtle
Plus rare species of box and elms from Iran, clipped into cubes.
You will notice many of these plants are not hardy, but this garden is sheltered and so the likelihood (with a little luck) of them surviving is higher. It may also seem a random selection, with lots of unusual species of familiar plants – but Penelope, now in her 80's, has had a lifetime of experience and travel in order to discover them.
That is what we like so much about her – that she has such a wide knowledge. It inspires us to visit new places and look at the flora there – like when we went to Japan.
What though, is most important to her now in the garden?
"I want fewer annuals, fewer flowers, more green… at least I don't worry anymore about colour in the garden. Foliage and the shape of a plant are so much more important to me than its flowers."
For more on her garden you can get a back copy of Gardens Illustrated
, where we discovered it.
So do check out her many books on gardening – as we say, Penelope Hobhouse is one place we turn when we seek inspiration and a vast sea of knowledge to swim in…
August 20 th 2014
Sep21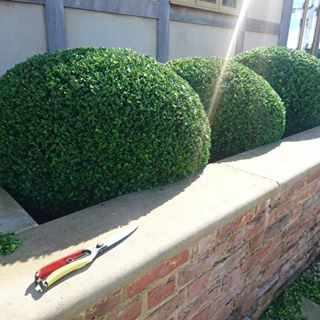 I was asked by the European Boxwood & Topiary Society to help out with answering a common question – How to sharpen your shears? So we spent a fun day making a video, that hopefully will help you make sure you have sharp, shiny blades to do your topiary pruning with. And you can find here more examples of the topiary I make with my sharp blades.
Aug16
You can get a ticket for this new talk I'm giving at the European Boxwood And Topiary Society here – TALK TICKETS It is on the 25th August at 6pm. It should be great fun and I'm very excited to be sharing some recent thoughts about topiary with people – and how it might work in a modern garden.
Jun14
If you have a subscription, you can check out an article about bespoke ideas for your garden in the Telegraph. There are some great crafts people there, so check it out. Click Here To See The Article About my Topiary Work In The Telegraph