THE MODERN MINT BLOG
National Lonely Bouquet Day is tomorrow (Sunday 29th June) – an initiative that seeks to put a smile on the face of a stranger!
We love this idea. Having grown cut flowers in the past (and that really is a beautiful job) we applaud any idea that helps encourage people to get out and use flowers they might not have considered before. Flowers that are seasonal, smell great because they are fresh, are grown locally and, best of all, make a stranger happy.
If you want to take part in Lonely Bouquet Day, here is what you need to do…
1) Pick flowers fresh from the garden or forage straight from nature
2) Arrange the flowers in a small, recycled jar
3) Add a signature "take me!" tag
4) Leave the homegrown arrangement behind for a lucky local to take home. Voila! You have just delivered a handful of flowers that will surely put a smile on a stranger's face.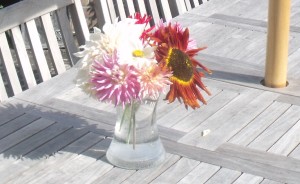 We hope you support this wonderful project – go for it, cut some flowers and make someone smile!
(For a bouquet that seems to do the opposite of the aims of the Lonely Bouquet, take a look at this from our Chelsea Fringe project… that lonely bouquet is pretty sad by the end, right? That's why we encourage you to spread the happiness tomorrow!)
If you are a complete novice with cut flowers, haven't a clue where to begin, but are inspired enough to want to give it a go… you can always ask us for help. Other clients have… Cut Flower Garden.
Or these books below will give you a huge amount of information – we recommend you check them out!
The Cut Flower Patch: Grow your own cut flowers all year round
The Cutting Garden: Growing and Arranging Garden Flowers
(This one below is more about cut flower growing in the USA, but the lady who wrote it introduces great case studies from other growers – invaluable and inspiring tips about how to make your cutting patch work!)
The Flower Farmer
Grow Your Own Cut Flowers
And for those who have arranged flowers before and want something a little more exciting to work with… how funny are these florist snips…?
June 28 th 2014
Feb10
There seems to be some underhand shenanigans going on here. Bob Flowerdew is threatening to resign. We face losing the UK's cornerstone organic garden. So please take a look at what is going on via the Facebook group…. go on! Go Now! Save Ryton Organic Gardens!
Feb06
Today we will be looking at Garden Design Trends in 2018. Just so you are in the know about what is cool and what is not cool in the 12 months ahead…. For the past like, million years I have shared my thoughts on what the gardening industry tell us the latest trends are going to be. If you are interested, you can see here the garden design trends for 2017. Or take a peek at my favourite of all the posts I have written – Alternative Garden Design Trends. This is my individual take on what the latest garden design …
Feb06
Well now, this is interesting…. UK Plans 50 Million New Trees in Northern Forest Likely? See the pitfalls? We love the idea and wholeheartedly support as much tree planting as possible. But are seriously doubtful that this is more than a sticking plaster solution to England being so vastly 'under-treed'…. or should that be 'overfelled?' Yet whether this idea happens or not, all we ask is that you please make sure you plant as many trees as you can in your garden!