THE MODERN MINT BLOG
Lent, a Christian religious observance that runs from Ash Wednesday through to Easter Sunday, is a special season for the gardener to – after all, the winter is fighting the onset of spring, the ground is beginning to warm and the daffodils are taking over from the snowdrops to provide a bright fizz of sunshine across the landscape.
But the idea behind Lent is important as well.
For Christians, Lent is a time to deny something from their normal lives. This is used as a way to prepare for Easter, but also gives space to the observer to consider the way they live.
This is the part that really interests us, as a gardener.
Winter is like Lent
The winter is almost a Lenten season for the gardener – the weather stops us getting outside and growing our vegetables and flowers, or trimming our shrubs, or cutting our grass. It is a period of dormancy, of rest, and we find ourselves battening down the hatches of our homes and getting a gardening fix from books and nursery catalogues – the practical nature of gardening is turned theoretical, and the fantasies of what we can grow when spring arrives normally gets us so excited we order vast quantities of new flower seed we will never have the space or time to grow.
(Hurrah to that little ritual, that every gardener knows!)
This space in our lives, this Lenten season, allows us to grow as  gardener. It allows us to question and discover the garden we want to have, where we have gone wrong previously and the projects we want to make happen in the coming year.
We love the winter for this and have been busily allowing our thoughts on gardening to run wild. Have you?
With A Little Space…
In previous years we have decided the following about our garden practises:
We will stop working for clients who insist the only way to garden is with herbicides.
We will try our hand at topiary.
We will grow cut flowers for florists (and how we miss that now we no longer do it!)
We will learn to use a scythe, then start a London-based eco-friendly lawn cutting service where staff dressed in black cowls take their scythes to different small gardens in the city to cut the grass. Staff will take the Tube to get to each garden, so making the world a more wonderful and weird place by populating the Underground with folk dressed as the Grim Reaper carrying his work tools. We loved the idea…
We will look more deeply into stock-free gardening (that is where you use green manures, not animal products to build soil fertility…)
As you can see, sometimes the Lent season for the gardener gives you the space to come up with a good idea… and sometimes a crazy one too!
Lent, for You
We hope Lent – whether the Christian period or the 'Gardening Lent of Winter' we have spoken about today – will encourage you to take part in this practise, to give yourself a little space and think about how you can become a better gardener.
Here's to Lent!
February 18 th 2016
Sep29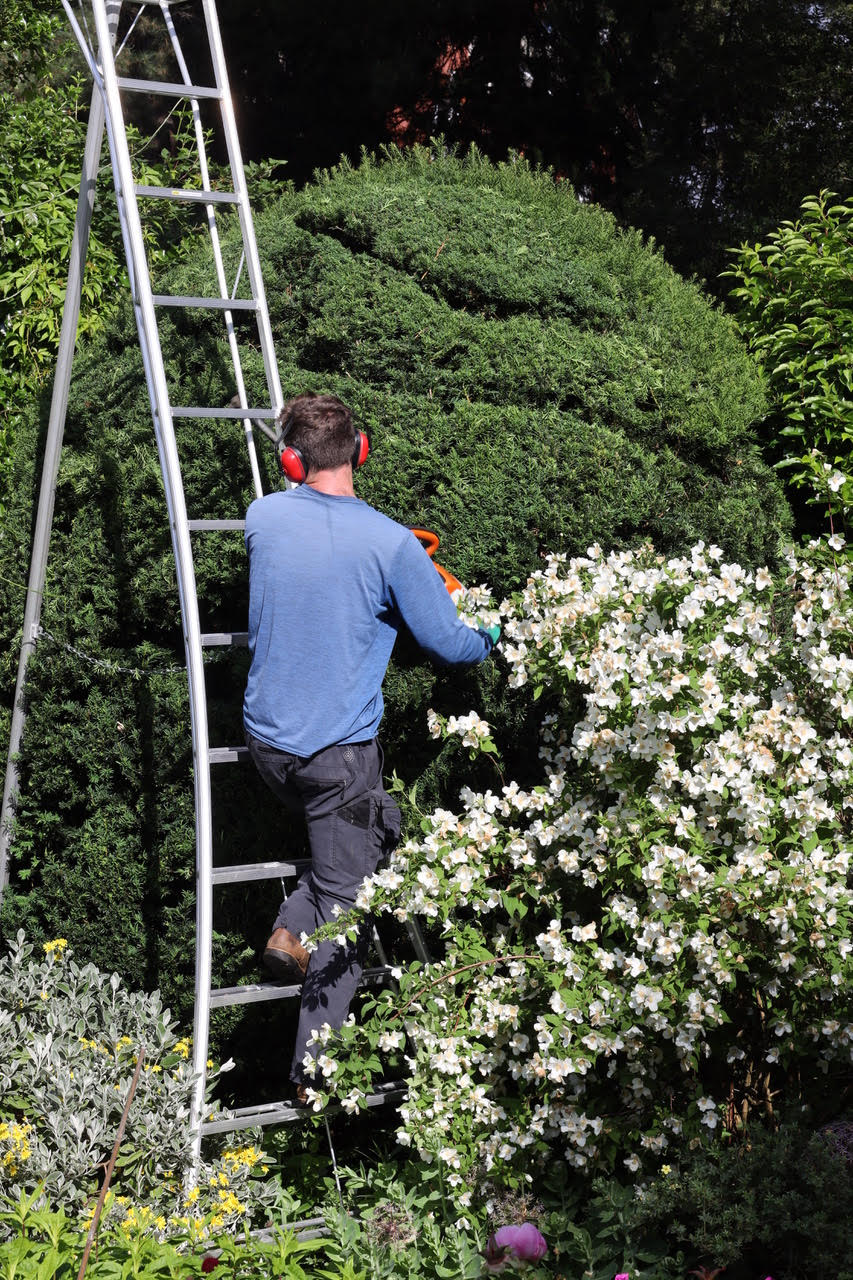 Making a new topiary out of the large, dull facade of a Taxus blob… My work was to change it up from a 'jelly drop' shape and give it texture, open it out and let the light through, and make it a sculptural feature in the background of the garden in summer… yet a major part of the garden in winter. A few more years before it becomes something special, but there was far more leaf and growth inside the plant than I thought and so it will not take too long for it to gain in character and become …
Sep27
Two weeks ago I was invited to teach topiary at the garden of Griselda Kerr, the author of The Apprehensive Gardener. I love teaching and sharing skills, but I was placed on the spot in the afternoon and asked to show how I would make a new topiary from an existing shrub. So below is a speeded-up video of me creating a cloud-pruned topiary from an old boxwood tree. I particularly love the ending when the class get involved….! See the video here. One hour was all it took, and though it needed a little tidying-up, it was made by …
Sep27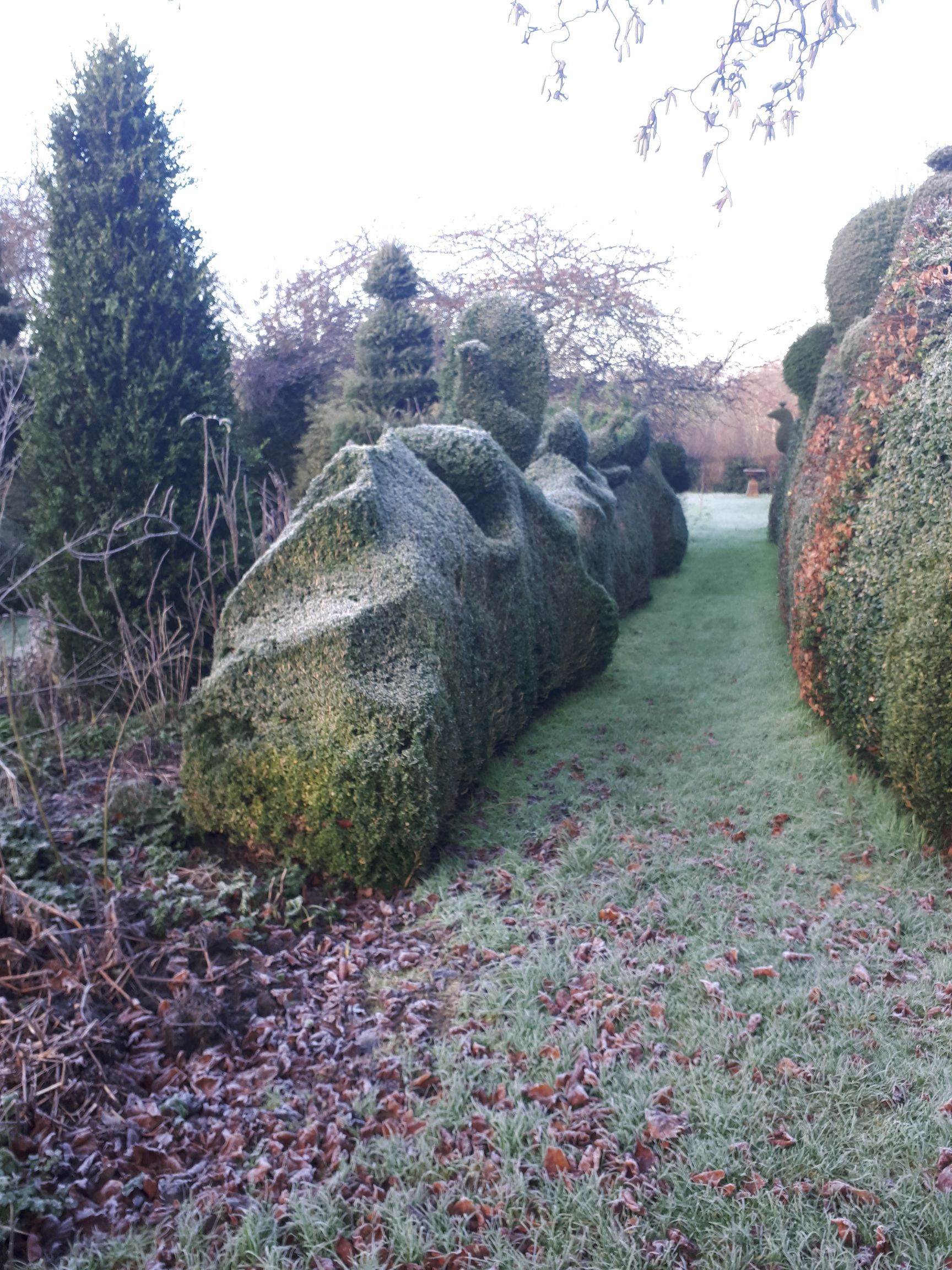 Charlotte Molesworth, my topiary mentor, and I are running our popular topiary workshop again in 2022. You can email me for details – or go here for information, your ticket and to find out about dates. Book A Spot On A Topiary Workshop, September 2022