THE MODERN MINT BLOG
We are big fans of the botanist and author Ken Thompson, who was a Senior Research Fellow at the University of Sheffield.
Ken Thompson – His Books Make Learning Fun
His books are accessible, fun and full of information. Which makes for pretty good reading.
What they do best though, is introduce you to ideas that you will be inspired by and interested in discovering more about.
So below we share some examples of Ken Thompson's words with you, from two of his books –
"The best single thing you can do for wildlife in your garden is to find a young tree and leave it alone. Failing that, plant one."
"Long grass is good for wildlife, and in short supply in gardens. If you want to leave some long grass, while at the same time convincing the neighbours that you are not some kind of dope-smoking layabout, by all means introduce wildflowers into the grass and call it a wildflower meadow. Most wildlife, however, will take no notice of the flowers – it's interested in the undisturbed long grass…"
"Maintaining soil carbon is easy: make as much compost as you can, grow lots of plants and go easy on the digging… in the UK, plants conatin only just over 1 per cent of our total national store of organic carbon – the rest is in the soil."
"…grow as many different flowering plants as you can, and make sure you cover the whole year, from Mahonia for the queen bumblebee that needs a snack on a warm day in February, to ivy for the butterflies that need one last fill up before the winter."
"As we become wealthier and eat more meat and processed foods, and acquire more consumer goods, vast quantities of water are needed for their production… every small bag of imported salad from the supermarket exports another 50 litres of drought to the Kenyans who grew it…"
"…the new, fertile landscape created by intensive farming delivers cheap food (for animals and people) in unprecedented quantities… unfortunately that's all it delivers. The challenge is to devise multifunctional landscapes that also deliver better water quality, less soil erosion, more carbon storage and healthier and happier livestock, and are also less dependent on cheap oil…"
"In evolutionary terms, the Cape's plants are astonishingly young, which perhaps explains how many of them manage to be so rare – there are only a few hundred individuals of many Proteaceae. Are these future successes at the start of their careers, or failed evolutionary experiments on their way to extinction?"
"Birdlife International reckons that with £19 million over the next five years, they could save from extinction all the world's 189 critically endangered bird species… I've seen such sums described by conservationists as 'vast', but it's hard to see why. For some reason it's seen as naive to point out that tiny fractions of military budgets could pay for this without anyone really noticing."
Ken Thompson also writes for the Telegraph, articles like this one on using crocks for drainage in pots…
It is a classic example of how he makes you question and think about traditional gardening advice.
On Thursday his new book Where Do Camels Belong?: The story and science of invasive species
is out on Amazon. Discounted at the time of writing!
Or you can read more from him on this blog post about his Panda book.
March 18 th 2014
Sep29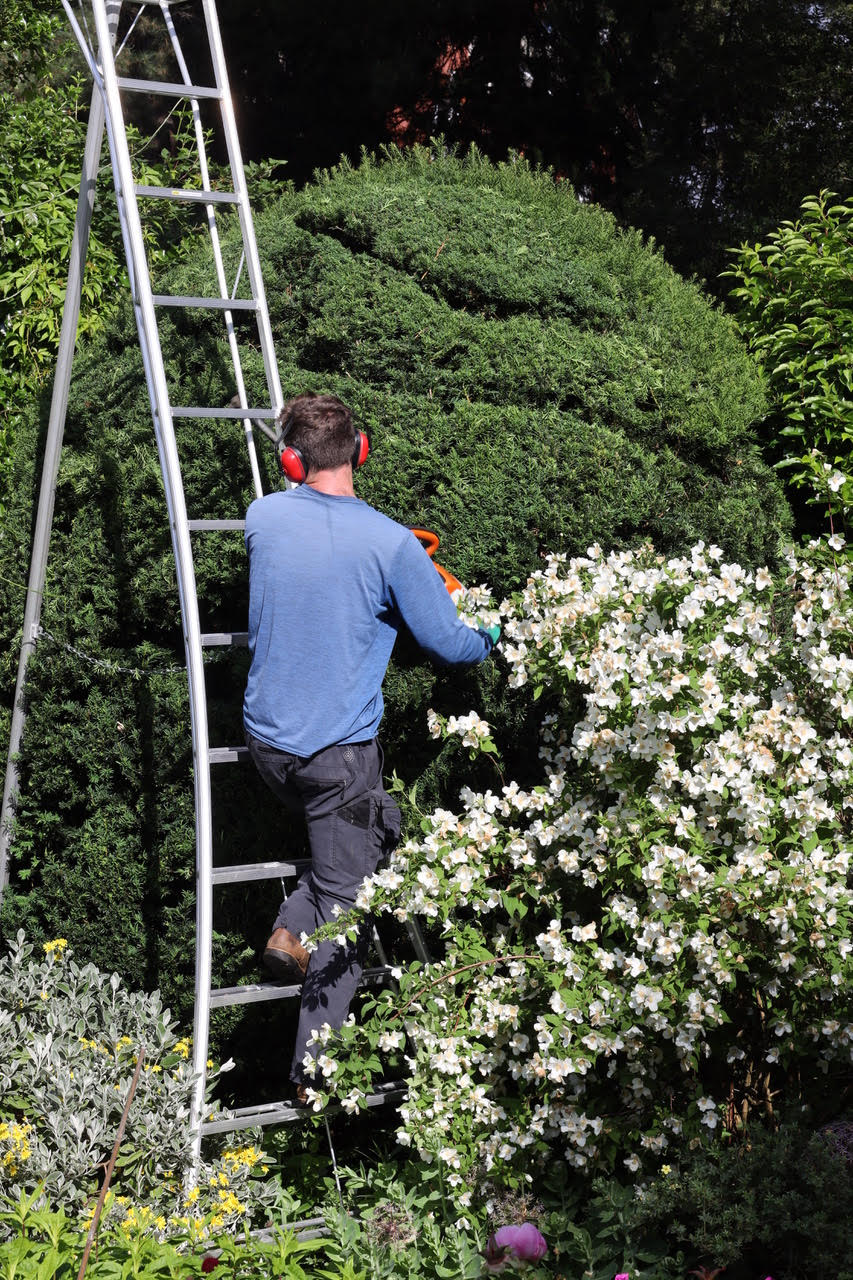 Making a new topiary out of the large, dull facade of a Taxus blob… My work was to change it up from a 'jelly drop' shape and give it texture, open it out and let the light through, and make it a sculptural feature in the background of the garden in summer… yet a major part of the garden in winter. A few more years before it becomes something special, but there was far more leaf and growth inside the plant than I thought and so it will not take too long for it to gain in character and become …
Sep27
Two weeks ago I was invited to teach topiary at the garden of Griselda Kerr, the author of The Apprehensive Gardener. I love teaching and sharing skills, but I was placed on the spot in the afternoon and asked to show how I would make a new topiary from an existing shrub. So below is a speeded-up video of me creating a cloud-pruned topiary from an old boxwood tree. I particularly love the ending when the class get involved….! See the video here. One hour was all it took, and though it needed a little tidying-up, it was made by …
Sep27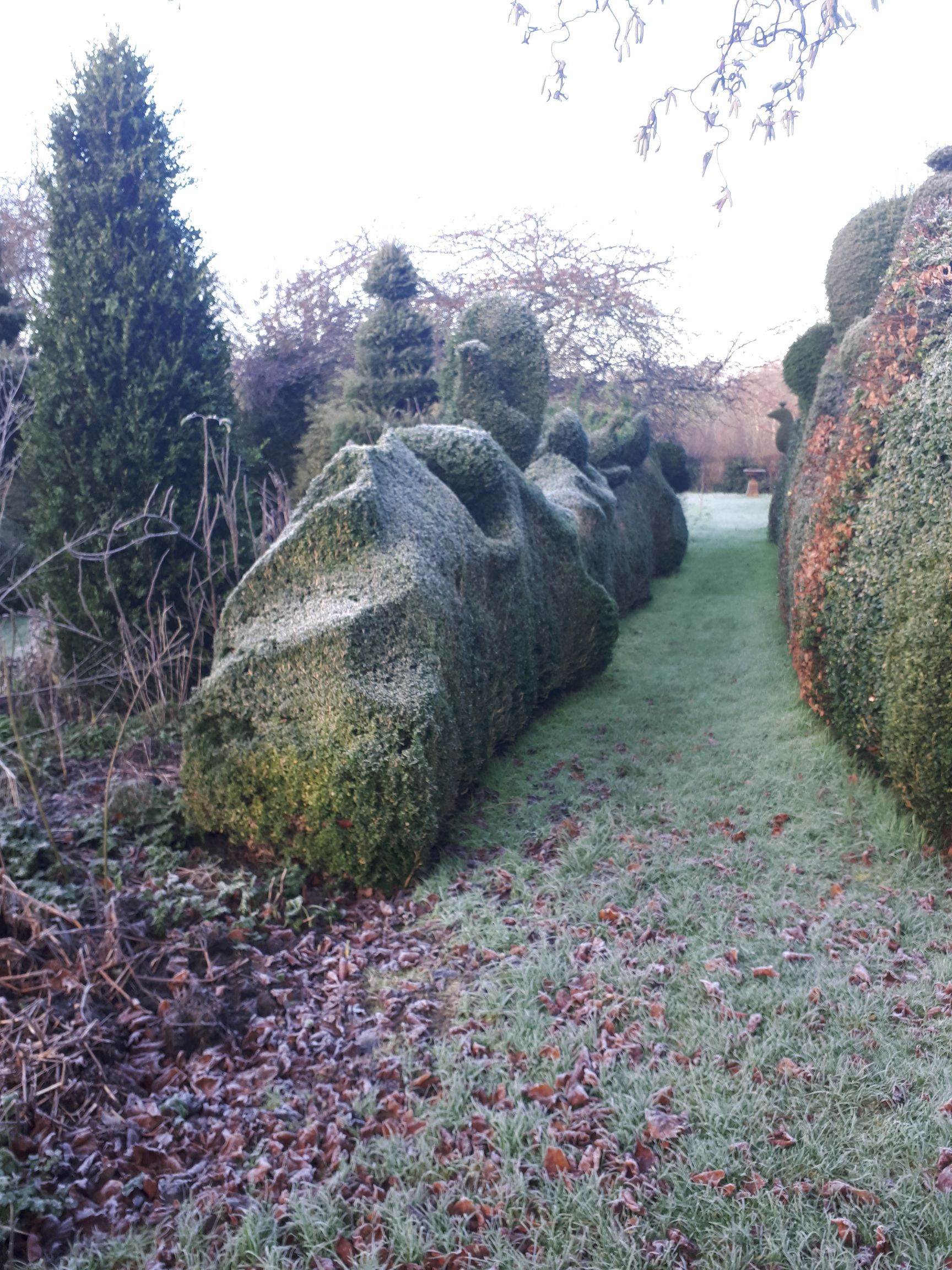 Charlotte Molesworth, my topiary mentor, and I are running our popular topiary workshop again in 2022. You can email me for details – or go here for information, your ticket and to find out about dates. Book A Spot On A Topiary Workshop, September 2022