THE MODERN MINT BLOG
We come back to James Van Sweden a lot on this blog – and the start of this interview sums up for us the reason why!
In it, James Van Sweden says this about his garden design work with Wolfgang Oehme:
"We never took it too seriously… because then you don't have any fun, and you don't create really fabulous gardens."
Gardening is fun! And remembering that, cultivating that, will help you  on more than one account – a sense of humour about your garden helps you to realise the inconsequential nature of your delphiniums being eaten by slugs, or the dog smashing up your daffodils as she chases her ball…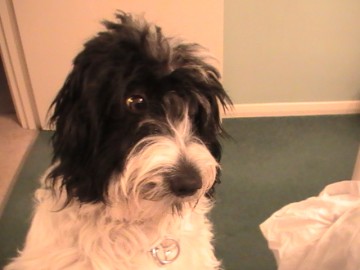 It also aids you in creating those 'fabulous gardens' that Van Sweden and Oehme seek. And why not set the bar that high? What is stopping you from having a garden that good?
Lack of knowledge maybe, but that can be remedied.
Conditions? Learn to work with them.
Resources – financial and physical? That shouldn't stop you – gardeners are by nature a thrifty bunch (generous too – most people who love their garden will love to share plants with you too) and a few packets of seed is all you need to get started. Or you can of course just let nature plant what it wants to plant there…
As for the physical resources – time can be found (we have planted bulbs by torchlight before) and the body is more than capable of finding a way to garden. Gardening may appear back breaking but it engages so many muscles, in a light way, that you can still hold a conversation whilst having a workout. That must be better for you than pounding away on a rowing machine, right?
The only thing stopping you from having a fabulous garden is attitude – the want to do it, the sense of fun and joy necessary to do it. That is why the video above of James Van Sweden was lovely for us to find – we realise now that is what brings us back to him again and again.
(Well, that, allayed to his brilliant and colourful work. This is from a book called The Minimalist Garden, detailing some of the practices James Van Sweden uses in his garden design work…
"They have established a unique and memorable formula which involves a strong underlying plan, overplanted in the most striking style. This creates the perfect blank canvas for great swathes of perennial planting and ornamental grasses. The results resemble huge 20th century paintings set within a gigantic gallery.
Within the compositions there are complexities and subtleties, but it is assured… this is a complete contrast to styles prevalent in Europe, where even the new trends in perennial planting involve a much greater variety of plants…
… (it is) a look which is more akin to an intimate, self-seeded, meadow-inspired composition."
For more on James Van Sweden, see James Van Sweden Part 2.
March 5 th 2015
Feb22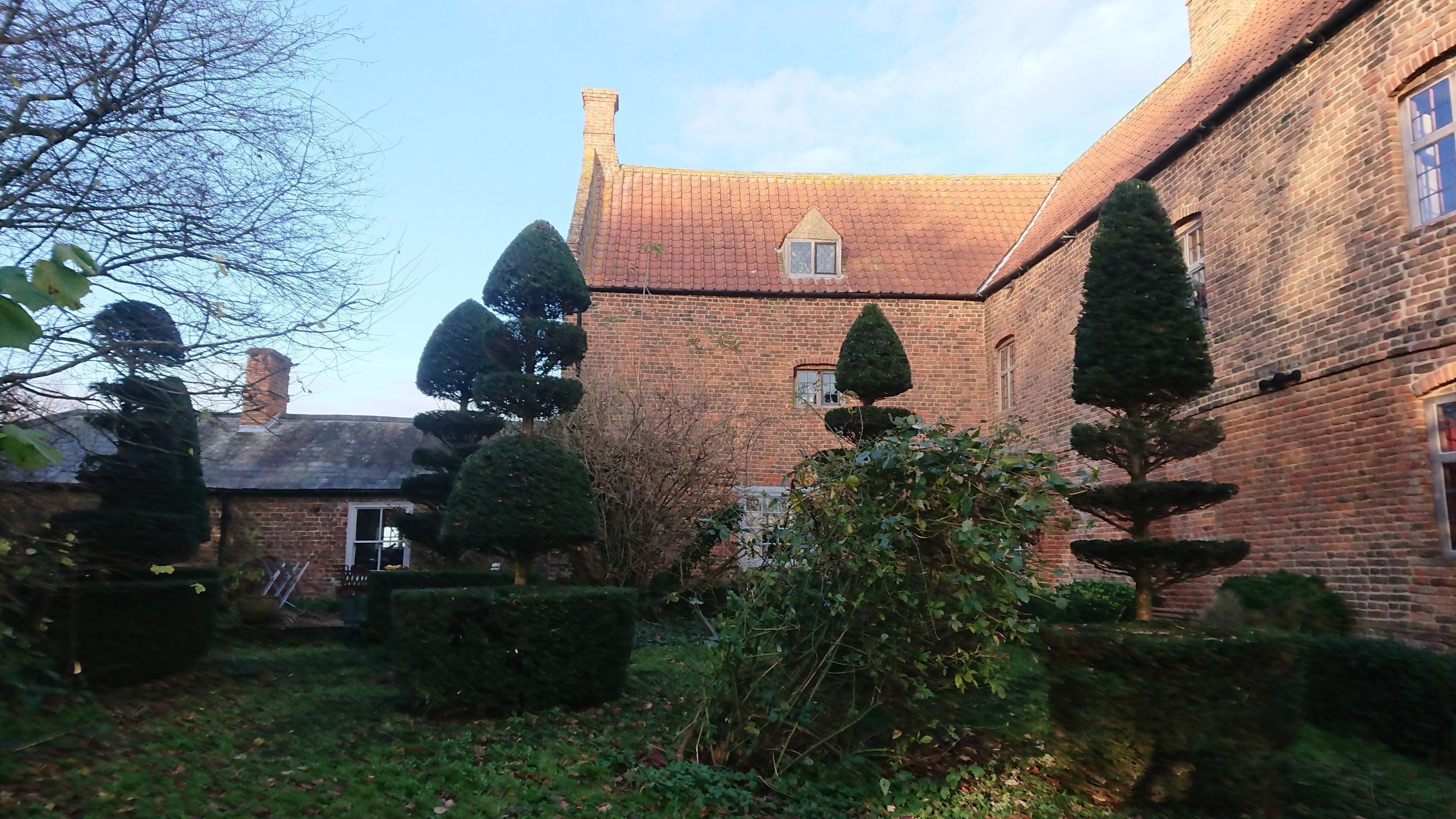 Guanock House needs a trainee topiary artist! Some of you may know it as the first home and garden of designer Arne Maynard, but is now owned and maintained by Michael Coleman and his wife Michelle. They offer meditation workshops and retreats there and it is as beautiful a house and garden as you could wish to visit. They called me in last Autumn to help shape up some of the topiary as it was all getting out of hand, but what it really needs is someone with a steady hand and lots of patience to take over the clipping …
Feb09
Here are some photos of work I have been doing at the garden of Charlotte Molesworth in Kent. Snow and ice brings out the depth of the different planes and angles carved into the boxwood. A garden has to look beautiful in winter – and topiary (green architecture)  helps do that! For more topiary pictures, click here.
Feb01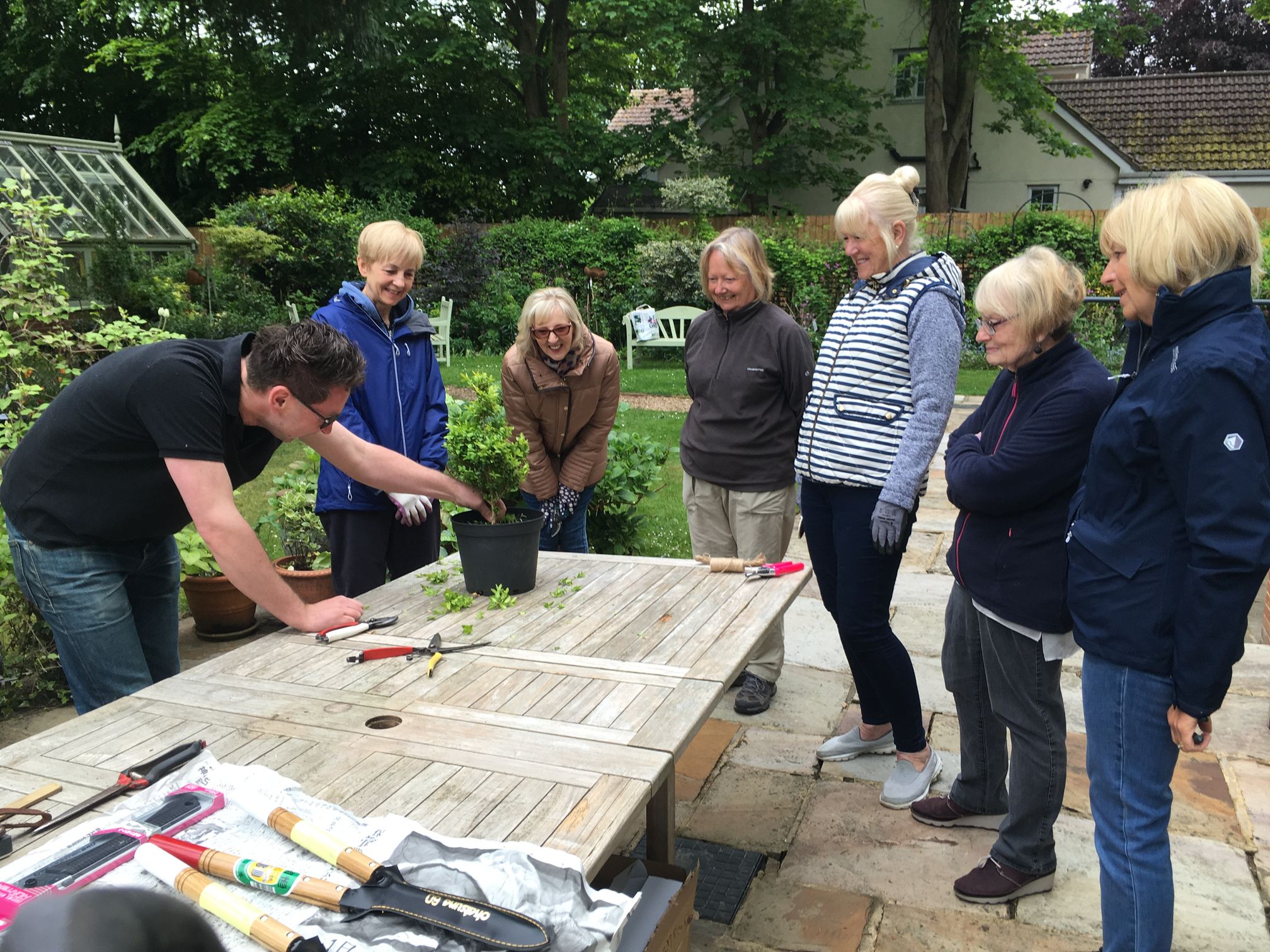 I am an experienced teacher of topiary and pruning, running workshops in the topiary garden of Charlotte Molesworth in Kent, as well as for The English Gardening School and The European Boxwood And Topiary Society. So if you are a keen gardener, a garden club, a group of friends who want to know more or even an absolute beginner who has been bitten by the gardening bug, then do contact me about what you might like to learn. What a laugh we are having in this workshop session I ran for a group of friends in Essex… Many people employ …