THE MODERN MINT BLOG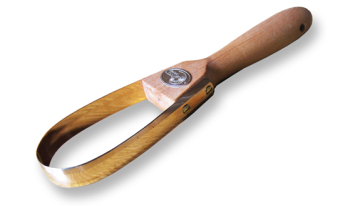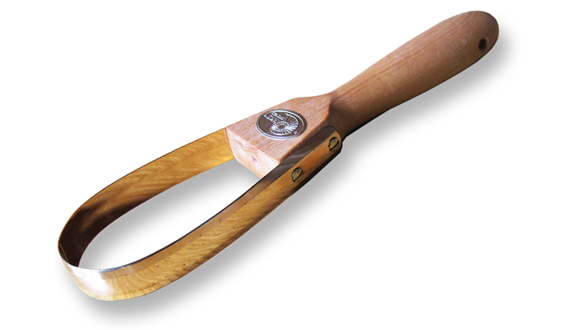 What is this one?
The question most asked of us at our markets and fairs…
It is a good question. Cheekily, we refuse to answer straight away and instead question them back – what do you think it is?
Take a look again…
What is it? We have been told it is:
An avocado de-stoner.
A dog brush.
A boot scraper.
A boiled egg de-sheller. (Big egg…)
A hairbrush for a teddy boy quiff.
A dog lead holder.
A target for practising your golf chip.
A body exfoliating tool.
A nail clipper.
A razor.
A scone or cookie cutter.
A zombie electrifier.
A huge earring…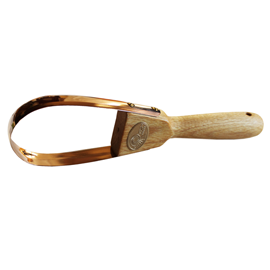 You get the idea, right? This is an unusual tool for a gardener to use. Not everyone has an idea about what it does…
Shall we tell you?
It is, very simply, a hand held hoe. It has a sharpened bronze blade, curved so that it can dip into cultivated soil and cut roots as well as drag back to your bucket or pail blanket weeds like chickweed or the clovers.
The handle is beech and oiled with linseed and the product not only speeds up weeding and cultivating the soil – just a few quick sweeps across the surface of the flower or vegetable bed should do the trick – but it also has an heirloom quality about it that we love. (So do all of our copper tools, to be fair.)
We regularly get people taking a chance and buying one of these either as a gift or for themselves, trying it out, then coming back and buying another one for a friend, or emailing us to say how amazing this 'hand held hoe' is. It is a lovely job, selling these wonderful and unique weeding tools.
For example, at Salisbury Christmas market this year we had a lovely lady buy one for her sister, who was a keen gardener. She came back two days later, pushed through the crowd around our stall and said – my sister is blown away by it, it is brilliant! Absolutely blown away! Thank you. Everybody – buy one!
I went red in the face, as this kind of praise is amazing and gratifying, but also not something you ask for and was totally unexpected. The lady then walked off, back to whatever she was up to that day, and the crowd around our stall laughed and giggled, and then of course wanted to try the hoe and see why she thought it was so great…
It gives us great pleasure to sell this hoe, as well as earn a reputation for inviting you to try products that are useful as well as beautiful. We do hope you will give our unusual 'hand held hoe' a go in 2016. We know you will love it.
December 9 th 2015
Sep11
We now have everything back in stock on the pruning tools front – hurray! Take a look at what you might like for doing any cutting and clipping this Autumn…. Also, please note the following: We Are Away From Wednesday 12th September, Until Thursday 20th September, So No Orders Will Be Sent Out During This Time! Is that ok? If you do make an order and then realise we won't be sending it out, then we will send you a refund when we get back. Just let us know via email what you prefer. Otherwise, we will send out the …
Sep08
Sorry to people asking for some of our pruning tools, but we have run out of a few items and are waiting for more to arrive. I did a number of garden talks this week and demonstrated the quality of some of the tools. This led to a run which I hadn't anticipated! So apologies again if you are missing out, but everything should be back in stock by next week. Many thanks for all your support here at Modern Mint! Darren
Aug20
A brand new garden talk for 2019? My, what exciting news! Having had a busy summer, with the topiary work exploding after the Guardian article, I have plans to write a new garden talk for next year. So far I have written 6 different talks in the 4 years I have been running Modern Mint, 4 of which are still available for you to book. They are: What Do I Do With This Space? A garden talk that looks at how other cultures treat their outdoor spaces. A mixture of funny stories and practical advice, it shares techniques people from …