THE MODERN MINT BLOG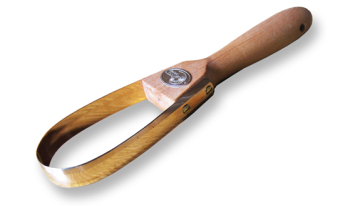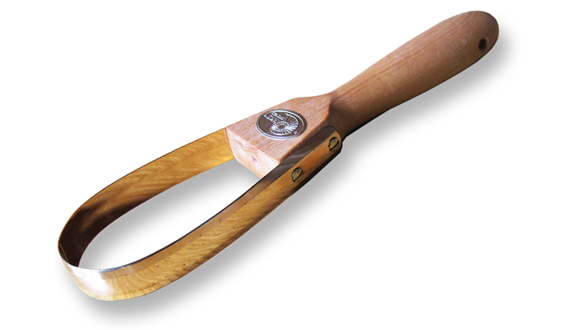 What is this one?
The question people ask me the most at my talks…
It is a good question. What kind of tool could it be? This shiny, beautiful little hoop? Cheekily, we refuse to answer straight away and instead question them back – what do you think it is?
Take a look again…
We have been told it is:
An avocado de-stoner.
A dog brush.
A boot scraper.
A boiled egg de-sheller. (Big egg…)
A hairbrush for a teddy boy quiff.
A dog lead holder.
A target for practising your golf chip.
A body exfoliating tool.
A nail clipper.
A razor.
A scone or cookie cutter.
A zombie electrifier.
A huge earring…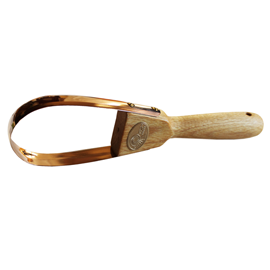 Some amazing guesses for this unusual tool for a gardener to use. Not everyone has an idea about what it does…
Shall we tell you?
It is, very simply, a hand held hoe.
This hoe has a sharpened bronze blade, curved so that it can dip into cultivated soil and cut roots as well as drag back to your bucket or pail those blanket-type weeds like chickweed or the clovers.
The handle is beech and oiled with linseed. This hand held hoe not only speeds up weeding and cultivating the soil – just a few quick sweeps across the surface of the flower or vegetable beds should do the trick – but it also has an heirloom quality about it that we love. (So do all of our copper tools, to be fair.)
Our Unusual Hand Held Hoe
We regularly get people taking a chance and buying one of these either as a gift for a friend, or as a little treat for themselves. Often, after trying it out, they come back and buy another one for someone they know will love it. Or we get emails to say how amazing this 'hand held hoe' is.
"Thank you for sending me my lovely Nunki a few weeks ago. I have recommended your site to another friend Jane – who will be buying a Nunki from you very soon. Love from Pembrokeshire" Anna
It is a lovely job selling these wonderful and unique weeding tools…
For example, at Salisbury Christmas market we had a lovely lady buy one for her sister, who was a keen gardener. She came back two days later, pushed through the crowd around our stall and said, "my sister is blown away by it, it is brilliant! Absolutely blown away! Thank you. Everybody – buy one!"
I went red in the face, as this kind of praise is amazing and gratifying, but also not something you ask for and was totally unexpected. The lady then walked off back to whatever she was up to that day, and the crowd around our stall laughed and giggled.
And then of course wanted to try this hand held hoe and discover for themselves exactly why she thought it was so blooming great…
It gives us great pleasure to sell this hoe. It gives us great pleasure to earn a reputation for inviting you to try products that are useful as well as beautiful.
We do hope you will give our unusual 'hand held hoe' a go. Those who have already tried it suggest you will love it.
December 9 th 2015
Apr23
This piece in the Guardian got me thinking a lot – it shows how an orchestra, a country and a town in Devon have been putting the cost of their carbon footprint at the head of their priority list. Read the article – Carbon Cutters. Gardening is not above this. From refraining from using peat compost to moving to a decent pair of shears, you can easily reduce your carbon footprint. Perhaps you could even make your own compost, so as to enhance life in your garden all the way down the food chain? (For more on that, you can …
Apr23
I loved this as well – I had read about the bees of Notre Dame before, when I discovered Paris was a pesticide free city (shouldn't all cities be like this?) and was pleased to discover, after the fire at Notre Dame, that the bees were safe and sound. Not that the smoke would have harmed them, it would have just put them to sleep! Take a read and enjoy the fact Paris is trying to bring more bees to the city.
Apr23
Just a quick note to suggest a few places you might want to buy seed from. There are more, but these were mentioned in a blog at Riverford organic the other day and I thought they would be useful to share…. Real Seeds (who I use a lot. They are great!) Seed Co-operative Vital Seeds