THE MODERN MINT BLOG
Hardy orchids – here is a subject I would love to know more about – so lo and behold, James Wong has written about it in the Guardian!
Read the article about hardy orchids here.
I love having orchids in the house, just your usual run of the mill buy them in any shop orchids, but it is a pleasure to read about the plants that will grow outside and cope with this weather.
(This insane weather! From the hottest days of February on record to Storm Freya, all within a week. Weather is always such a factor in gardening, but these extremes are so weird are they now to become the norm? If, like me, you care about your carbon footprint and the effect it is having on the climate, then you can start trying to reduce it by taking one simple action – switching to a green energy supplier now! I am pushing this a lot at the moment for two reasons – we need to do more to reduce the impact of carbon released into the atmosphere, and because we both get a financial benefit from the supplier if you sign up. They are a good company and I back what they do and like to be a part of it. Join now and make a difference in the easiest way possible.)
Hardy Orchids For Your Garden
Which orchids does James Wong suggest we grow?
Habenaria radiata – known as the Egret Orchid. Which if you know the bird, gives you a pretty good idea of what the flower looks like! Hardy down to -5.
Cypripedium 'Emil' – slipper orchid, hardy down to -20.
Calanthe 'Takane' – taller than the others, with flowers 50cm high. Generous in flower.
He also recommends, as an extra bonus, Bletilla and Pleione.
What a kind man to point us in the hardy orchid direction!
Orchids in Southend
A few years ago the Council forgot, or were late, cutting the verges on the road into Southend-on-Sea. Bee orchids came up, and looked amazing. Especially as it was such a surprise to see them, no-on heaven planted them in the first place.
The Council then got caught up with work and cut them down, but that is what can happen when you do things by the book. You tick a box and don't see what is in front of you, looking beautiful.
I'm pretty sure there is a lesson in that. A not very subtle one either!
Do make sure you check out the article and explore these hardy orchids. I know I will…. and who knows, they may become the subject of other talk for the future. Much like my plant experiments from the last few years went into my latest talk 'A Very British Garden'.
March 4 th 2019
Sep29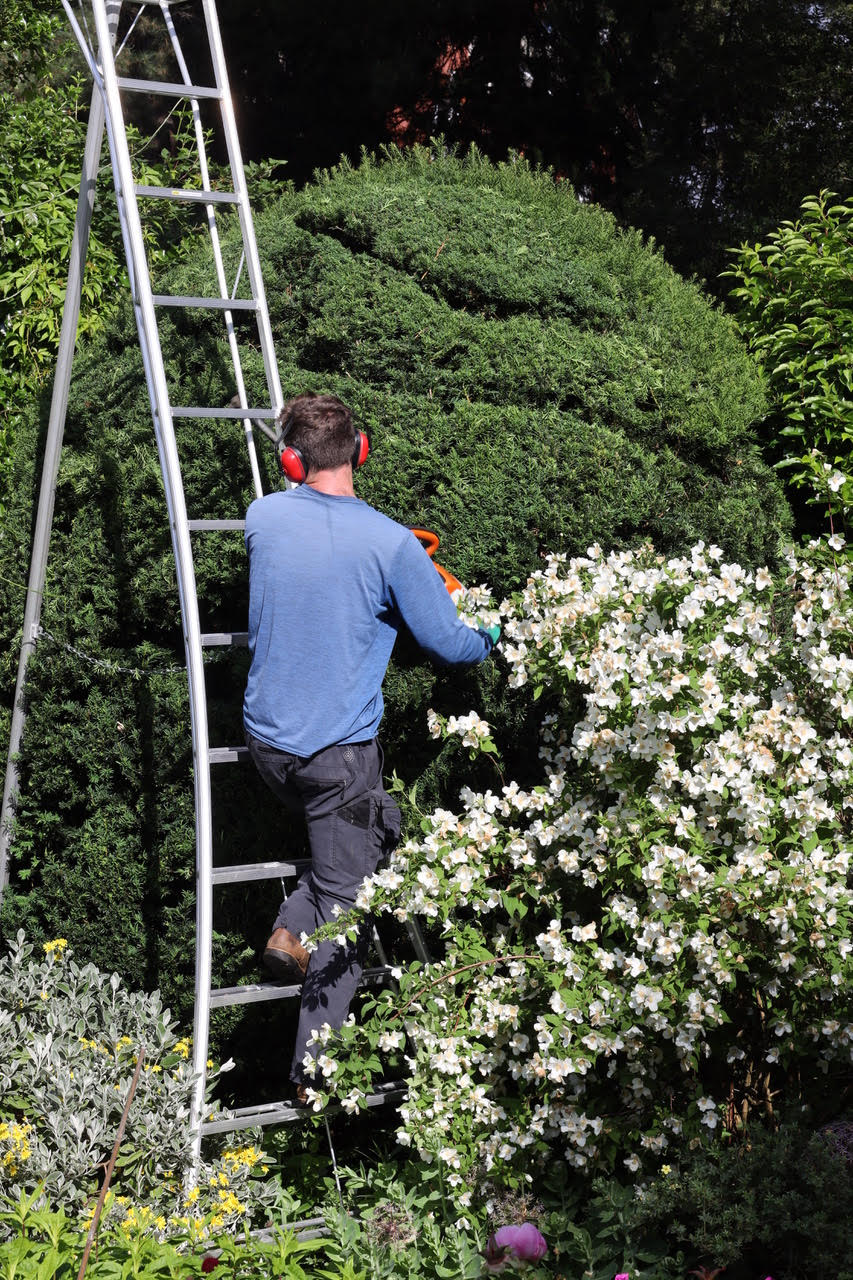 Making a new topiary out of the large, dull facade of a Taxus blob… My work was to change it up from a 'jelly drop' shape and give it texture, open it out and let the light through, and make it a sculptural feature in the background of the garden in summer… yet a major part of the garden in winter. A few more years before it becomes something special, but there was far more leaf and growth inside the plant than I thought and so it will not take too long for it to gain in character and become …
Sep27
Two weeks ago I was invited to teach topiary at the garden of Griselda Kerr, the author of The Apprehensive Gardener. I love teaching and sharing skills, but I was placed on the spot in the afternoon and asked to show how I would make a new topiary from an existing shrub. So below is a speeded-up video of me creating a cloud-pruned topiary from an old boxwood tree. I particularly love the ending when the class get involved….! See the video here. One hour was all it took, and though it needed a little tidying-up, it was made by …
Sep27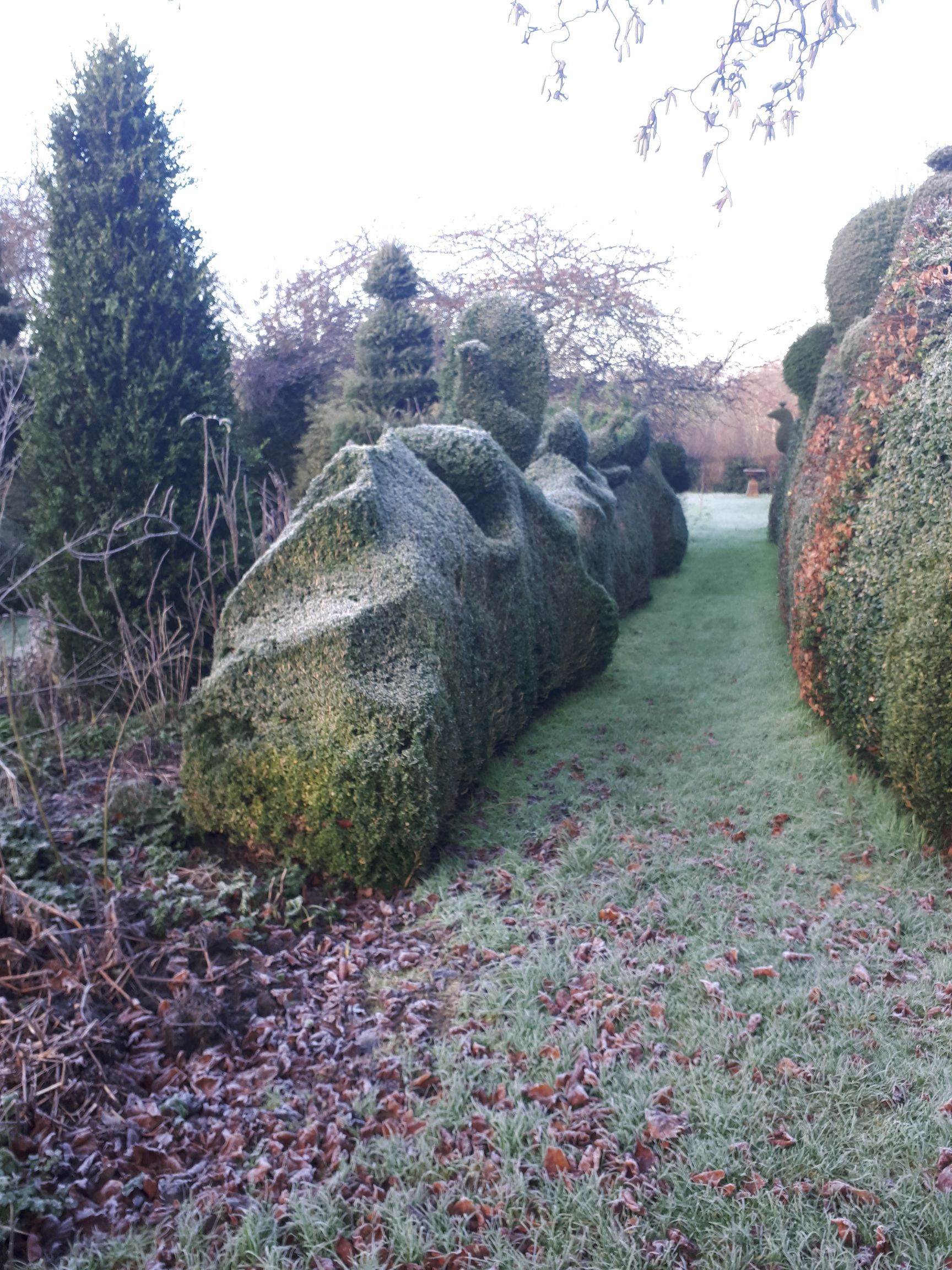 Charlotte Molesworth, my topiary mentor, and I are running our popular topiary workshop again in 2022. You can email me for details – or go here for information, your ticket and to find out about dates. Book A Spot On A Topiary Workshop, September 2022