THE MODERN MINT BLOG
A client has asked us about some great roses we could plant in their garden. We have spoken about our portfolio of roses before – what we have discovered is the choice is huge, and seems to be expanding all the time.
So how do you find a great rose?
1) Scent – fragrance is so important, it really is. You only realise how much the nose craves it when you walk past a bed of a rose like 'Gertrude Jekyll' and get knocked over by the smell.
2) Disease resistance – we hate spraying roses, and anyone who has doused their blooms and drowned a bee at the same time will know that horrible feeling too of what you've just done. Try not to do it by growing your plants well – plenty of air circulation and in clay soil.
We also hate buying roses from nurseries that spray them (roses always suffer in pots at this time of year (late July/August) so it is best to buy yours either from a nursery that grows them in larger pots that give more space to the roots or get them bare-root later in the year.
3) Bloom – colour, size, how often it flowers. This is most likely the way people pick a rose. When you have such an iconic (and romantic) flower, this would be a good place to start.
In our portfolio, we have a special soft spot for the dark reds like Falstaff Rose. Sublime whites go into darker spots in the garden, to illuminate them with their brilliance. We don't much care for the time spent on breeding a blue rose…
Munstead Wood, Crocus, Lady Salisbury, Glamis Castle, A Shropshire Lad, Generous Gardener, Jubilee Celebration all make it onto our list.
If you want roses for the cutting garden, Sarah Raven recommends Felicia, Tuscany and Paul's Himalayan Musk.
Although great roses can be judged using the 3 ways above, you might find nostalgia has the biggest part to play in how you choose a rose – you may have a memory of your nan's garden, or a place you stayed on holiday, where a particular rose seemed to encapsulate the mood of the time for you.
These are special occurrences and should not be dismissed as a guide to what you grow. They are, after all, the beginnings of your current relationship with plants.
Enjoy your roses, enjoy discovering what great roses are for you!
For more reading about roses, try these books too…
(And this one by Graham Stuart Thomas – an important book on your shelves if you want to know about great roses!)
July 23 rd 2014
Sep29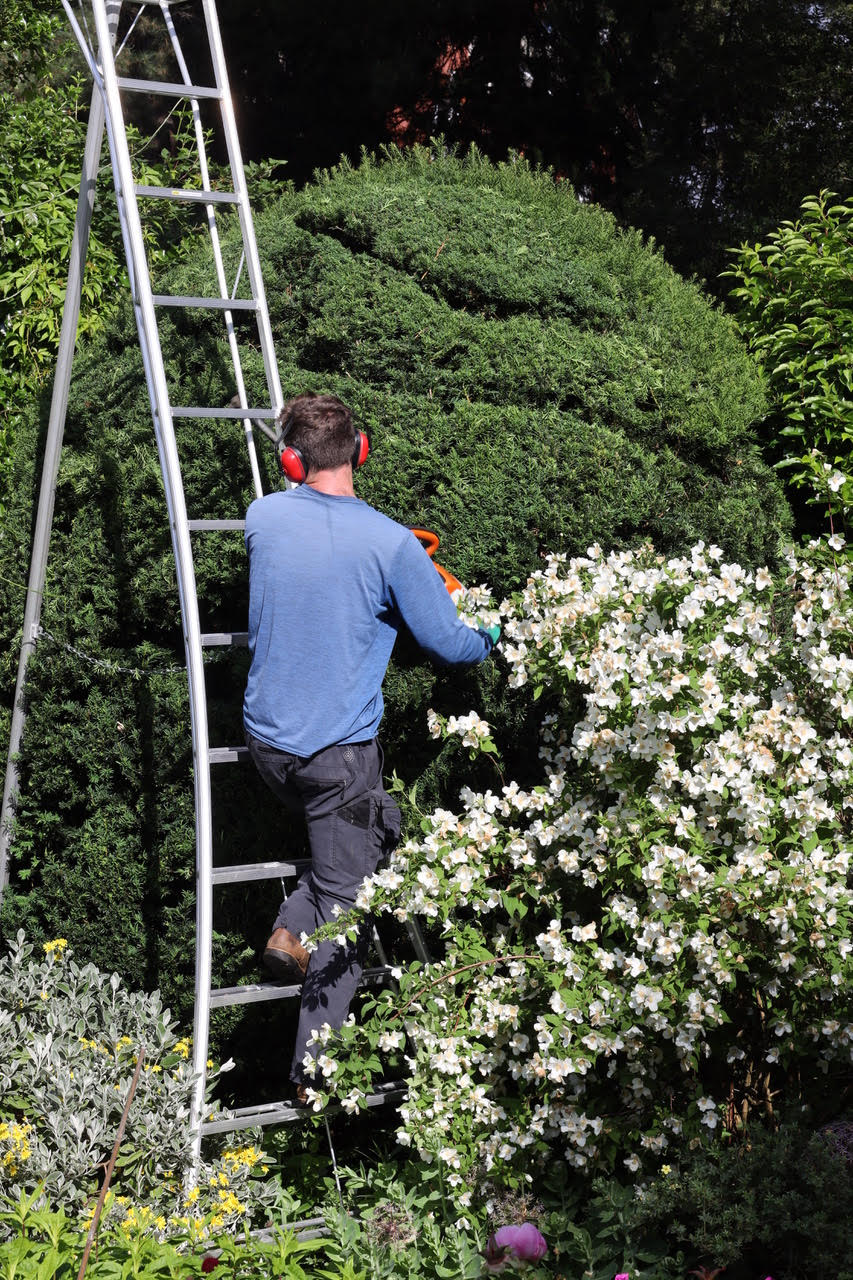 Making a new topiary out of the large, dull facade of a Taxus blob… My work was to change it up from a 'jelly drop' shape and give it texture, open it out and let the light through, and make it a sculptural feature in the background of the garden in summer… yet a major part of the garden in winter. A few more years before it becomes something special, but there was far more leaf and growth inside the plant than I thought and so it will not take too long for it to gain in character and become …
Sep27
Two weeks ago I was invited to teach topiary at the garden of Griselda Kerr, the author of The Apprehensive Gardener. I love teaching and sharing skills, but I was placed on the spot in the afternoon and asked to show how I would make a new topiary from an existing shrub. So below is a speeded-up video of me creating a cloud-pruned topiary from an old boxwood tree. I particularly love the ending when the class get involved….! See the video here. One hour was all it took, and though it needed a little tidying-up, it was made by …
Sep27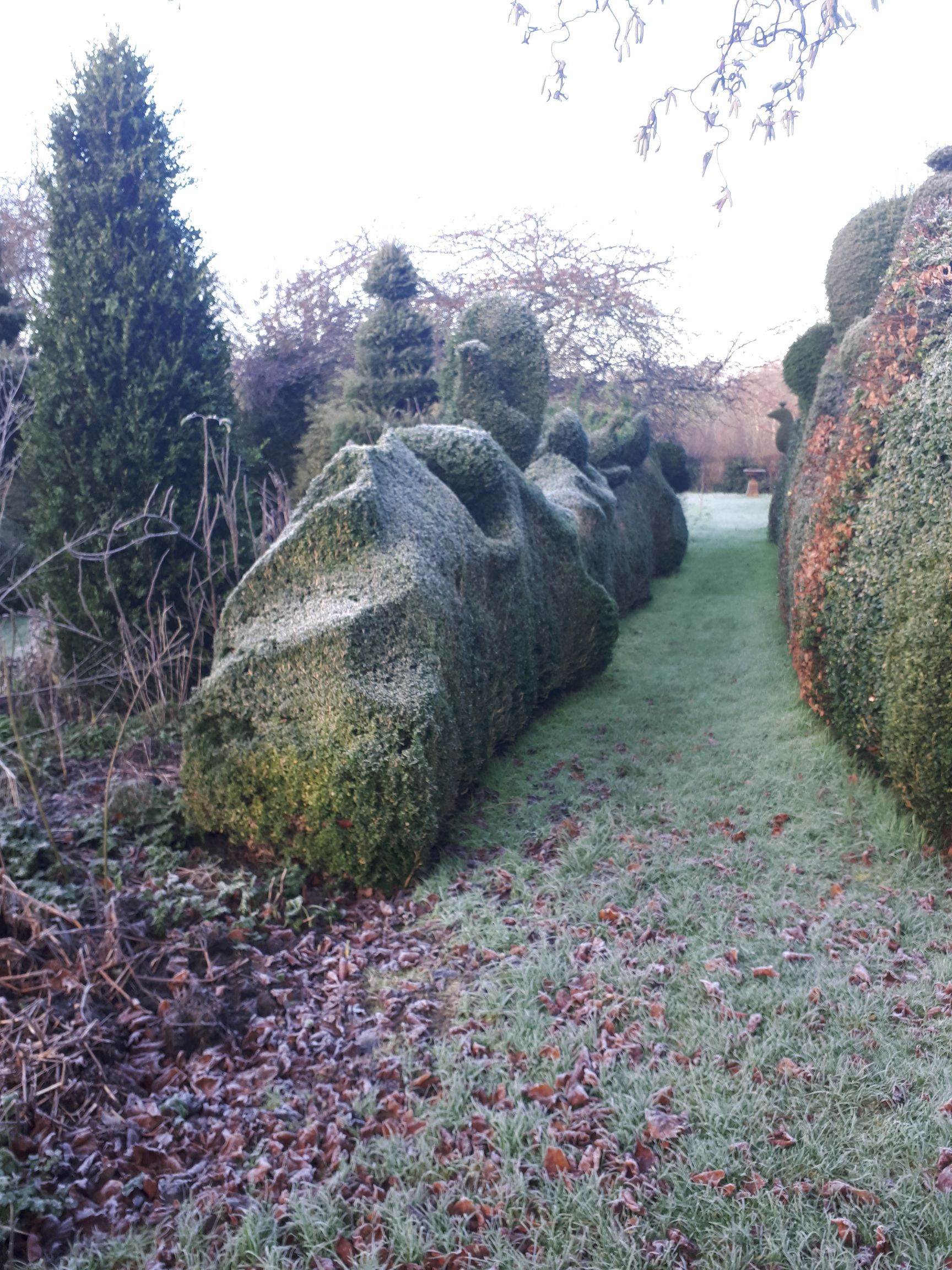 Charlotte Molesworth, my topiary mentor, and I are running our popular topiary workshop again in 2022. You can email me for details – or go here for information, your ticket and to find out about dates. Book A Spot On A Topiary Workshop, September 2022