THE MODERN MINT BLOG
A client has asked us about some great roses we could plant in their garden. We have spoken about our portfolio of roses before – what we have discovered is the choice is huge, and seems to be expanding all the time.
So how do you find a great rose?
1) Scent – fragrance is so important, it really is. You only realise how much the nose craves it when you walk past a bed of a rose like 'Gertrude Jekyll' and get knocked over by the smell.
2) Disease resistance – we hate spraying roses, and anyone who has doused their blooms and drowned a bee at the same time will know that horrible feeling too of what you've just done. Try not to do it by growing your plants well – plenty of air circulation and in clay soil.
We also hate buying roses from nurseries that spray them (roses always suffer in pots at this time of year (late July/August) so it is best to buy yours either from a nursery that grows them in larger pots that give more space to the roots or get them bare-root later in the year.
3) Bloom – colour, size, how often it flowers. This is most likely the way people pick a rose. When you have such an iconic (and romantic) flower, this would be a good place to start.
In our portfolio, we have a special soft spot for the dark reds like Falstaff Rose. Sublime whites go into darker spots in the garden, to illuminate them with their brilliance. We don't much care for the time spent on breeding a blue rose…
Munstead Wood, Crocus, Lady Salisbury, Glamis Castle, A Shropshire Lad, Generous Gardener, Jubilee Celebration all make it onto our list.
If you want roses for the cutting garden, Sarah Raven recommends Felicia, Tuscany and Paul's Himalayan Musk.
Although great roses can be judged using the 3 ways above, you might find nostalgia has the biggest part to play in how you choose a rose – you may have a memory of your nan's garden, or a place you stayed on holiday, where a particular rose seemed to encapsulate the mood of the time for you.
These are special occurrences and should not be dismissed as a guide to what you grow. They are, after all, the beginnings of your current relationship with plants.
Enjoy your roses, enjoy discovering what great roses are for you!
For more reading about roses, try these books too…
(And this one by Graham Stuart Thomas – an important book on your shelves if you want to know about great roses!)
July 23 rd 2014
Feb22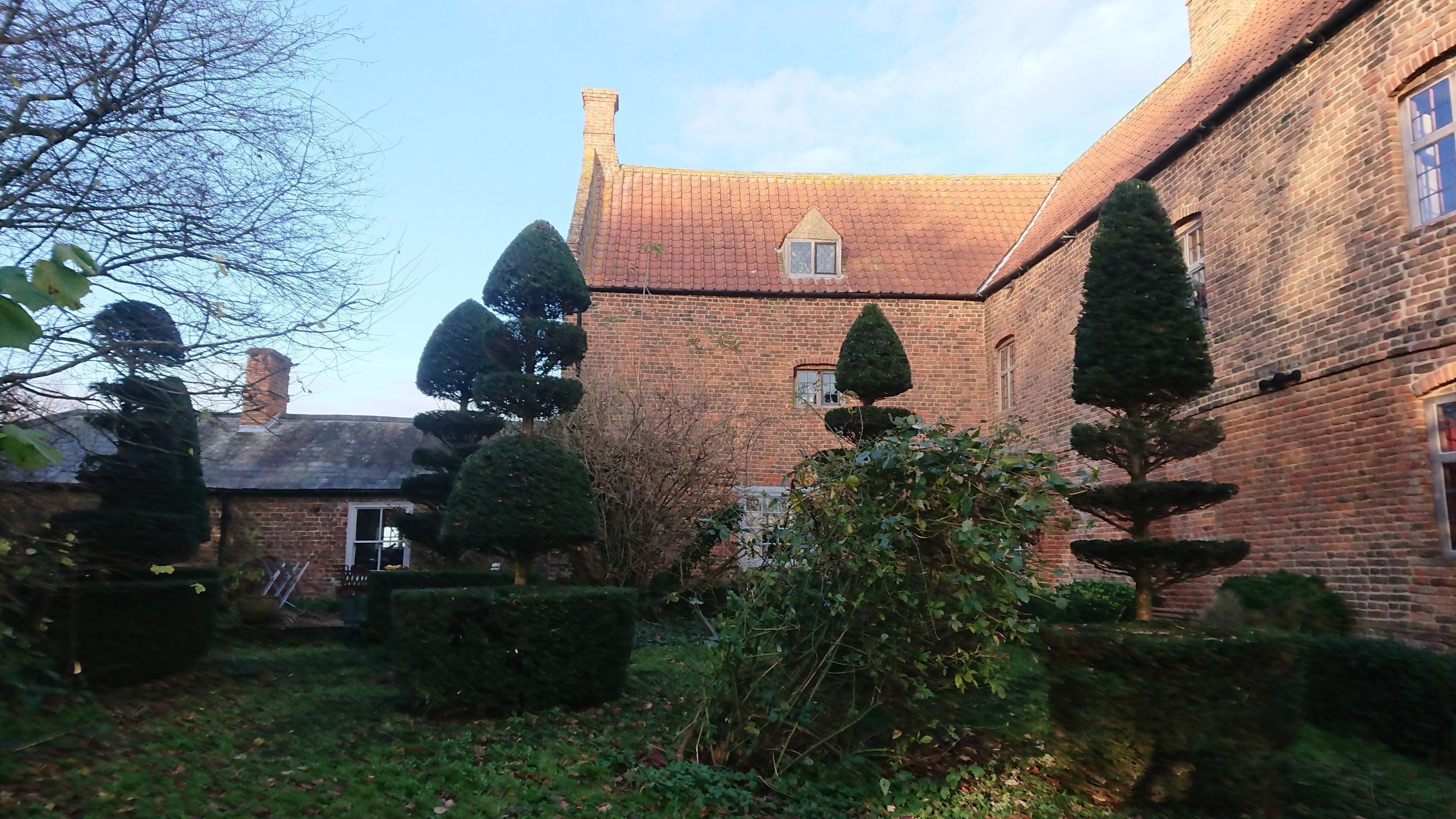 Guanock House needs a trainee topiary artist! Some of you may know it as the first home and garden of designer Arne Maynard, but is now owned and maintained by Michael Coleman and his wife Michelle. They offer meditation workshops and retreats there and it is as beautiful a house and garden as you could wish to visit. They called me in last Autumn to help shape up some of the topiary as it was all getting out of hand, but what it really needs is someone with a steady hand and lots of patience to take over the clipping …
Feb09
Here are some photos of work I have been doing at the garden of Charlotte Molesworth in Kent. Snow and ice brings out the depth of the different planes and angles carved into the boxwood. A garden has to look beautiful in winter – and topiary (green architecture)  helps do that! For more topiary pictures, click here.
Feb01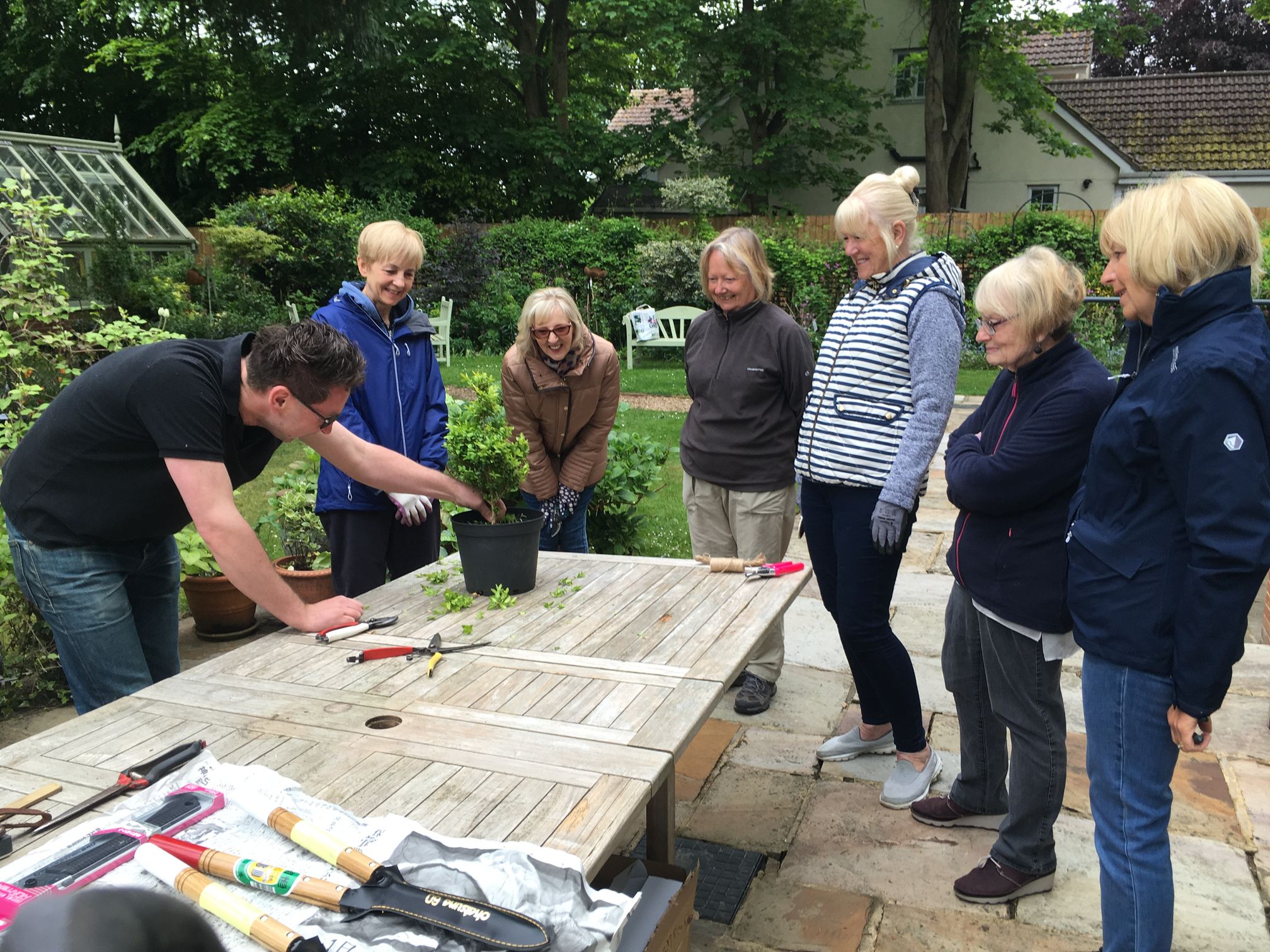 I am an experienced teacher of topiary and pruning, running workshops in the topiary garden of Charlotte Molesworth in Kent, as well as for The English Gardening School and The European Boxwood And Topiary Society. So if you are a keen gardener, a garden club, a group of friends who want to know more or even an absolute beginner who has been bitten by the gardening bug, then do contact me about what you might like to learn. What a laugh we are having in this workshop session I ran for a group of friends in Essex… Many people employ …