THE MODERN MINT BLOG
Most garden designers have a palette of plants they trust, know and use. This repetition gives a certain style to their work and helps them build a consistent client base, although a planting style can change rapidly and distinctly.
Tom Stuart-Smith wrote, "Initially we went through quite a fluffy pink rose stage, clipped box, cranesbills and great swags of blousy pink Ispahan and purplish crimson Charles de Mill… this initial blousy pinkness overlapped with something of orange Kniphofia moment (which now seems a little improbable) then followed by a more wild Verbascum and opium poppy explosion in the early 90's and an increasingly grassy evolution over the last ten years… I have gradually excluded the flagrantly exotic and cultivated. There is now not a single Kniphofia in the garden or an old fashioned rose or a delphinium."
One of the most important portfolios to have is of roses, a plant 99% of clients ask for in a garden and 99% of clients will have a favourite of. So we feel it is time to update our portfolio.
First stop will be Cants of Colchester to have a look what they have growing in their fields.
Second, we will be asking what other people like. Speaking to Troy Scott Smith (Head Gardener at Sissinghurst) he pointed out to us that Rosa rugosa 'Blanche double de Coubert' was the favourite rose of Vita Sackville-West. (That's good to know, because it already sits in our portfolio!)
If you have a favourite rose, do get in touch with us via Twitter or by email.
Here are a few roses from our current portfolio…
… oh, how we are excited to be reappraising this lovely group of plants!
For further rose related reading, try:
The Rose
The English Roses
Alan Titchmarsh How to Garden: Growing Roses
Or for the book by Tom Stuart-Smith quoted above…
The Barn Garden: Making a Place
May 29 th 2014
Sep21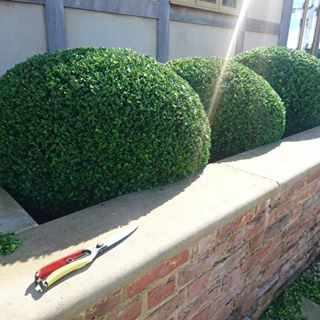 I was asked by the European Boxwood & Topiary Society to help out with answering a common question – How to sharpen your shears? So we spent a fun day making a video, that hopefully will help you make sure you have sharp, shiny blades to do your topiary pruning with. And you can find here more examples of the topiary I make with my sharp blades.
Aug16
You can get a ticket for this new talk I'm giving at the European Boxwood And Topiary Society here – TALK TICKETS It is on the 25th August at 6pm. It should be great fun and I'm very excited to be sharing some recent thoughts about topiary with people – and how it might work in a modern garden.
Jun14
If you have a subscription, you can check out an article about bespoke ideas for your garden in the Telegraph. There are some great crafts people there, so check it out. Click Here To See The Article About my Topiary Work In The Telegraph