THE MODERN MINT BLOG
Update Right Now – I am only booking talks via Zoom for 2022/2023
A speaker for your audience? A speaker for your audience via Zoom?
"I don't think I have ever had so many positive comments about a speaker, thank you for making my job a success!"

Wrabness Gardening Club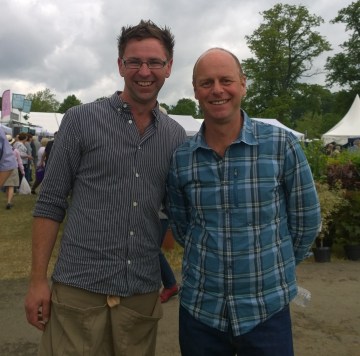 Please note this page holds a lot of information. If you are a speaker finder from a group or club, you may wish to visit this shorter page to see about booking Darren to give a talk. Otherwise, if you want to know everything, carry on reading below!
Garden Club Looking For A Speaker?
If you are a garden club, society, beekeeping group, U3A, Probes club or WI who would like an entertaining and informed talk, then you've come to the right place.
Darren Lerigo of Modern Mint can help you!
"Thank you for  a fabulous evening, I have had so many emails and comments to say how much our members thoroughly enjoyed your talk and feel inspired!

You are an excellent speaker and funnily enough I am swopping our experience with two other clubs in the next few days, so be assured you are going on our  "highly recommended" list.

I shall definitely be recommending you, your enthusiasm is refreshing. Thank you for helping me out at the last minute."

Brightlingsea Garden Club
A Speaker Who Is Happy To Travel – or Zoom!
Although we are based in Essex, we are happy to travel to share our talks with keen garden folk!
Do contact us to discuss how we can make it happen for you, within budget.
About Darren, Our Club Speaker
Darren is a topiary artist and gardener. You may have seen some of his topiary work on the TV or in the Guardian.
Before becoming a full-time gardener Darren wrote some plays (some even won awards), had radio scripts commissioned and performed as a stand-up comedian.
With hindsight, these past careers make talking at garden clubs the obvious next choice, right?
Darren loves clipping topiary and enjoys sharing his knowledge and interest with people who love their gardens, or are interested in the way the landscape affects the way we live.
"Many thanks for your very interesting talk on Friday night, it made us look at our gardening in a different way."

Peggy, Waltham Abbey Gardening Club
Where Has Darren Been A Speaker?
Mentored by Kew Gardens Philip Turvil, Darren began his career as a speaker at the end of 2014 and quickly got booked out for the following year.
Since then, he has given 182 talks over the three years to the end of 2018. Highlights have been:
Appearing at the National Flower Show alongside Joe Swift of Gardeners World
Being invited back the following year to share the bill with Mary Berry. (Admittedly, she was more of a draw for the crowd….)
Blenheim Palace Flower Show with Mary Berry (again), Joe Swift (again) and David Domoney.
Speaking at the 2016 Blenheim Palace Flower Show with Sir Ian McKellen, Robert Longstaff and Ground Force's Tommy Walsh.
The 2017 Blenheim Palace Flower Show saw Darren speaking alongside Alan Titchmarsh and the lovely Val Bourne.
Presenting the Ted Hooper Memorial Lecture for Essex Beekeepers Association.
Sharing ideas about organic gardening at the Quay Theatre, Sudbury, in association with Greener Sudbury.
How To Use Topiary In The Garden – a talk for the European Boxwood & Topiary Society via zoom, during lockdown, for a large audience who linked in from all over the world.
Please do contact us and ask about availability. Rarely is an opportunity turned down, even if your group is small or happens to be a long way away!
"Thank you so much for a very enjoyable evening last night.  It has only been a few short hours since you were with us but already there have been so many comments on what a refreshing change it was to the usual gardening club talks.  The debate over square versus round holes was in full swing at the village shop this morning as people collected their morning newspapers.  I think everyone agreed that it could even have gone on for longer so that the varied topics could have been discussed in more detail.  It was so informative and really challenged our existing methods and ways of thinking about gardening.

So from the members of the Terling & Fairstead Gardening Club, I want to send our appreciation and thanks for a great evening."
Talks Available To Book
Darren currently has FIVE talks you can book, as below.
He can provide a projector and laptop for any presentation, or of course do a talk via Zoom:
What Do I Do With This Space?
The most popular talk with garden clubs around the country!
One of the most important questions you can ask when looking out at your garden – 'What Do I Do With This Space?' attempts to find the answer.
It takes in gardens and ideas from all over the world, including Finland, Japan, Uruguay and the Serengeti.
It is enormous fun and provides eye-opening inspiration for those who hear it.
Suitable for gardeners of all abilities.
"Seriously, it was good fun, wasn't it? And a big thank you to you!"

Carole, South East Essex Organic Gardeners

"He was so enthusiastic, and full of refreshing new ideas – an excellent kick start to our 2016 Programme."

Glenna, Hartest Garden Club
Diluted
Having moved to Essex from Hampshire in 2014 Darren saw a huge difference in the climate. A gardener in East Anglia has to deal with extra heat, strong, drying winds and a severe lack of rainfall.
This new gardening challenge spurred him on to start exploring how we use water in the garden.
Combining techniques for conserving water with new ideas on what our relationship to water will be in the future, this talk is a fascinating study in how to become a better gardener using the resources you have available.
Watering is not a dull subject, promise!
"I've had confirmed from the committee that they would LOVE IT if you could come and talk to us at our March meeting…"

Nikki, New City Girls WI

"Thank YOU for coming and talking to us. I know our members enjoyed the talk very much and were very impressed with your knowledge and enthusiasm."

Siobhan, Shropshire Organic Gardeners
Clippings
This is a fun talk about topiary, showing off some of the tools available at Modern Mint. There are also plenty of tips for making the most pruned trees and shrubs in your garden.
"I'm so glad to hear that you will be giving your talk in Shrewsbury… I'm sure it will be a great success."

Elaine

"Thanks for your wonderful talk at the WI last night."

Sophie
Helping The Honeybee
The talk that is quickly becoming the most popular!
Darren has always gardened with bees and other pollinators in mind. This talk is a bringing together of all the plants your garden needs to make sure it is nectar and pollen rich.
First presented at The Ted Hooper Memorial Lecture in 2017, for Essex Beekeepers Association.
Darren is currently turning this into a book to be published by Northern Bee Books in 2020.
A Very British Garden
This talk is about the common trends in gardens around the UK.
There are common design mistakes, a similarity of planting and a lack of compost making knowledge that seems to hold back British gardens from being the most beautiful places on earth. This talk offers examples, improvements and a few theories about why our gardens look the way they do.
Lots of fun and certainly brings a laughter of recognition from the audience, as we work our way through 'a very British garden.'
How Do I Book A Talk?
Please send us an email with the following information:
The talk you would like to book
How many people are likely to attend
Where the talk will be held, or if it needs to be online via Zoom
Contact number
We will then get back to you to discuss dates and prices.
To give you a rough idea, talks are £120 for a 50-60 minute presentation with follow up q & a session, for groups of 20 people or more.
If you are further afield the fee is slightly higher.
If your group is smaller, the fee is slightly lower.
If you want a talk via Zoom, it will cost £75.
Please do get in touch and we can negotiate travel expenses and costings.
Don't be shy, Darren would love to be a speaker at your event – so contact us now.
July 21 st 2015
May03
Over the last two years I have been involved with a couple of projects that have ended up being recorded, then placed on Youtube or Instagram. I'm hoping they will be useful to you, so I have decided this morning to pop them together in one handy blog post so that you can bookmark the page and revisit when you need some inspiration for your topiary. See below then, a few videos about topiary I have recently been involved with… Garden Masterclass – Provocations of a Modern Topiarist Transforming Topiary Topiary Teacher Put On The Spot https://www.instagram.com/p/CTj-EfOKRL6/ In the above …
May03
Mark Zlotsky is an artist based in New York, and today I just wanted to share his project 'Topiary Tango'. In his introduction to the project he talks of topiary being a forgiving art, which I love and is soooooo true…..! For proof, just take a look at some projects I have made with a sharp pair of shears, a hedgetrimmer and a pruning saw. Do check out Mark Zlotsky's project, because although his interest began by looking at topiary through the prism of architecture and the relationship of one building to another, he touches directly onto a way of …
Apr27
Gardenista, the online magazine about gardens and design, have interviewed me about topiary. The article is called 'Rethinking Topiary: A Garden Tradition Loosened Up' and was published this morning. Written by the excellent garden writer Clare Coulson, I share some thoughts on using deciduous plants, how to clip (name-dropping Anne Lamott and her book on writing at one stage… oh, how I wander off subject sometimes!) and how to improve topiary by what you plant around it. Do take a look at the article in Gardenista. Or for more about my topiary work, check out the topiary page.