THE MODERN MINT BLOG
Fernando Caruncho is a garden designer from Madrid. I am always inspired by his work – his clean lines, 'green architecture', sense of proportion, balance and minimal plant palette. This seems to bring out the atmosphere of the garden, the space, intensifying its… spirit.
I have written about him a lot – here, for example… and here.
But recently I have discovered a few more interviews with him, so thought I would link to his words as he always has something interesting to say, the opposite of prosaic.
This first interview from the Society of Garden Designers will give you a great overview of his whole career, alongside wonderful quotes from Caruncho himself. Especially worth noting his obsession with the sunlight, but I want to share with you a few parts from near the end, that I have not heard him speak about before.
It chimes with my thoughts on topiary design, the teaching of it, which I have been thinking about a lot recently – that topiary technique is easy to learn, but topiary design needs more thought.
Here is what he says about garden design, that so inspires me when I read it.
"Designers need not just technical and botanical knowledge, but an understanding of the arts. They should also travel as much as possible, and have a depth of experiences to draw from.

You need to fill your soul with memories – memory is the mother of the muse. Without memory and knowledge, it is impossible to create and transform reality, and that is what we do as designers.

When you create a garden, you reveal your interior life, and without this filling, any garden you design will be a banal experience.

Design is too mental now. It needs to be more unconscious… take time to be in the place, maybe for days. Have the discipline to hear, see, understand. Don't project your thoughts onto the place – when you do this you violate the place.

Let the place be, and take action only when it is absolutely necessary."
This thoughtful approach probably doesn't fit in with our culture, to take action only when necessary… we want to see things happen, get results.
There is also a need to stand out, to be seen and heard amid such noise and so many platforms to speak. It has led to a coarsening of the rhetoric (Trump/Trump Junior?) for sure, but also a lack of nuance and empathy in what is made – we want the slick, the fast, the flash, the twisted, the new, the shiny… whereas the classic, the quiet, the calm equates to boring and easily overlooked.
I must say I am uninterested in the new. I want a twist in connection with something deeper, like the way designer Arne Maynard uses native yew in his garden designs. It links us to the past, to our landscape, yet by designing a topiary shape from it that has a clean form you give it that contemporary feel, updating it to a modern sensibility.
That to me is where garden design works best, claiming territory in both the present and the past. The work of Fernando Caruncho does that for me, which is why I am drawn again and again to his work and what he speaks of.
I also love the need to design more unconsciously, to open yourself out… a favourite writer of mine, Alice Oswald, speaks about this… and I try my hardest to do it myself when I work on a new topiary, or am asked to create something new.
There are technical aspects to think about, practical ones too, but drawing on memories and 'forgetting yourself' as you work is jsut as important. This happened on a piece of my work recently, where the Covid year of 2020 changed what I made with a particular boxwood topiary.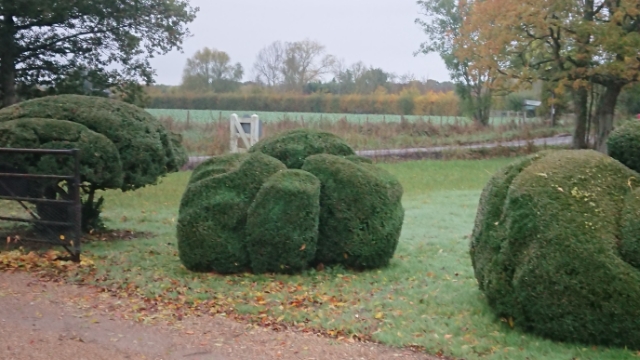 Big changes in style from one year to the next!
The second interview is jsut as interesting…
Read the second Caruncho interview here
He speaks of light, geometry (proportion/balance/scale) and water being enough – plants are an addition to the garden – as well as his favourite gardens, inluding Ryoan-ji in Kyoto (a favourite of mine!)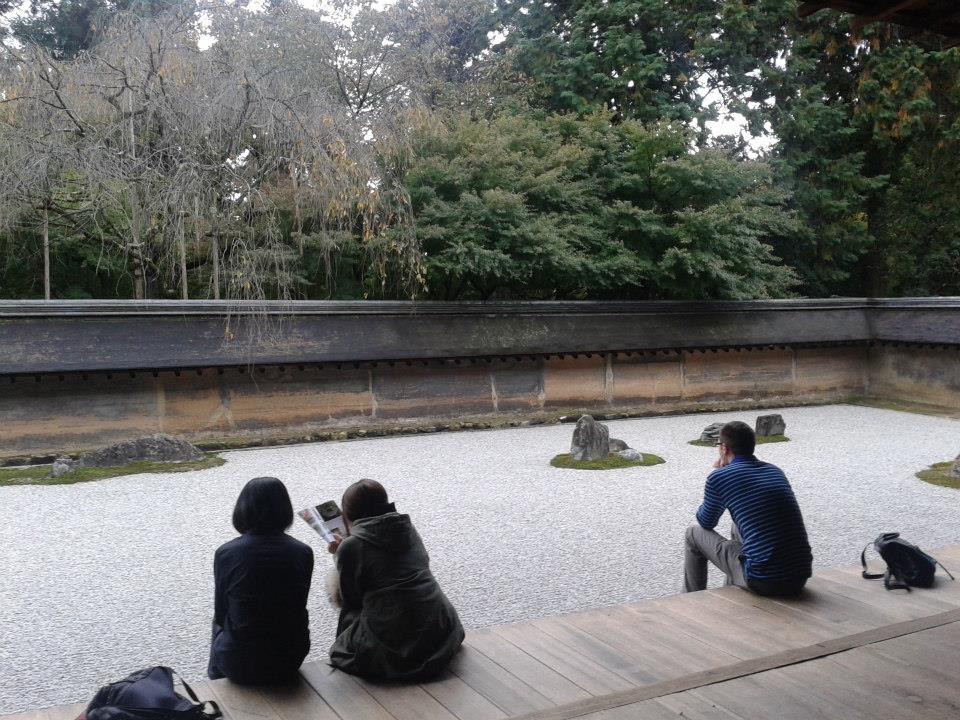 Do go through and really enjoy what he is saying, study it. It is intense, a little mystical, but worth getting into your thoughts about how to look at a garden.
It has certainly inspired my topiary.
And you can read more about Fernando Caruncho on my blog.
November 19 th 2020
May03
Over the last two years I have been involved with a couple of projects that have ended up being recorded, then placed on Youtube or Instagram. I'm hoping they will be useful to you, so I have decided this morning to pop them together in one handy blog post so that you can bookmark the page and revisit when you need some inspiration for your topiary. See below then, a few videos about topiary I have recently been involved with… Garden Masterclass – Provocations of a Modern Topiarist Transforming Topiary Topiary Teacher Put On The Spot https://www.instagram.com/p/CTj-EfOKRL6/ In the above …
May03
Mark Zlotsky is an artist based in New York, and today I just wanted to share his project 'Topiary Tango'. In his introduction to the project he talks of topiary being a forgiving art, which I love and is soooooo true…..! For proof, just take a look at some projects I have made with a sharp pair of shears, a hedgetrimmer and a pruning saw. Do check out Mark Zlotsky's project, because although his interest began by looking at topiary through the prism of architecture and the relationship of one building to another, he touches directly onto a way of …
Apr27
Gardenista, the online magazine about gardens and design, have interviewed me about topiary. The article is called 'Rethinking Topiary: A Garden Tradition Loosened Up' and was published this morning. Written by the excellent garden writer Clare Coulson, I share some thoughts on using deciduous plants, how to clip (name-dropping Anne Lamott and her book on writing at one stage… oh, how I wander off subject sometimes!) and how to improve topiary by what you plant around it. Do take a look at the article in Gardenista. Or for more about my topiary work, check out the topiary page.