THE MODERN MINT BLOG
Today we thought we would write about cut flowers again, taking inspiration from the book Vita Sackville-West's Sissinghurst: The Creation of a Garden
.
We have written about this book before (try this blog post about Vita Sackville-West) but thought we would give a whole blog post to our favourite chapter – Cut Flowers. So, in the words of Vita, and with a little help from Sarah Raven, here are a few reasons to grow your own flowers for the vase…
"A flowerless room is a soul-less room, to my thinking; but even one solitary little vase of a living flower may redeem it."
"It was important to her to have at least a sprig to pick every week of the year… she was not one for the great Dutch still-life style, those complicated mixed arrangements, preferring casually chosen stems of one thing or another, or perhaps a big vase of blossom such as philadelphus, or a bunch of zinnias or dahlias to put on the central table in her writing room…"
We are struggling to find a local cut flower grower here in Essex, and we no longer have our own land or polytunnels for cut flower production like we did when running our gardening business back in Hampshire.
It is a shame to miss out on locally grown flowers for the house – personally, we prefer to have cut flowers rather than 'houseplants' which tend to need more looking after and never look as healthy as they could or should be… but as at the moment we cannot find a good source of local, fresh cut flowers (the closest we have found is The Flower Orchard in Layer Marney, run by Karen Perry who is a member of Flowers from the Farm) we have put our vases away and are growing a number of cacti in pots around the house. And no, they do not look as happy, thrilling or inspirational as the luxury that local flowers can provide. There is never enough light in the house it seems…
"Winter flowers were particularly precious – the harbingers of greater abundance just around the corner. Vita loved to have plenty of things to pick for that time of the year – once the garden is chock-a-block, cut flowers are not so crucial. By late spring, you only need take a walk in the garden and you will feel replenished. But in winter, cut flowers inside are key."
That was Sarah Raven about Vita's need for cut flowers in winter. This section of the book is not just useful but inspiring, and should be encouragement enough to grow some winter flowers for yourself…
Here is Vita on winter cut flowers…
"Wrapped in mufflers and overcoats we go and peer about for a stray sprig of winter-sweet, a splashed and muddy hellebore, a premature violet – anything, anything to fill one solitary glass with some pretence of spring…"
She then calls, as we do here at Modern Mint, for seasonality in our cut flowers…
"There is still, I think, a great difference between the flowers which we force and those which we have the patience to wait for at their proper season. For one thing, the forced flower always slightly spoils our delight in its outdoor successor when it normally arrives; and for another, the forced flower itself, however welcome, is always something of a fake. To the true lover of flowers, these arguments are disturbingly potent…
The moral of all this is, that we especially welcome any flower which lightens the gloom of winter of its own accord. The more fragile and improbable-looking the better."
Have you heard of a 'tussie-mussie?' A 'tussie-mussie' is what Vita called a mixed bunch of winter and spring bulbs. Next spring, (spring happens to be our favourite time of year) we shall be making our own tussie-mussie…
"A dear near neighbour brought me a tussie-mussie this week… The dictionary defines tuzzy-muzzy, or tussie-mussie, as a bunch or posy of flowers, a nosegay… It is composed of at least five different flowers, all perfectly chosen. She always goes for the best, which I am sure is the secret of good gardening: choose always the best of any variety you want to grow."
But what did Vita think of peonies? We grew these in abundance when we had our cut flower business, for the good reason being they are brilliant flowers for cutting.
"There are few more repaying plants… rabbits dislike them; their flowering season extends through May and June; they last for a week or more as picked flowers for the house… flourish in sun or semi-shade; they will tolerate almost any kind of soil… even put up with clay… they never need dividing or transplanting; in fact, they hate it; and they are so long-lived that once you have established a clump (which is not difficult) they will probably outlive you. Add to all this, that they will endure neglect. Mine struggled through the weeds of war and seem none the worse for it… if you have a little bonemeal to spare, fork it in during the autumn. But it is not really necessary."
Oh, we do love peonies…
We have never, however, got on with gladioli – the feeling is we should like them, and use them more – but somehow they have never quite won our heart. Vita, we are surprised to see, felt the same…
"I am never quite sure what I feel about the (large-flowered hybrid) gladioli. Handsome… wonderful in colour… invaluable in the August-September garden… Here I come to a full stop and start saying No. I don't like their habit of fading at the bottom before they have come out at the top. I don't like the top-heaviness… I don't like the florist-shop look of them. No, take it all round, I cannot love the big gladiolus."
Just before the end of the chapter Vita (and Sarah) talk about mistletoe… here is how Vita recommends growing it…
"… get some fresh berries in February or March. These will be less withered and stand a better chance of germination. Squeeze the berry until it bursts, and stick the seed to the underside of a healthy young twig by means of the natural glue. Stick as many seeds as possible, to ensure a good percentage of germination, and also to ensure getting more than one plant… you won't get berries if you haven't more than one plant. The best host trees are the apple and the poplar, and you can be very successful also in starting it on hawthorns… you'll get the best results from a healthy shoot with a smooth and clean bark. After all this… you have to be very patient."
We love this section of the book Vita Sackville-West's Sissinghurst: The Creation of a Garden
 as much as we love cut flowers and hope to one day soon grow more again for you, our clients. But for now, we shall keep referring back and enjoying Vita Sackville-West and her thoughts on growing your own cut flowers for the house…
October 10 th 2014
Sep29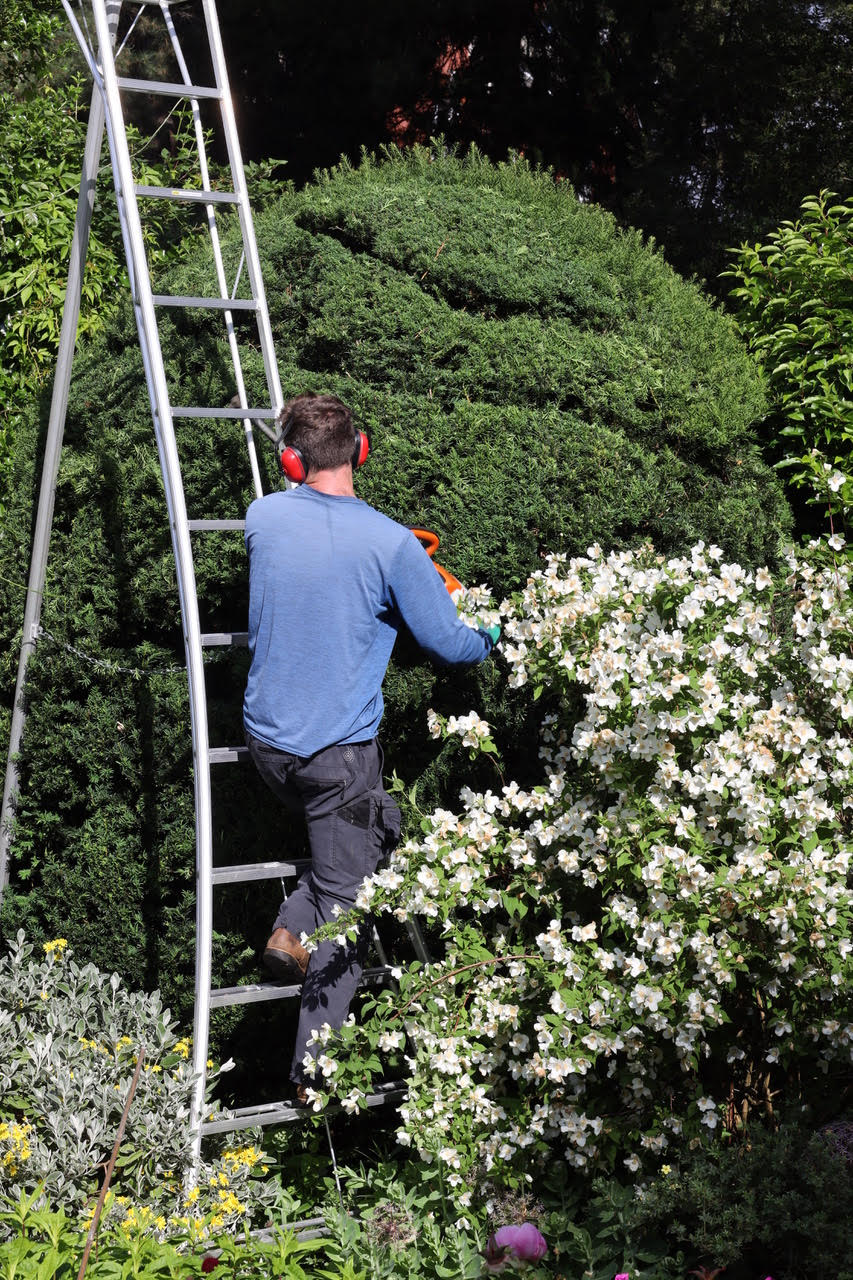 Making a new topiary out of the large, dull facade of a Taxus blob… My work was to change it up from a 'jelly drop' shape and give it texture, open it out and let the light through, and make it a sculptural feature in the background of the garden in summer… yet a major part of the garden in winter. A few more years before it becomes something special, but there was far more leaf and growth inside the plant than I thought and so it will not take too long for it to gain in character and become …
Sep27
Two weeks ago I was invited to teach topiary at the garden of Griselda Kerr, the author of The Apprehensive Gardener. I love teaching and sharing skills, but I was placed on the spot in the afternoon and asked to show how I would make a new topiary from an existing shrub. So below is a speeded-up video of me creating a cloud-pruned topiary from an old boxwood tree. I particularly love the ending when the class get involved….! See the video here. One hour was all it took, and though it needed a little tidying-up, it was made by …
Sep27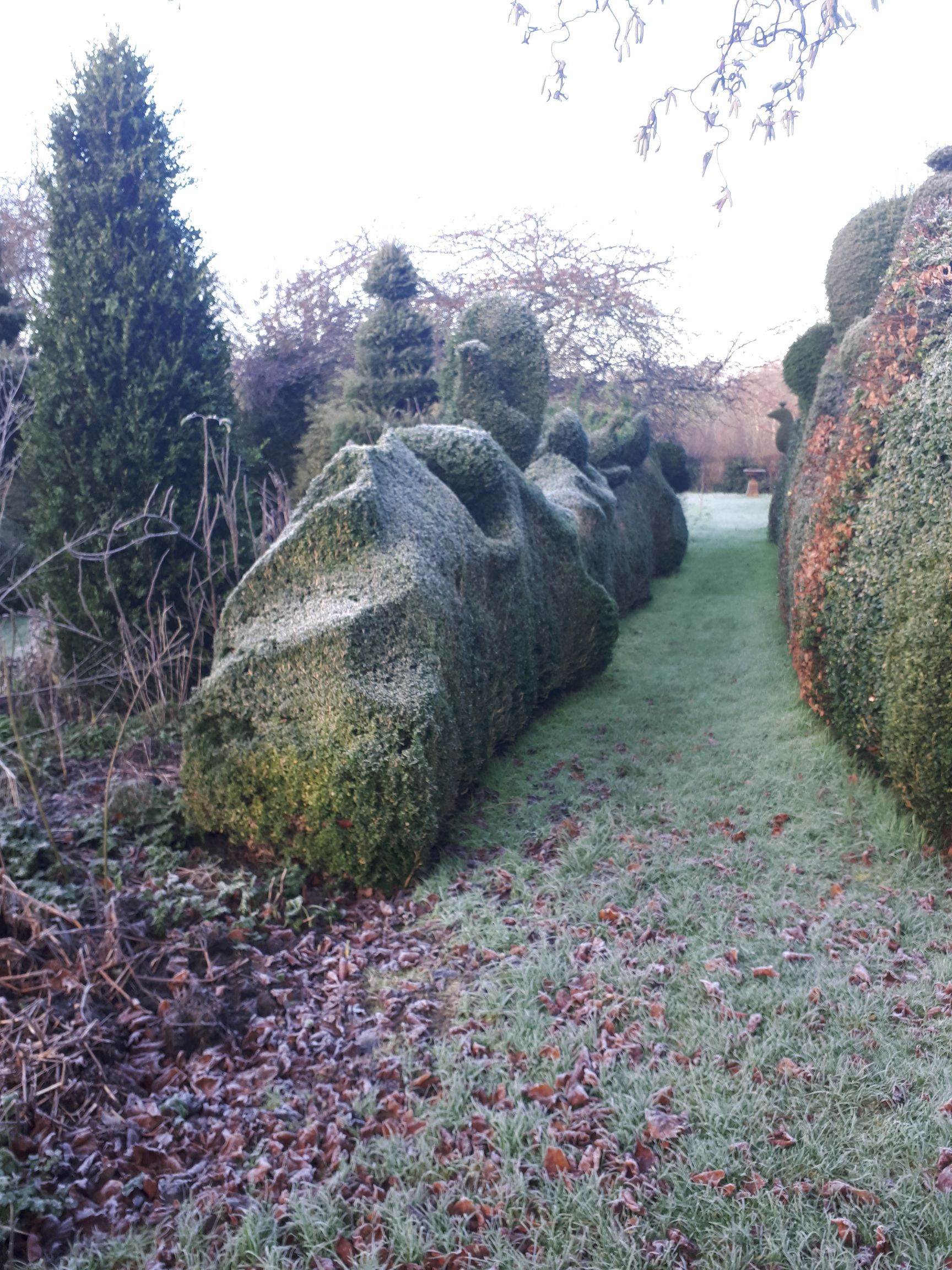 Charlotte Molesworth, my topiary mentor, and I are running our popular topiary workshop again in 2022. You can email me for details – or go here for information, your ticket and to find out about dates. Book A Spot On A Topiary Workshop, September 2022