THE MODERN MINT BLOG
A simple blog post today – we offer you a vocabulary to use when looking at ways to prune creatively, then at the end link to places you can buy tools and read more about the work of some of the key players in the pruning world.
We hope this vocabulary is useful though – as you never know when you might need to explain the difference between a wibble and a twmp – it may help sell the idea to a client, or unwilling family member who thinks you should just leave that tree well alone…
A Shape and Clipping Vocabulary
Blobs
Balls
Squares
Cubes
Rectangles
Dice
Domes
Cones
Spirals
Crenellation – a space between two merlons in a battlement wall.
Puddings
Multi-stem
Standards
Spheres
Buttresses
Windows
Arches
Wedding Cake
Boxes
Parasol
Goblet
Drumstick
Helter Skelters
Teardrops
Kidneys
Clouds
Rockets
Pyramids
Merlons – the upright bit in a castle fort (see crenallation… or google 'crenels…) An archer may have peered through it to fire arrows.
Carbuncles
Parterre – a more formal topiary arrangement than a bump, say…
Doughnuts
Bumps
Parachutes
Niches
Batter – sloped side on a hedge, where the bottom is wider than the top allowing light to reach the whole height of the hedge.
Eggs
Slabs
Planes
Broccolli
Peacocks
Humps
Lumps
Bells
Bolls
Tunnels
Candles
Tumpties
Mushrooms
Onions
Liberty caps
Nipples
Espalier
Pleached
Niwaki – meaning 'garden tree' – Niwaki: Pruning, Training and Shaping Trees the Japanese Way
Pollarded
Stilts
Stooled
Raised
Layed
Coppiced
Hedge – double, triple…
Flailed
Thinned
Animals
Chess Pieces
Top Hats
Russian Dolls
Plinths
Soldiers
Castles
Faces
Organic
Karikomi – one plant repeated in a great mass… for great effect…
Flat
Semi-flat
Poodle
Pompom
Furniture
Nursery & Topiary Specialists
Jake Hobson – sells tools here at Niwaki, and his books are here at Amazon.
Nicky Fraser – graffiti artist using hedges. Brilliant stuff!
Charlotte Molesworth – It's the shape of things to come.
Architectural Plants – where we first heard the term Niwaki.
Earlstone Box and Topiary – field grown box plants near where we lived in Hampshire.
Langley Boxwood – where we sourced little used Buxus 'Herrenhausen', a tiny leaved box…
European Boxwood and Topiary Society – publishers of the wonderful Topiarius magazine and brilliant starting place to learn about all things box. Modern Mint are proud to be members!
Tool Vocabulary
We hope this glossary of terms helps you put into words what you are trying to do when you clip. It is, much like the act of pruning, an organic artifact that is growing all the time as new people take up a pair of shears and begin to shape the plants around them.
We hope that you have a go this year, and can help add another word to the growing vocabulary of the pruner!
January 25 th 2015
Aug05
I will be bringing a show about gardening to the Faversham Fringe on Wednesday, August 28th at 8.30pm. More details and tickets here – Faversham Fringe, The Grinning Gardener.
Jun30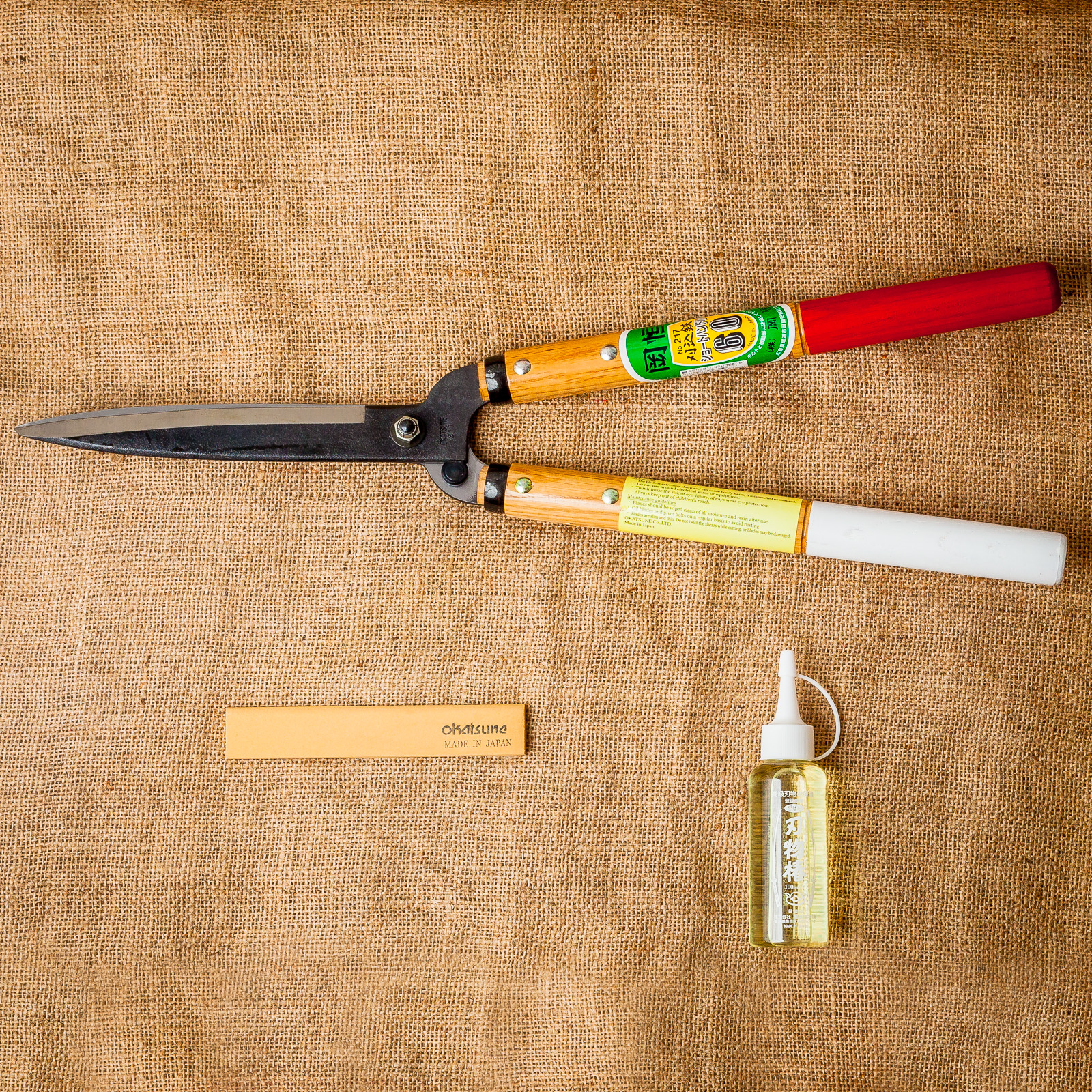 I recently wrote a piece for Topiarius magazine, the flagship publication of the European Boxwood & Topiary Society – of which Modern Mint is both a member and big supporter. Check out the EBTS here. They frequently run courses and talks too, so worth keeping an eye on. Below is the piece I wrote about the tools I use when making topiary and pruning trees…. Darren's Piece In Topiarius Magazine I use Okatsune Secateurs, which I started pruning with when working on a large orchard in Hampshire. My Felco's were too difficult to open with cold hands, but the chunky …
May20
Just inc are you are free in the following dates in June, you can visit my mentor Charlotte Molesworth's topiary garden… Check out the dates the garden is open here. And you can of course join both Charlotte and I for a topiary workshop in the garden in July, as well as September. Hope to see you there!