THE MODERN MINT BLOG
Gilding the Lily: Inside the Cut Flower Industry
 by Amy Stewart is about the life of a cut flower before it arrives in the shop.
Her extensive research is a must-read – this is not a book designed solely for people interested in growing flowers, or people who love the beauty of flowers in the house – it is a book that has a wider focus and is able to join the dots between first world consumption, the quest for a luxury item and what happens to an industry when a product (and the people who create it) become a commodity measured only in price.
Here are some key quotes from the book…
On breeding a rose for the cut flower market…
"7 years to design a rose in a laboratory and bring it to market. 6000 miles from a geneticist in Amsterdam to a farmer in Ecuador. 3 months of careful watching and waiting while the Valentines Day crop grows. 5 days, 2 airplanes, and a couple of trucks to get them to my house… they'd last a week in the vase."
On the ephemeral nature of cut flowers…
"What amazed me most about this extraordinarily complex worldwide industry is this: they do it all for something as perishable and ephemeral as a flower. Airplanes fly in from Kenya and trucks drive from Holland and acres of greenhouses get built and billions of dollars change hands. All that for the alstroemerias you pick up at the grocery store as an afterthought…"
On seasonal vs trade flowers…
"The cut flower trade is all about this struggle between what is natural and unspoiled and what is mass produced and commercial."
On flowers as a symbol of love…
"If the mixed bouquet of red roses and pink chrysanthemums designed by a national wire service at Valentines Day is indistinguishable from 1000's of others delivered that same day all across the country, does that make the message it carries any less significant?"
On Gilding the Lily…
"The more time I spent around the flower industry, the more I wondered if we were expecting too much from them (the flowers). Who are we to take a symbol of perfection, purity, and love and try to improve upon it… are we, in fact, gilding the lilly?"
On the florists impact…
"I realised that one reason why customers have so little idea where flowers come from is that their only point of contact in the industry – the florist – may have little idea either."
On an opinion she heard about organic flowers…
"Why have organic flowers when you don't eat them?"
(And to that last comment we reply – because it is a choice of how we treat the landscape…)
So that is Gilding the Lily by Amy Stewart, which you can buy at a lovely low price here at Amazon.
And here is is Part Two.
September 15 th 2014
Sep29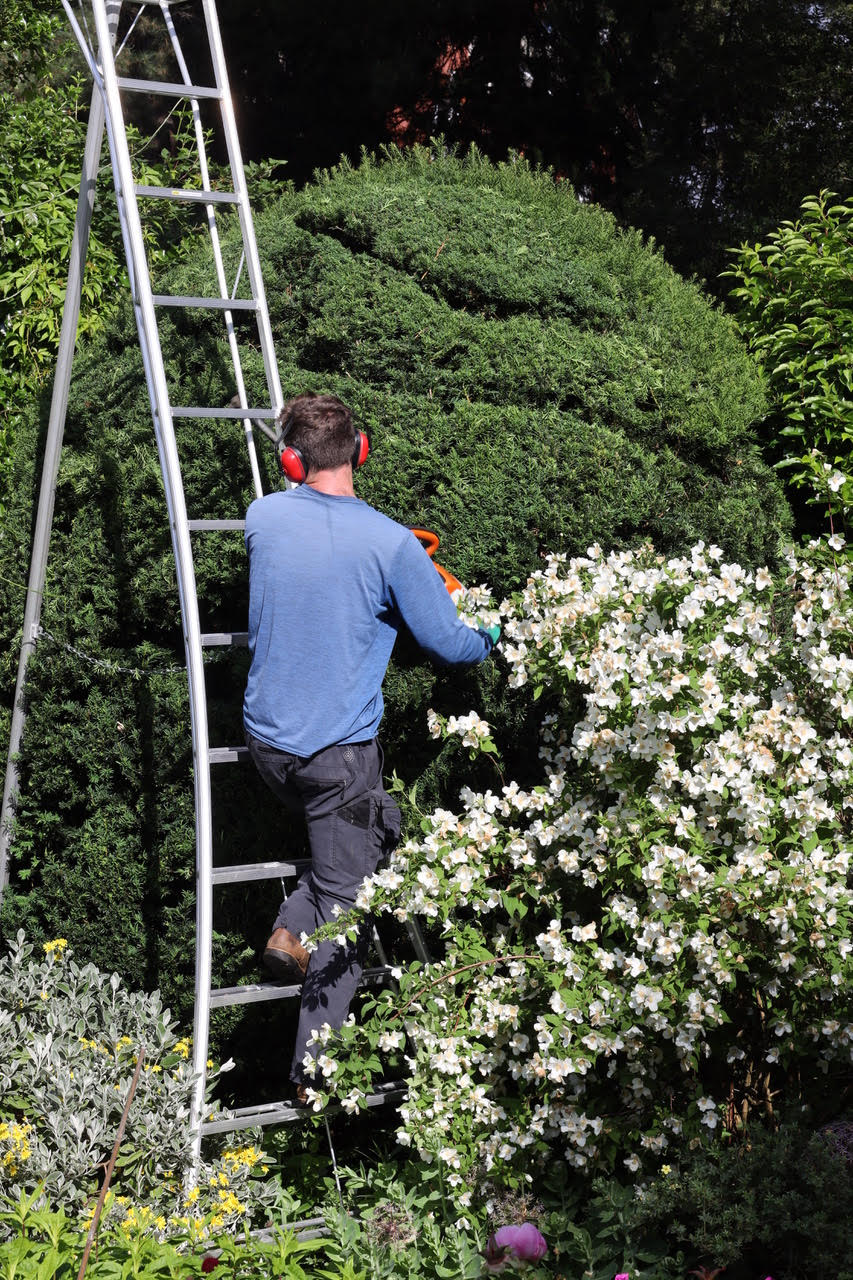 Making a new topiary out of the large, dull facade of a Taxus blob… My work was to change it up from a 'jelly drop' shape and give it texture, open it out and let the light through, and make it a sculptural feature in the background of the garden in summer… yet a major part of the garden in winter. A few more years before it becomes something special, but there was far more leaf and growth inside the plant than I thought and so it will not take too long for it to gain in character and become …
Sep27
Two weeks ago I was invited to teach topiary at the garden of Griselda Kerr, the author of The Apprehensive Gardener. I love teaching and sharing skills, but I was placed on the spot in the afternoon and asked to show how I would make a new topiary from an existing shrub. So below is a speeded-up video of me creating a cloud-pruned topiary from an old boxwood tree. I particularly love the ending when the class get involved….! See the video here. One hour was all it took, and though it needed a little tidying-up, it was made by …
Sep27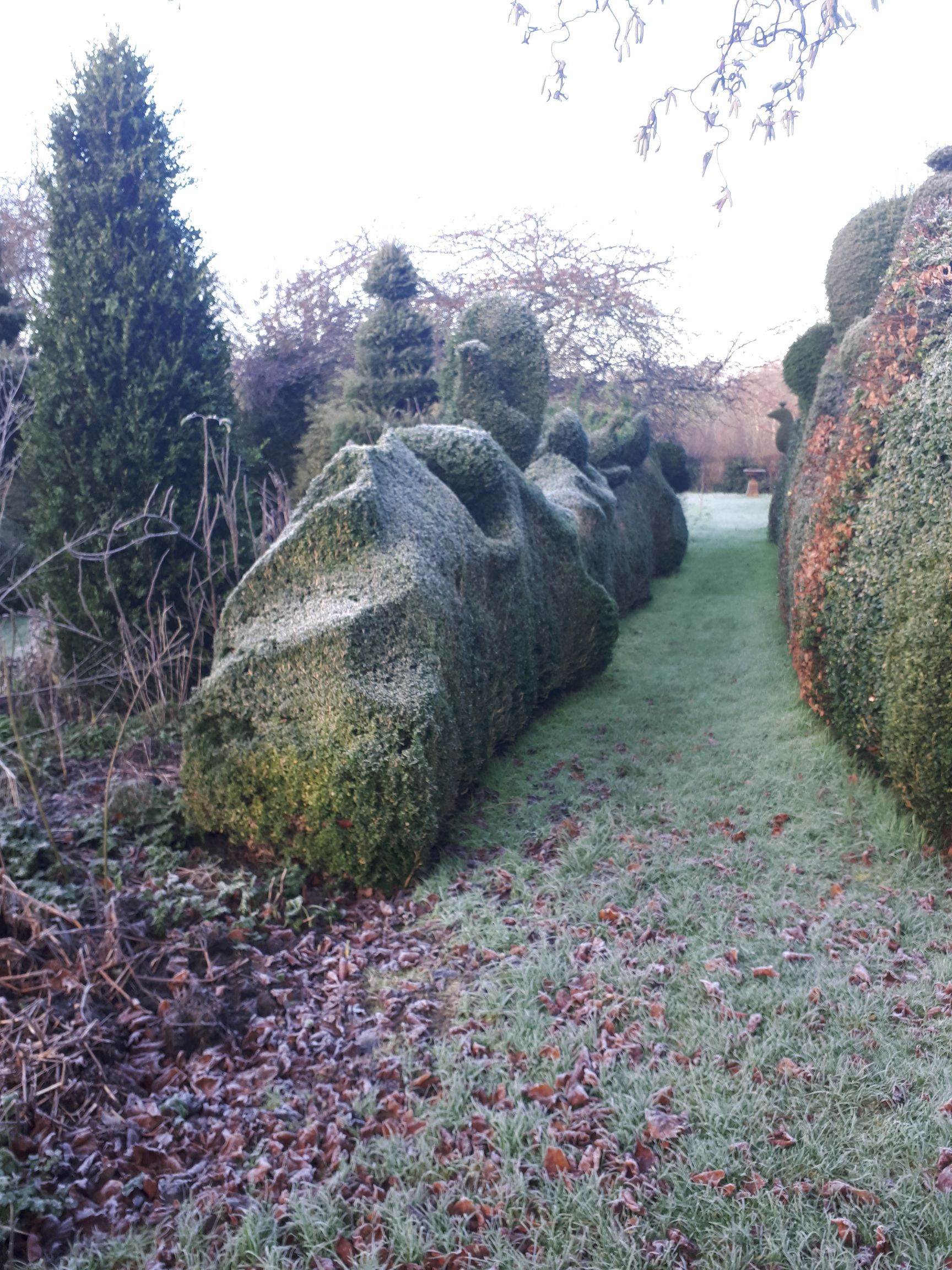 Charlotte Molesworth, my topiary mentor, and I are running our popular topiary workshop again in 2022. You can email me for details – or go here for information, your ticket and to find out about dates. Book A Spot On A Topiary Workshop, September 2022