THE MODERN MINT BLOG
Gilding the Lily by Amy Stewart is about the cut flower industry. It is a brilliant book, making you question the role cut flowers (essentially a luxury item, already dying before they even get packed to be transported to the shop) have in our lives.
(Here you can buy Gilding the Lily. While here is Part One from our blog. And here is Part Two.)
This blog shares Amy Stewart's conversation with florist shop owner Teresa Sabankaya from Santa Cruz, California…
"My whole thing with flowers started in the garden. I love to see plants going from seed to seed, you know? We had 11 acres in Bonny Doon up the coast, and I just started putting in one garden after another… the idea behind the shop was to be able to utilise some of the flowers coming off my property…
… we expanded to weddings, corporate accounts, and restaraunts. And we do deliveries. We're a full service florist, even though we don't look like it."
Amy Stewart explains…
"She (Teresa) has a kiosk, a cooler and extra work space… but only 30% (of sales) come from street sales and impulse buys… her shop has more in common with a 19th century florist… she grows some of her own, just like florists did a century ago."
It is a highly seasonal florist shop, and the way it is described in the book is thrilling – this is someone who is running a business, but also creating art. Teresa seems to have asked 'what can a flower shop do for you? For your city?' and found the answer to be – it can educate people about flowers and where they come from. It can excite people too.
"The whole reason I bought this place was to bring new things from the natural world and just put them right here in front of people… can you make someone stop for a minute…?
We have a frequent flower program… we stay open until 8 o'clock on the weekends…"
This is what a florist should be – growing flowers in their own garden, or sourcing flowers from a farmer just down the road, then putting together a bouquet with class and seasonality… while also providing a shopping experience that people want, at the time they want. It seems fun, seems to create a sense of community, gives a strong meaning to the flowers people buy and give as gifts. Brilliant – a dream of ours, to grow and sell cut flowers. Maybe one day?
You can read here Part One and Part Two of our Amy Stewart blogs.
Here is the a book on growing cut flowers by the lovely Louise Curley, should you want to give grow your own a go… The Cut Flower Patch.
And here are some of Amy Stewart's other books… Amy Stewart Books
 – well worth a read!
October 31 st 2014
Sep29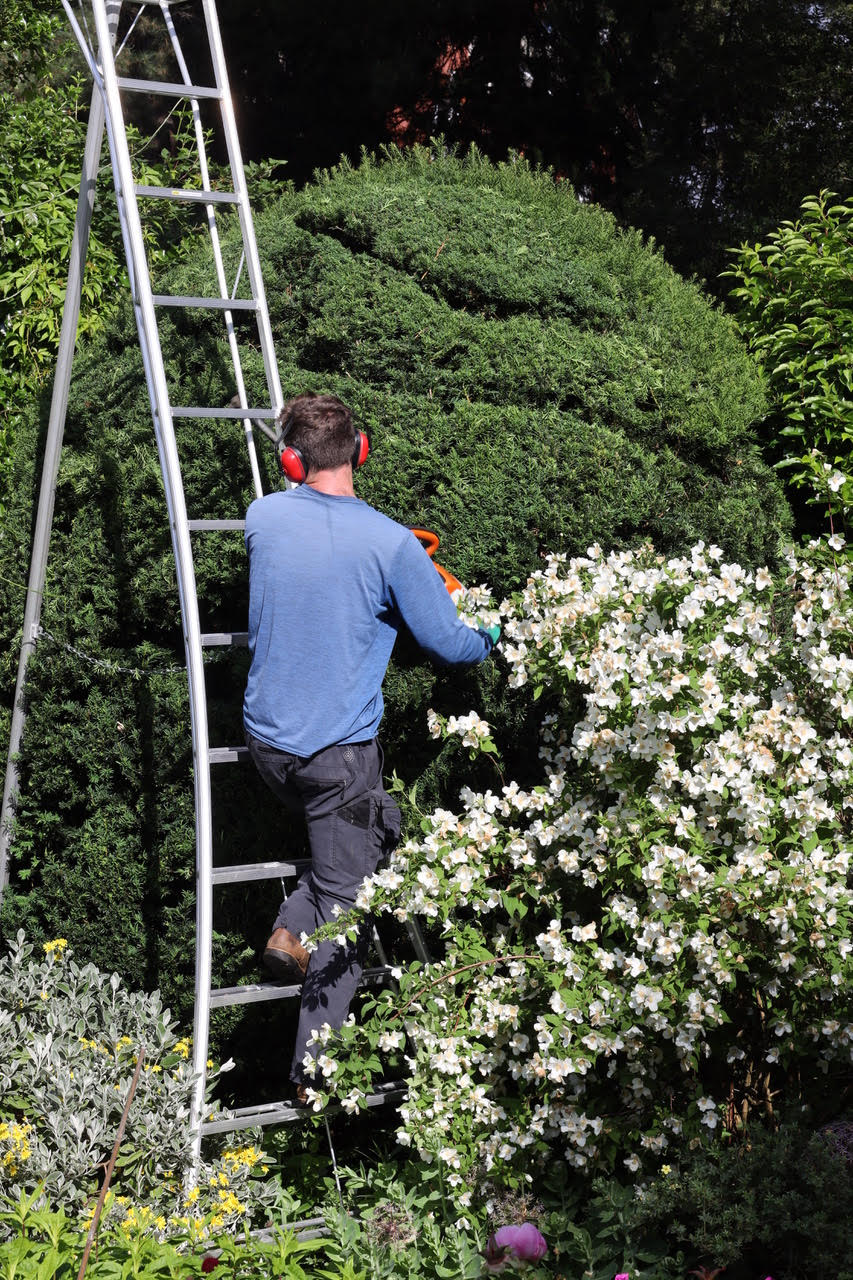 Making a new topiary out of the large, dull facade of a Taxus blob… My work was to change it up from a 'jelly drop' shape and give it texture, open it out and let the light through, and make it a sculptural feature in the background of the garden in summer… yet a major part of the garden in winter. A few more years before it becomes something special, but there was far more leaf and growth inside the plant than I thought and so it will not take too long for it to gain in character and become …
Sep27
Two weeks ago I was invited to teach topiary at the garden of Griselda Kerr, the author of The Apprehensive Gardener. I love teaching and sharing skills, but I was placed on the spot in the afternoon and asked to show how I would make a new topiary from an existing shrub. So below is a speeded-up video of me creating a cloud-pruned topiary from an old boxwood tree. I particularly love the ending when the class get involved….! See the video here. One hour was all it took, and though it needed a little tidying-up, it was made by …
Sep27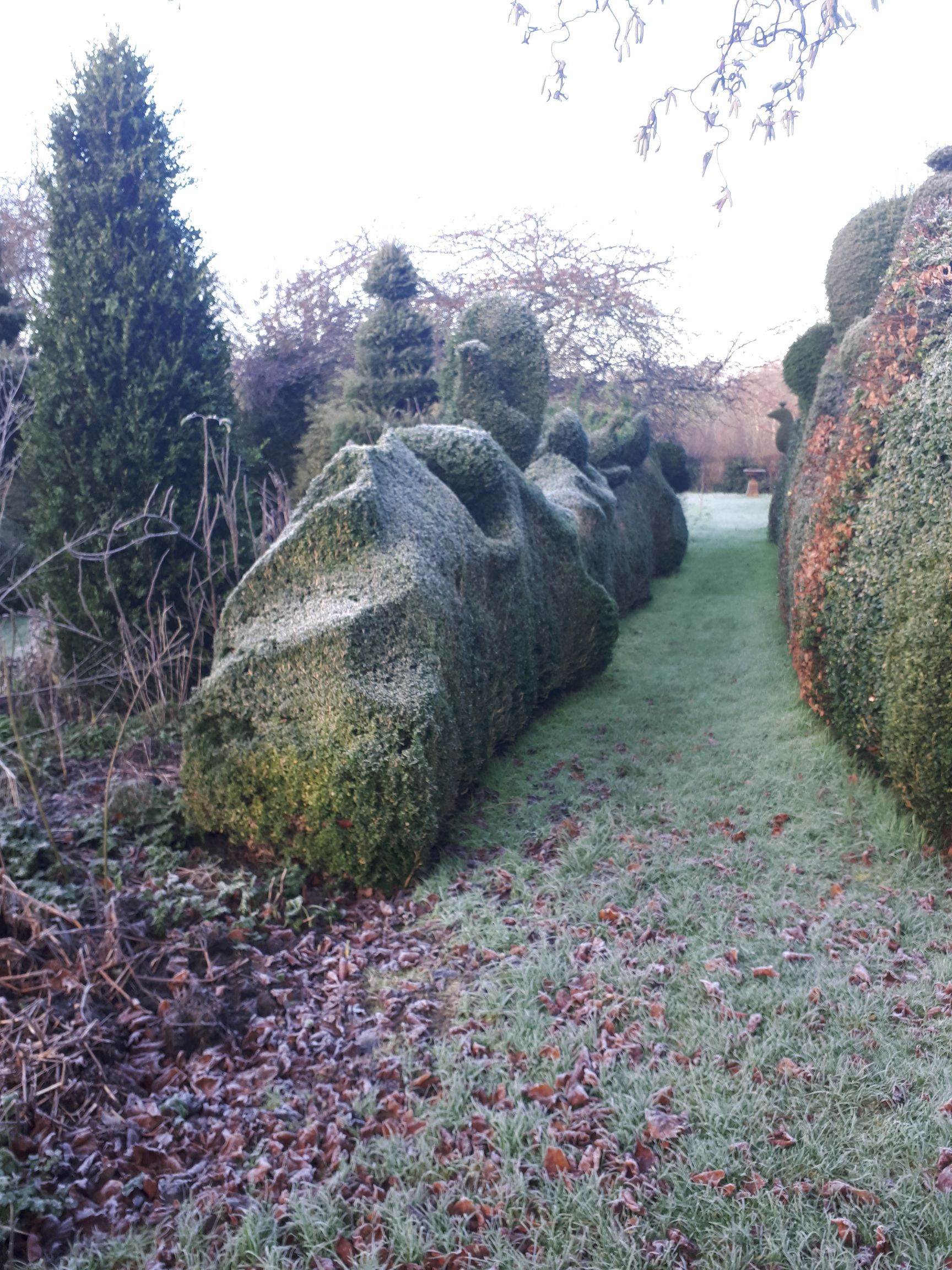 Charlotte Molesworth, my topiary mentor, and I are running our popular topiary workshop again in 2022. You can email me for details – or go here for information, your ticket and to find out about dates. Book A Spot On A Topiary Workshop, September 2022