THE MODERN MINT BLOG
This is an odd question, but we get the impression it is one a lot of people ask. They must do, judging by the enormous amount of media coverage gardening gets – the books, the tv series, the radio programmes, the magazines, the blogs, the designers, the available courses and the websites…
We are pleased about this. We love being out in the garden, for the health benefits as much as the testing of our ideas and understanding of the world – does this plant go with that one? Why does a robin sit on the fence watching us? Has the lack of sunshine over the last ten days been the cause of my beans not producing the great harvest they could…? Who were the first people to realise you could eat the flowers of a daylilly, or is it just us who forgot what we knew?
Gardening gives us a wonderful excuse and physical rhythm to ask questions of the world, so it is encouraging to see so many people want to garden. But we think there is a lack of confidence in how to do it, culturally, as if we are afraid to get something wrong.
Hear this keen gardeners – in the garden, every year, you will always get something wrong. (If not 100 things…)
The key to gardening is to get out there and do it. To be outside, to engage, to try. It is the reason we started Modern Mint – we wanted a vehicle that could help people answer the question 'what do I do with my garden?' We wanted to be the people who could say – we will help!
That is still the same now we have added the shop. We don't stand on our market stall surrounded by these fantastic products that are well made, or hand crafted, or beautifully designed, and ignore people who come to look. We tell them why the seedballs will help bees, the copper tools are an aid to stop the slugs and the fertilisers are organic for your health as much as the plants.
It is a system that allows us to spread the message that gardening is good for you, that the world outside of your door is one you should be interested in. As we said above, most people are interested in it – and we hope beyond hope they look at Modern Mint and know they will get great advice from us.
We currently have two new garden design jobs just beginning, but here is a photo from a design we worked on last year… it took awhile to settle, but now it really is taking root…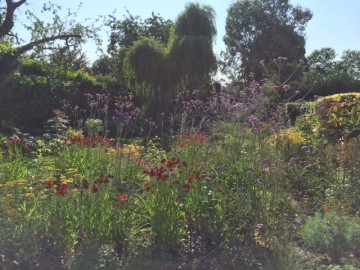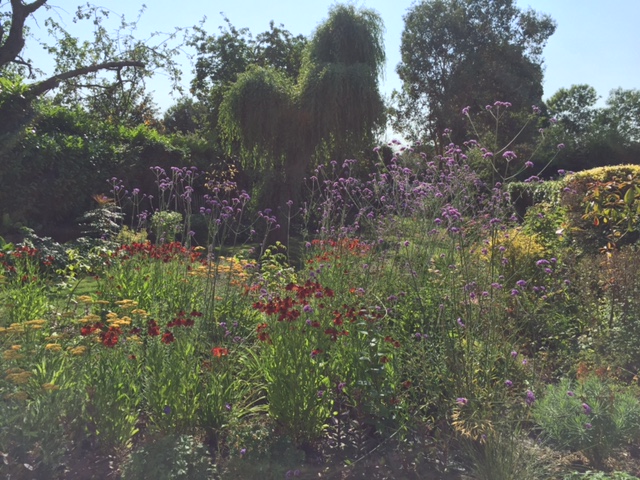 The red is helenium, an amazing plant for bees because it replenishes its nectar source by the afternoon – so bees can come back and fill up again after the morning hunt.
Just a little tip their from Modern Mint, who CAN help with your garden…
August 21 st 2015
Oct11
Need a talk for your garden club? Via Zoom because of Covid-restrictions this winter? Then I can help! It is great you are trying to keep your club going, and though Zoom is not the same as getting a group together and talking about gardening live, of the moment, right now it is the best alternative we have got. How I Do A Zoom Talk For Your Garden Club I'm very happy to do Zoom talks and have moved about 20% online so far (from end of March 2020 to the start of October 2020) – although that number is …
Oct09
Just a quick message from a garden club last night after I gave a talk for them via Zoom… Hi Darren, We would just like to thank you for a very enjoyable and fun talk this evening for our first Zoom meeting! Think we can say that everyone enjoyed it, we have already had positive feedback from some of the members, obviously the way forward at the moment! We were certainly very pleased with the turn out for the first virtual meeting! If you are a garden club speaker and want to give it a try, then please do …
Sep21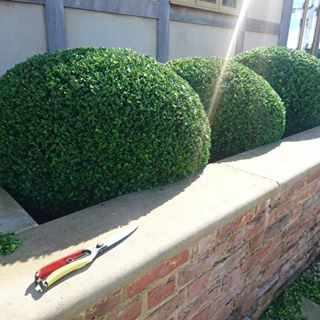 I was asked by the European Boxwood & Topiary Society to help out with answering a common question – How to sharpen your shears? So we spent a fun day making a video, that hopefully will help you make sure you have sharp, shiny blades to do your topiary pruning with. And you can find here more examples of the topiary I make with my sharp blades.