THE MODERN MINT BLOG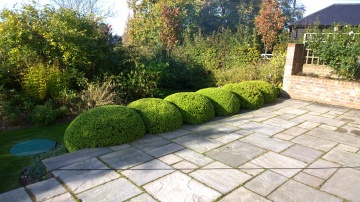 What do I do with this space? A question clients often ask us, a question we often ask ourselves.
So it became the title of our new talk for winter 2014/2015… but to answer this question, we have realised, is a huge undertaking.
Exploring potential answers left us delving deeper and deeper into new ideas, unpacking thoughts and contemplating the words of garden philosophers, and feeling ever more entangled by the question we had set out to explore. How could such a simple question become so complex? Or as Clarice Lispector puts it in The Passion According to G.H.:
"I don't know what to do with the horrifying freedom that can destroy me."
And doesn't that sum it up well – what do I do with this space? Really, you can do anything.
The art or science or whatever you want to call it is left to you, the way you think and feel and what you know and don't know… and of course, the 'don't-knows' you are willing to explore.
The talk takes in the work of people from all over the world – starting in Japan, then ending in a dream garden via Scandinavia, Spain, Uruguay, Sheffield and the kitchen of a Parisian chef. It also quotes Motehr Teresa and Jack Gilbert, just to keep the audience on its toes!
It is a fascinating question we have set ourselves and we have had a riot exploring potential answers. Please do come along to the premiere of this new garden talk on Wednesday in Chignall, 7.30pm start.
You can find all the details here on our Talks page.
We hope to see you soon, to share this discussion with us as we ask the question:
Testimonials:
"Thank you so much for such a thought provoking presentation last night. I'm certainly rethinking my new border!
I've passed on your photos to those who heard you and to the others who missed a treat."
Chignal and Mashbury Gardening Group.
November 18 th 2014
Feb22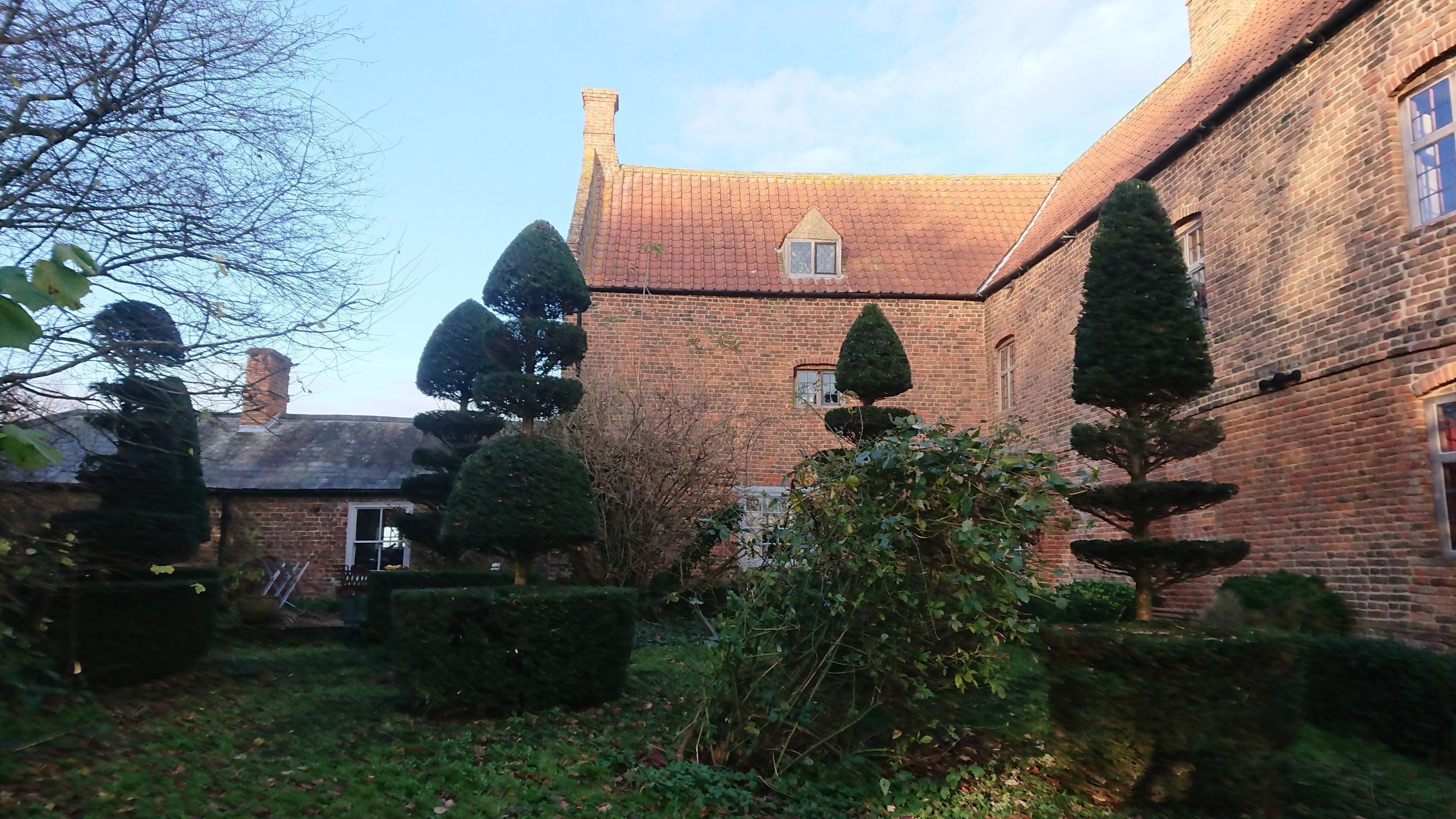 Guanock House needs a trainee topiary artist! Some of you may know it as the first home and garden of designer Arne Maynard, but is now owned and maintained by Michael Coleman and his wife Michelle. They offer meditation workshops and retreats there and it is as beautiful a house and garden as you could wish to visit. They called me in last Autumn to help shape up some of the topiary as it was all getting out of hand, but what it really needs is someone with a steady hand and lots of patience to take over the clipping …
Feb09
Here are some photos of work I have been doing at the garden of Charlotte Molesworth in Kent. Snow and ice brings out the depth of the different planes and angles carved into the boxwood. A garden has to look beautiful in winter – and topiary (green architecture)  helps do that! For more topiary pictures, click here.
Feb05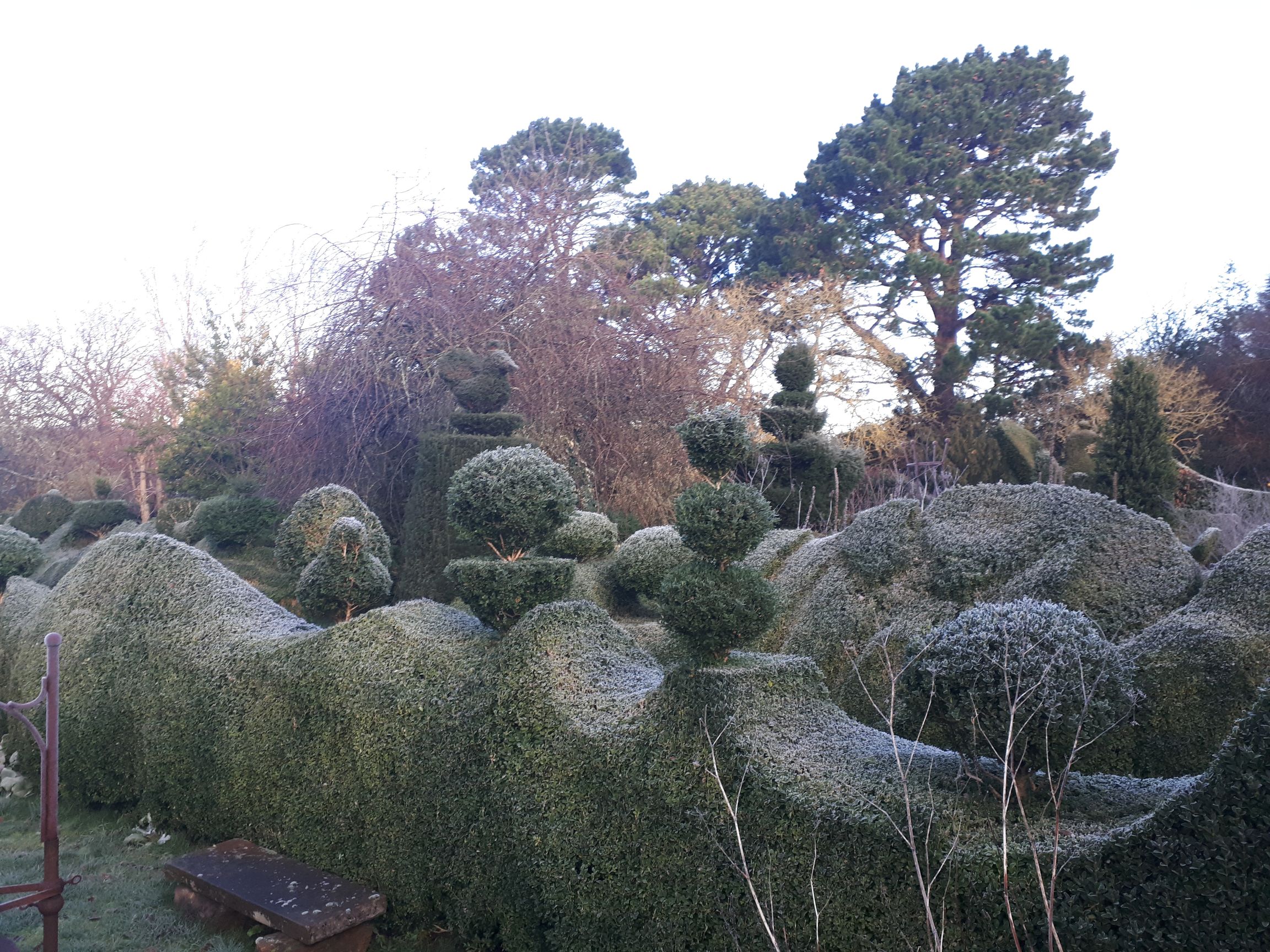 How To Use Topiary In The Garden is my new talk, which I first gave last year via Zoom for the European Boxwood And Topiary Society. Returning to Zoom again, there are two dates available to see and hear the talk: March 16th – Book your ticket here April 6th – Book your ticket here The talk is great fun, perfect for keen gardeners or people who want to know how to improve their garden with hedges and architectural plants. How To Use Topiary In The Garden looks at how to move away from the idea topiary is twee or old-fashioned, …