THE MODERN MINT BLOG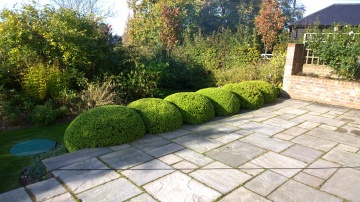 What do I do with this space? A question clients often ask us, a question we often ask ourselves.
So it became the title of our new talk for winter 2014/2015… but to answer this question, we have realised, is a huge undertaking.
Exploring potential answers left us delving deeper and deeper into new ideas, unpacking thoughts and contemplating the words of garden philosophers, and feeling ever more entangled by the question we had set out to explore. How could such a simple question become so complex? Or as Clarice Lispector puts it in The Passion According to G.H.:
"I don't know what to do with the horrifying freedom that can destroy me."
And doesn't that sum it up well – what do I do with this space? Really, you can do anything.
The art or science or whatever you want to call it is left to you, the way you think and feel and what you know and don't know… and of course, the 'don't-knows' you are willing to explore.
The talk takes in the work of people from all over the world – starting in Japan, then ending in a dream garden via Scandinavia, Spain, Uruguay, Sheffield and the kitchen of a Parisian chef. It also quotes Motehr Teresa and Jack Gilbert, just to keep the audience on its toes!
It is a fascinating question we have set ourselves and we have had a riot exploring potential answers. Please do come along to the premiere of this new garden talk on Wednesday in Chignall, 7.30pm start.
You can find all the details here on our Talks page.
We hope to see you soon, to share this discussion with us as we ask the question:
Testimonials:
"Thank you so much for such a thought provoking presentation last night. I'm certainly rethinking my new border!
I've passed on your photos to those who heard you and to the others who missed a treat."
Chignal and Mashbury Gardening Group.
November 18 th 2014
Feb10
There seems to be some underhand shenanigans going on here. Bob Flowerdew is threatening to resign. We face losing the UK's cornerstone organic garden. So please take a look at what is going on via the Facebook group…. go on! Go Now! Save Ryton Organic Gardens!
Feb06
Today we will be looking at Garden Design Trends in 2018. Just so you are in the know about what is cool and what is not cool in the 12 months ahead…. For the past like, million years I have shared my thoughts on what the gardening industry tell us the latest trends are going to be. If you are interested, you can see here the garden design trends for 2017. Or take a peek at my favourite of all the posts I have written – Alternative Garden Design Trends. This is my individual take on what the latest garden design …
Feb06
Well now, this is interesting…. UK Plans 50 Million New Trees in Northern Forest Likely? See the pitfalls? We love the idea and wholeheartedly support as much tree planting as possible. But are seriously doubtful that this is more than a sticking plaster solution to England being so vastly 'under-treed'…. or should that be 'overfelled?' Yet whether this idea happens or not, all we ask is that you please make sure you plant as many trees as you can in your garden!