THE MODERN MINT BLOG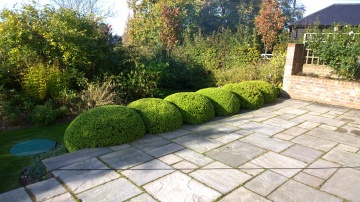 What do I do with this space? A question clients often ask us, a question we often ask ourselves.
So it became the title of our new talk for winter 2014/2015… but to answer this question, we have realised, is a huge undertaking.
Exploring potential answers left us delving deeper and deeper into new ideas, unpacking thoughts and contemplating the words of garden philosophers, and feeling ever more entangled by the question we had set out to explore. How could such a simple question become so complex? Or as Clarice Lispector puts it in The Passion According to G.H.:
"I don't know what to do with the horrifying freedom that can destroy me."
And doesn't that sum it up well – what do I do with this space? Really, you can do anything.
The art or science or whatever you want to call it is left to you, the way you think and feel and what you know and don't know… and of course, the 'don't-knows' you are willing to explore.
The talk takes in the work of people from all over the world – starting in Japan, then ending in a dream garden via Scandinavia, Spain, Uruguay, Sheffield and the kitchen of a Parisian chef. It also quotes Motehr Teresa and Jack Gilbert, just to keep the audience on its toes!
It is a fascinating question we have set ourselves and we have had a riot exploring potential answers. Please do come along to the premiere of this new garden talk on Wednesday in Chignall, 7.30pm start.
You can find all the details here on our Talks page.
We hope to see you soon, to share this discussion with us as we ask the question:
Testimonials:
"Thank you so much for such a thought provoking presentation last night. I'm certainly rethinking my new border!
I've passed on your photos to those who heard you and to the others who missed a treat."
Chignal and Mashbury Gardening Group.
November 18 th 2014
May03
Over the last two years I have been involved with a couple of projects that have ended up being recorded, then placed on Youtube or Instagram. I'm hoping they will be useful to you, so I have decided this morning to pop them together in one handy blog post so that you can bookmark the page and revisit when you need some inspiration for your topiary. See below then, a few videos about topiary I have recently been involved with… Garden Masterclass – Provocations of a Modern Topiarist Transforming Topiary Topiary Teacher Put On The Spot https://www.instagram.com/p/CTj-EfOKRL6/ In the above …
May03
Mark Zlotsky is an artist based in New York, and today I just wanted to share his project 'Topiary Tango'. In his introduction to the project he talks of topiary being a forgiving art, which I love and is soooooo true…..! For proof, just take a look at some projects I have made with a sharp pair of shears, a hedgetrimmer and a pruning saw. Do check out Mark Zlotsky's project, because although his interest began by looking at topiary through the prism of architecture and the relationship of one building to another, he touches directly onto a way of …
Apr27
Gardenista, the online magazine about gardens and design, have interviewed me about topiary. The article is called 'Rethinking Topiary: A Garden Tradition Loosened Up' and was published this morning. Written by the excellent garden writer Clare Coulson, I share some thoughts on using deciduous plants, how to clip (name-dropping Anne Lamott and her book on writing at one stage… oh, how I wander off subject sometimes!) and how to improve topiary by what you plant around it. Do take a look at the article in Gardenista. Or for more about my topiary work, check out the topiary page.