THE MODERN MINT BLOG
Well worth a read in the BBC today – a note on how wasting water in the UK "as socially unacceptable as blowing smoke in the face of a baby."
Read the report here.
I have written a talk about how we use water in the  garden. It was written when I moved from Hampshire to Essex and found out for myself just how dry this area of the UK is. It completely changed the way I garden. The lack of such a precious resource as water made me question what we can do to save it, store it and then use it where it is needed.
The BBC report suggests we will have a water shortage within 25 years. This is due to the hotter, drier summers and a rising population. It will put a strain on the existing resources we have.
If we can change our views on smoking and plastic waste, then saving water must be the next thing we tackle. Let us hope we don't wait 20 years before starting.
March 19 th 2019
Sep21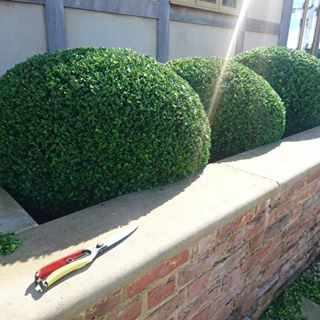 I was asked by the European Boxwood & Topiary Society to help out with answering a common question – How to sharpen your shears? So we spent a fun day making a video, that hopefully will help you make sure you have sharp, shiny blades to do your topiary pruning with. And you can find here more examples of the topiary I make with my sharp blades.
Aug16
You can get a ticket for this new talk I'm giving at the European Boxwood And Topiary Society here – TALK TICKETS It is on the 25th August at 6pm. It should be great fun and I'm very excited to be sharing some recent thoughts about topiary with people – and how it might work in a modern garden.
Jun14
If you have a subscription, you can check out an article about bespoke ideas for your garden in the Telegraph. There are some great crafts people there, so check it out. Click Here To See The Article About my Topiary Work In The Telegraph