THE MODERN MINT BLOG
If you want to waste time online… it is far too easy to do!
So we have chosen for you a number of posts worth reading online that will mean that, when you've finished, you won't feel guilty about time lost. Because these are fabulous blogs. Not all are about gardening, but what they do have in common is a way of teaching you something, of taking you through an idea or a story that is worth hearing.
By spending time online with these ideas, you will give yourself something rich and deep to think about while you are head down weeding this spring.
Enjoy our five recommendations for online reading!
1) Whispering Giants by Sara Maitland
About wind farms an how to judge what is beautiful and what is not. So interesting as always from Sara Maitland, and the magazine it is published in – Aeon – is worth making a regular visit to.
2) The Farming Ladder by Michael Blanche
Brilliant thoughts into how to become a first generation farmer. Not easy, but exciting to see such creative thinking.
3) Farm Series photographs in Indie Farmer
Indie Farmer is another wonderful magazine, and this post talks about the work of photographer Rob MacInnis and how he managed to capture such funny and ridiculous images.
4) Career Advice by George Monbiot
Not one to hold back, here George Monbiot tells you to take the road less travelled – you might not earn much to begin with, but what a fun time you will have doing it. And what you learn along this odd road will pay for itself later on…
5) Outdoor Philosophy by Kate Rawles
Kate Rawles teaches about the environment. She wrote a book called the Carbon Cycle, where she cycled across the USA interviewing people she met along the way how they felt about climate change. You can imagine the responses there, yes?
Is that enough for now?
If you want more to read online we can offer you a few selections from our website… we loved making these interviews with interesting garden folk:
The Cycling Gardener of Liverpool.
And of course, you can always check out this years garden design trends:
Has that inspired you?
We do hope so. Now go get outside into the spring sunshine… rain… snow… whatever the weather holds, and get stuck into your garden jobs. The great stuff you can find online will always be there, but spring only comes once a year.
Happy gardening!
March 25 th 2015
Feb22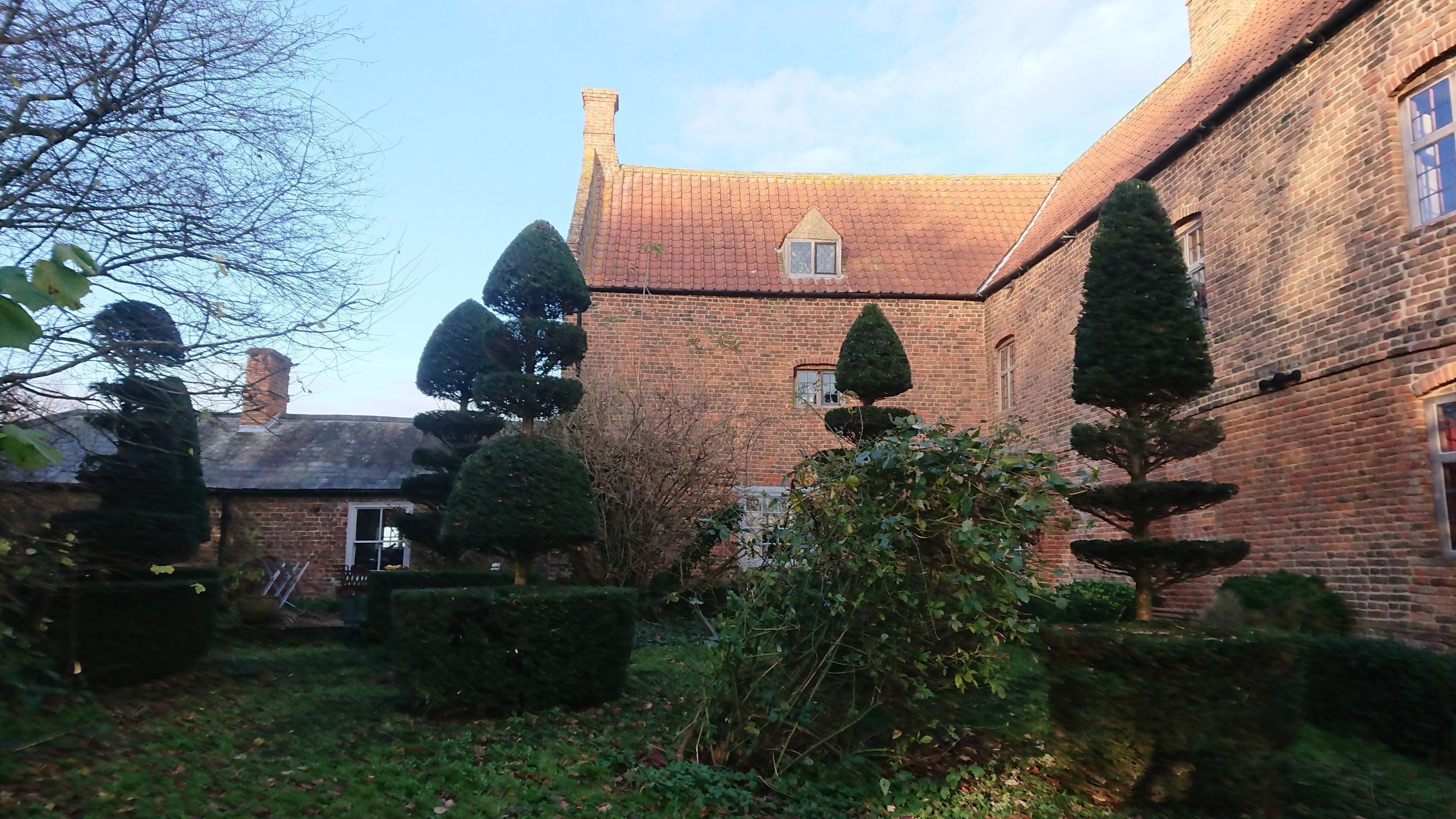 Guanock House needs a trainee topiary artist! Some of you may know it as the first home and garden of designer Arne Maynard, but is now owned and maintained by Michael Coleman and his wife Michelle. They offer meditation workshops and retreats there and it is as beautiful a house and garden as you could wish to visit. They called me in last Autumn to help shape up some of the topiary as it was all getting out of hand, but what it really needs is someone with a steady hand and lots of patience to take over the clipping …
Feb09
Here are some photos of work I have been doing at the garden of Charlotte Molesworth in Kent. Snow and ice brings out the depth of the different planes and angles carved into the boxwood. A garden has to look beautiful in winter – and topiary (green architecture)  helps do that! For more topiary pictures, click here.
Feb01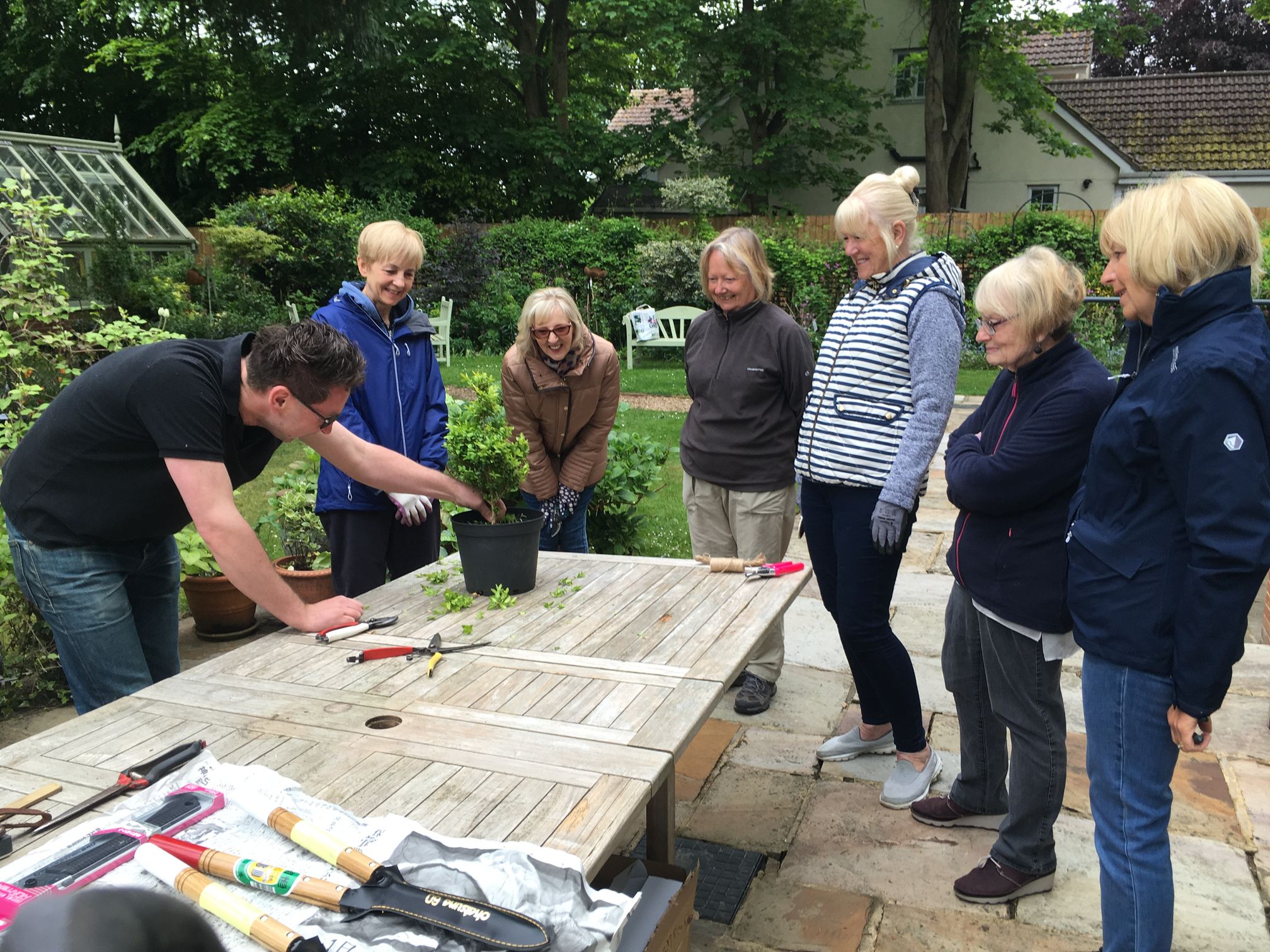 I am an experienced teacher of topiary and pruning, running workshops in the topiary garden of Charlotte Molesworth in Kent, as well as for The English Gardening School and The European Boxwood And Topiary Society. So if you are a keen gardener, a garden club, a group of friends who want to know more or even an absolute beginner who has been bitten by the gardening bug, then do contact me about what you might like to learn. What a laugh we are having in this workshop session I ran for a group of friends in Essex… Many people employ …