THE MODERN MINT BLOG
(This is a guest post from Anthony Gallagher, Managing Director of Easigrass.)
A lot of people still tend to scoff at the idea of artificial grass, but others are starting to realise just how much fake grass has improved. It is now being seen as a genuine, worthwhile alternative to natural grass for a range of domestic and commercial settings. Artificial grass offers some genuine advantages, but also some drawbacks. Deciding which is best for you requires the careful consideration of a number of important factors.
Appearance
The big objection most people have to fake grass usually relates to its appearance. Most people assume that fake grass looks very different from the real thing. Whilst this has traditionally been true, and still can be, fake grass has come a very long way in terms of realism. With prices varying from anything between £10 to £30 per sq. meter, the phrase "you get what you pay for" has particular resonance here. Cheap fake turf will still appear noticeably different from the real thing, but higher-quality products on the market are now much harder to distinguish.
Cost
It is much more expensive to install fake grass than it is to plant a lawn or install natural turf. As discussed above, it will be more considerably more expensive if you opt for the most realistic artificial grass on the market and even more if you want it installed as well (although this is definitely recommended). Lawn size also plays a huge role as well. On the other hand grass seed can be picked up for next to nothing, and natural grass turf is also much cheaper. However, artificial grass does tend to have a long lifespan of anything up to fifteen years and, as we shall see, the costs of maintaining it are practically zero when compared to the real thing.
Maintenance
If appearance is the main selling point of real grass then low maintenance is undoubtedly the main draw of the fake stuff. Artificial grass turf requires far less maintenance than natural grass. Real grass requires regular mowing, and if you want it to look its best, then it will also probably require watering, treating and scarifying. Artificial grass, on the other hand, is unchanging and will look the same come rain or shine. It is manufactured to look its best, and it will stay that way without the need for cutting, watering or feeding. As a result, once it has been installed, it will require far less time and effort on an ongoing basis than a natural lawn. The impacts of this are on both lifetime cost and time invested, both of which create a huge draw for those with busy lifestyles, such as young families with two working parents.
Mud and Durability
Natural lawns become muddy in wet weather and are therefore prone to damage. With active lawns that see a lot of activity from children, teenagers and pets this means that the lawn is likely to become churned up from too much activity. Even in dry weather, heavy use is likely to create considerable and noticeable wear on a natural lawn. Artificial grass is much more durable and resistant to churning, wear and digging by pets. Because it is not prone to the vagaries of the weather and impromptu football games, fake grass effectively eliminated the inconvenience of muddy shoes and the ever present worry that the kids might be stomping mud across your lovely new carpet.
Gardening as a Hobby
Many enthusiastic gardeners take great pride in their outdoor spaces, and in particular in the fact that they have grown and maintained a natural and organic paradise through their own hard work. Often this pride extends to include the lawn, with many gardeners regarding that perfect carpet of neat, vibrant green grass as the jewel in the crown. Such enthusiasts can often therefore react somewhat cynically to artificial grass, which could be seen to some as cheating. But a garden can be many different things to many different people and the pros and cons debate ultimately comes down to the niche artificial grass finds for itself in our bustling 21st century lives.
Which is better?
As you may have guessed by now there is just no right or wrong answer to this question. Whether artificial or natural grass is better depends entirely on your tastes and circumstances. Natural grass is great for those who want "the real thing", take pride in their garden or just want a cheap lawn and don't mind tending to it. However, fake grass can provide a good, low-maintenance lawn and a very practical surface for sport and play, which is perfectly suited to city-dwelling families with busy lives.
About the Author: Anthony Gallagher is the Managing Director of Easigrass, a network of award winning artificial grass franchisees and International Licensed partners. Under his stewardship, Easigrass became the first artificial grass company in the world to exhibit a show garden at the Chelsea Flower Show in 2010. You can connect with them on Twitter, Facebook or find out more by visiting their YouTube channel.
(For more lawn options, try answering the most important lawncare question…!)
September 26 th 2014
Sep29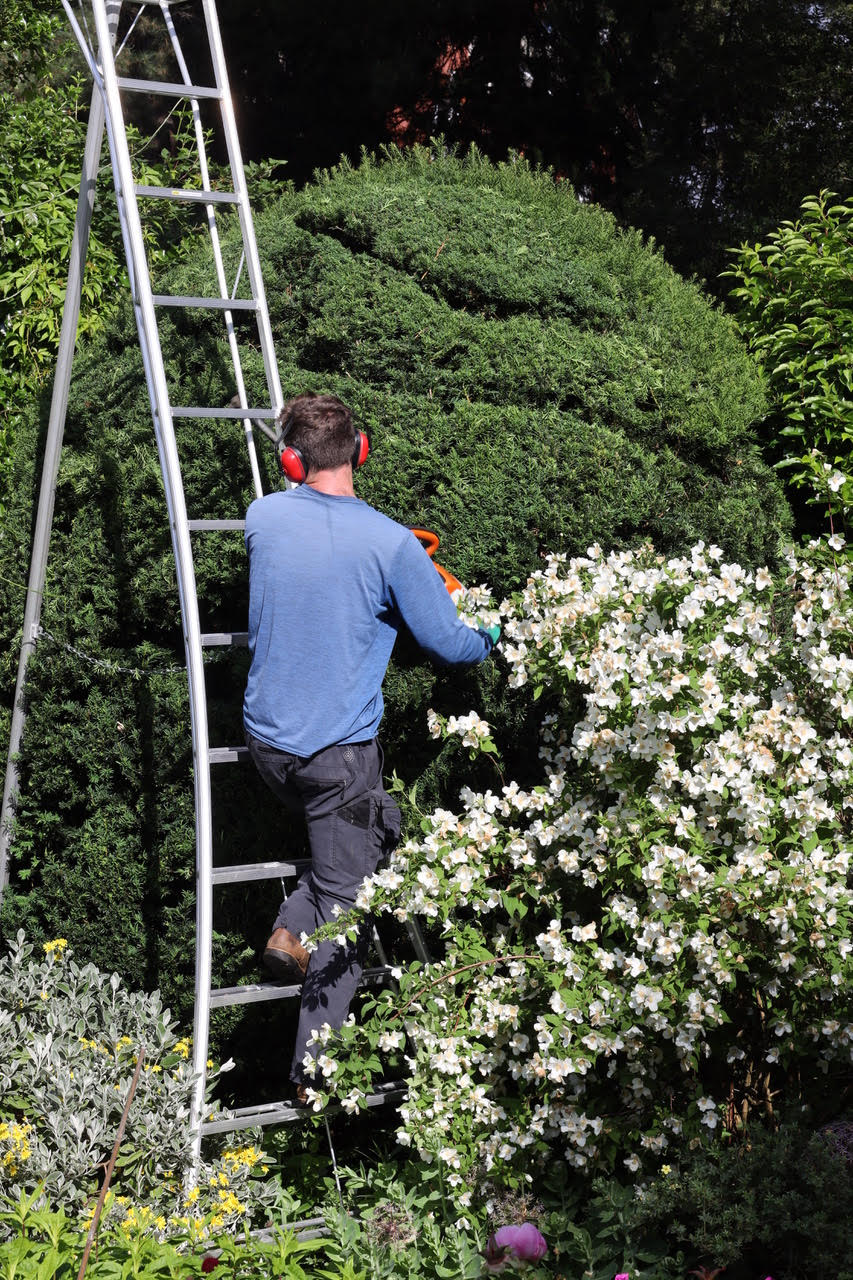 Making a new topiary out of the large, dull facade of a Taxus blob… My work was to change it up from a 'jelly drop' shape and give it texture, open it out and let the light through, and make it a sculptural feature in the background of the garden in summer… yet a major part of the garden in winter. A few more years before it becomes something special, but there was far more leaf and growth inside the plant than I thought and so it will not take too long for it to gain in character and become …
Sep27
Two weeks ago I was invited to teach topiary at the garden of Griselda Kerr, the author of The Apprehensive Gardener. I love teaching and sharing skills, but I was placed on the spot in the afternoon and asked to show how I would make a new topiary from an existing shrub. So below is a speeded-up video of me creating a cloud-pruned topiary from an old boxwood tree. I particularly love the ending when the class get involved….! See the video here. One hour was all it took, and though it needed a little tidying-up, it was made by …
Sep27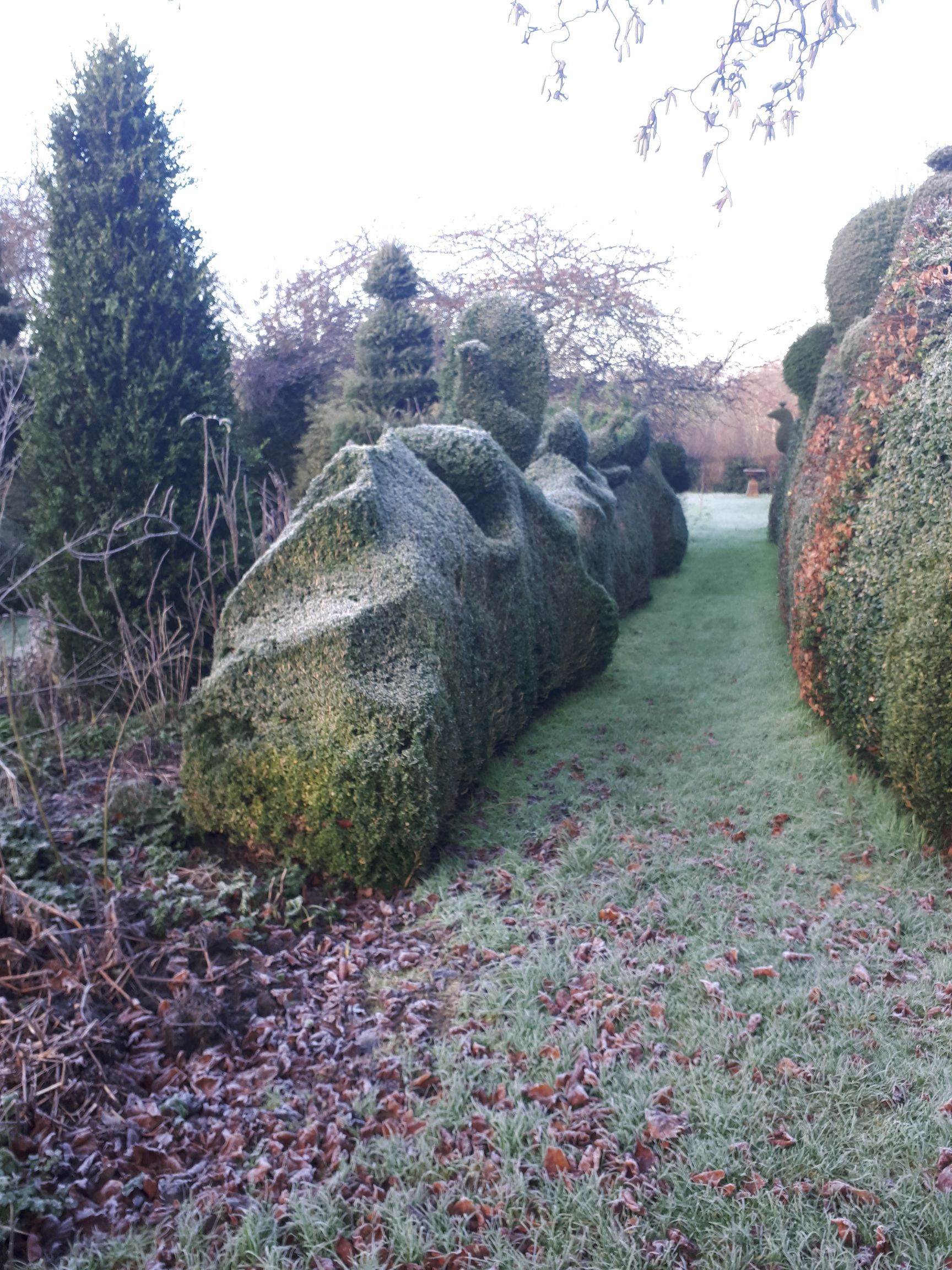 Charlotte Molesworth, my topiary mentor, and I are running our popular topiary workshop again in 2022. You can email me for details – or go here for information, your ticket and to find out about dates. Book A Spot On A Topiary Workshop, September 2022