THE MODERN MINT BLOG
Top Tips For Topiary – my blog about pruning for the European Boxwood And Topiary Society, is now up on their website and ready to be absorbed by you wonderful pruners!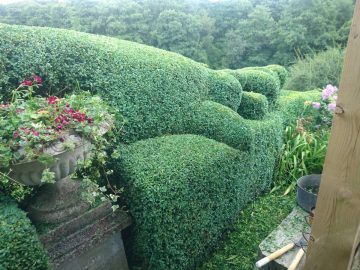 I've also written them a long piece on the Best Plants for Topiary.
Wow. I have been busy in lockdown….
And as if that isn't enough (it is more than enough really, but somehow I'm going to force more down you…) here below are more top tips for topiary.
Bonus tips, if you like…
Go visit the EBTS website for the original post, or read on below to get the bonus round of tips on offer!
Top Tips For Topiary (Bonus Tips)
Don't use the hunt and peck technique – this is when you are pruning a shrub by searching for 'bits and twigs that stick out' at funny angles. You spot one, you snip. Spot one… snip. Spot one… This takes forever to clip a shrub. And invariably it leads to you missing loads, or giving an uneven cut. Prune steadily, machine-like… like a lathe, across the face of the shrub… and go again over any bits in exactly the same, considered manner if you missed some growth the first time around.
Give your topiary space – make sure you have some distance between each one. The viewer then gets a chance to appreciate each piece, in contrast to the next, rather than just exclaiming "Magnificent! Look at all this topiary!" then the eye moves on to something else (like the sign for the tea shop) because it is not sure what it's meant to focus on.
If your boxwood is a hedge, see how thin you can make the top – start this by letting the plant grow on a batter, wider at the bottom than the top. This allows more light to hit the leaf, keeping the growth strong all the way up the hedge. Then, at the peak of the hedge, pruning it thin. Narrowing is probably a better description. How narrow can you make your hedge at the top? I love to see how tight you can cut boxwood when it gets to its full height. It then becomes truly tactile – you will endlessly want to touch it, just to see if it is really possible to be so slender and lean, each time you pass the hedge.
Mulch in spring (preferably with home made compost) to help your plants grow well – no-brainer this, as the soil is your ally, so keep improving it. If you must use a fertiliser then a diluted seaweed solution or Top Buxus will work.
If your boxwood flowers in spring, it won't grow – you will need to ask a botanist why. It is just something I have noticed as I've gardened over the years. Maybe it is unhappy so flowers instead of growing?
To reduce the work in your garden, prune once a year – traditionally Derby day in early June was the day to get into the garden, sharpen up the shears and prune the boxwood. But boxwood doesn't stop growing in early June, so you then have to clip again at the end of the year to remove the second flush of leaf if you want it to look sharp for winter. To save work in the garden, best to clip your boxwood in early September.
Final Tip For Topiary?
A classic this – use good tools.
April 14 th 2020
Oct11
Need a talk for your garden club? Via Zoom because of Covid-restrictions this winter? Then I can help! It is great you are trying to keep your club going, and though Zoom is not the same as getting a group together and talking about gardening live, of the moment, right now it is the best alternative we have got. How I Do A Zoom Talk For Your Garden Club I'm very happy to do Zoom talks and have moved about 20% online so far (from end of March 2020 to the start of October 2020) – although that number is …
Oct09
Just a quick message from a garden club last night after I gave a talk for them via Zoom… Hi Darren, We would just like to thank you for a very enjoyable and fun talk this evening for our first Zoom meeting! Think we can say that everyone enjoyed it, we have already had positive feedback from some of the members, obviously the way forward at the moment! We were certainly very pleased with the turn out for the first virtual meeting! If you are a garden club speaker and want to give it a try, then please do …
Sep21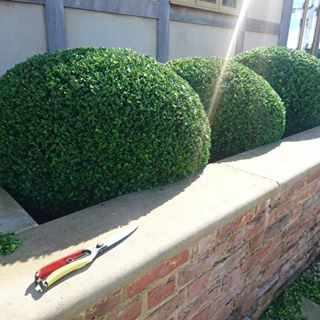 I was asked by the European Boxwood & Topiary Society to help out with answering a common question – How to sharpen your shears? So we spent a fun day making a video, that hopefully will help you make sure you have sharp, shiny blades to do your topiary pruning with. And you can find here more examples of the topiary I make with my sharp blades.