THE MODERN MINT BLOG
You may know that the first week of May is National Nurseries Week, a time to celebrate some of the best plant growers in the UK.
So to help you choose where to buy your plants, here are three nurseries you may never have heard about before…
King John's Nursery, East Sussex
Primarily focused on herbaceous perennials, vegetable plugs too.
Wykeham Mature Plants, Yorkshire
Walled garden with over 100 acres of field grown trees and shrubs.
Specialists in drought tolerant herbaceous and architectural plants.
… get to know your local nurseries – you'll get better advice, better service and better plants.
What more can you ask for?
Further Reading:
RHS Plant Finder 2014
British Gardens in Time: The Greatest Gardens and the People Who Shaped Them
… and for something related, but a bit different…
Tree Nurseries – Cultivating the Urban Jungle: Plant Production Worldwide
May 3 rd 2014
Sep21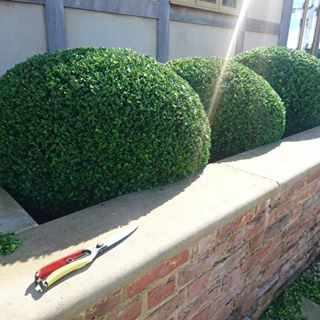 I was asked by the European Boxwood & Topiary Society to help out with answering a common question – How to sharpen your shears? So we spent a fun day making a video, that hopefully will help you make sure you have sharp, shiny blades to do your topiary pruning with. And you can find here more examples of the topiary I make with my sharp blades.
Aug16
You can get a ticket for this new talk I'm giving at the European Boxwood And Topiary Society here – TALK TICKETS It is on the 25th August at 6pm. It should be great fun and I'm very excited to be sharing some recent thoughts about topiary with people – and how it might work in a modern garden.
Jun14
If you have a subscription, you can check out an article about bespoke ideas for your garden in the Telegraph. There are some great crafts people there, so check it out. Click Here To See The Article About my Topiary Work In The Telegraph