THE MODERN MINT BLOG
A typical design process will go like this:
Job Specification – we will meet with all the users of the garden on-site and find out what you want, what you need and what potential scope your garden project has.
This is the most important part as it sets out clearly what a succesful project will feel like, and gets us in sync with you right from the start.
Survey – the structural basis of the design work.
Outline Design – initial concepts and ideas are presented, allowing for further discussion and development with you.
Final Design – Detailed plans and specifications are finalised in order to begin the work of constructing and planting your garden.
Construction and Project Management – our craftspeople will come in and make the design happen.
After Care – we will make sure you have all the advice and guidance in place to help your garden grow. We also hope that through the process of designing the garden you will end up a wiser, better informed and more involved garden owner. Now that makes it worthwhile for us!
February 3 rd 2014
Sep21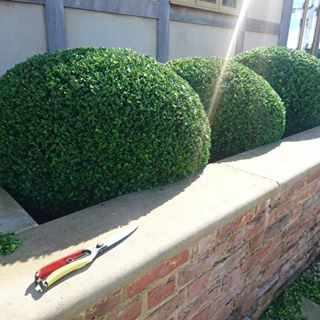 I was asked by the European Boxwood & Topiary Society to help out with answering a common question – How to sharpen your shears? So we spent a fun day making a video, that hopefully will help you make sure you have sharp, shiny blades to do your topiary pruning with. And you can find here more examples of the topiary I make with my sharp blades.
Aug16
You can get a ticket for this new talk I'm giving at the European Boxwood And Topiary Society here – TALK TICKETS It is on the 25th August at 6pm. It should be great fun and I'm very excited to be sharing some recent thoughts about topiary with people – and how it might work in a modern garden.
Jun14
If you have a subscription, you can check out an article about bespoke ideas for your garden in the Telegraph. There are some great crafts people there, so check it out. Click Here To See The Article About my Topiary Work In The Telegraph