THE MODERN MINT BLOG
I have visited two new clubs this week to present a garden talk. They were in different parts of the country and so a lot of driving, but worth every hour sat on the motorway in traffic!
The talks went well and I have had some lovely feedback…
"Thank you so much for providing a presentation which was an almost impossible mix of enthusiasm, joy, entertainment, education and inspiration.

They say that laughter is the best medicine and there was certainly plenty of that, and everyone left with a smile on their face, but just as important is that it helps those bits of new knowledge slip in and take root as well."

Rosie, Welwyn Garden City Gardening Club
When I first started doing the talks to clubs 4 years ago I was a nervous wreck beforehand, wanting it to go well and be entertaining as much as informative. If people are kind enough to give up an evening to listen to you, they must get something in return right?
I still get nervous, but have worked hard and spent time and money trying to improve my presentation skills, so that I can do as clear and light a talk to a group as I can. To get these skills I have worked with Logan Murray, who taught stand-up comedians Rhod Gilbert and Greg Davies, as well as John Gordillo who directed the likes of Reginald D Hunter (this video of him contains swearing), Ross Noble, Dylan Moran, Sean Lock and Eddie Izzard.
"We all thought your talk was superb last night; you are undoubtedly our best speaker. I think it was your calm manner that put me at ease, and for once, I was able to be a spectator, and enjoy the evening too.

We will definitely invite you again and I'll bear in mind contacting you first if a speaker drops out, rather than heading straight to the Sloe Gin cupboard."

Sheila, Bishopstone Garden Club
Though I will say there is nothing wrong with a visit to the sloe gin cupboard!
Please do take a look at this page – Garden Club Speaker – for details about my talks. I am happy to travel and do my utmost to make the evening as good as possible for your club.
April 11 th 2019
Oct11
Need a talk for your garden club? Via Zoom because of Covid-restrictions this winter? Then I can help! It is great you are trying to keep your club going, and though Zoom is not the same as getting a group together and talking about gardening live, of the moment, right now it is the best alternative we have got. How I Do A Zoom Talk For Your Garden Club I'm very happy to do Zoom talks and have moved about 20% online so far (from end of March 2020 to the start of October 2020) – although that number is …
Oct09
Just a quick message from a garden club last night after I gave a talk for them via Zoom… Hi Darren, We would just like to thank you for a very enjoyable and fun talk this evening for our first Zoom meeting! Think we can say that everyone enjoyed it, we have already had positive feedback from some of the members, obviously the way forward at the moment! We were certainly very pleased with the turn out for the first virtual meeting! If you are a garden club speaker and want to give it a try, then please do …
Sep21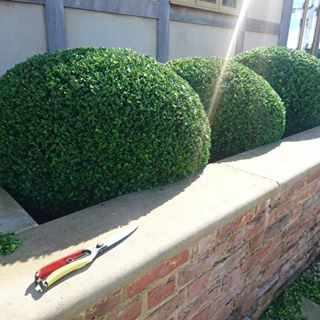 I was asked by the European Boxwood & Topiary Society to help out with answering a common question – How to sharpen your shears? So we spent a fun day making a video, that hopefully will help you make sure you have sharp, shiny blades to do your topiary pruning with. And you can find here more examples of the topiary I make with my sharp blades.