THE MODERN MINT BLOG
We were told a wonderful piece of advice this week, from a man who grows a lot of euphorbia.
Euphorbia oozes a milky sap when the stems are cut or broken, and this can cause a lot of irritation to your skin if it drips onto you.
So this lovely gentleman told us to do the following:
Immediately after you cut a euphorbia, make another cut underneath. This will stop the flow of sap and prevent any harm or potential harm coming to your skin.
How good is this advice? Perfect, we would say, for growers and cut flower arrangers.
June 30 th 2017
Sep21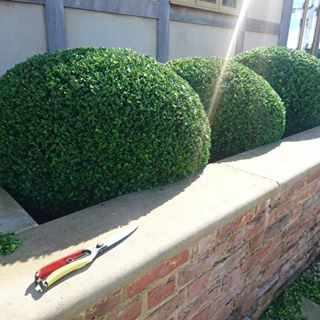 I was asked by the European Boxwood & Topiary Society to help out with answering a common question – How to sharpen your shears? So we spent a fun day making a video, that hopefully will help you make sure you have sharp, shiny blades to do your topiary pruning with. And you can find here more examples of the topiary I make with my sharp blades.
Aug16
You can get a ticket for this new talk I'm giving at the European Boxwood And Topiary Society here – TALK TICKETS It is on the 25th August at 6pm. It should be great fun and I'm very excited to be sharing some recent thoughts about topiary with people – and how it might work in a modern garden.
Jun14
If you have a subscription, you can check out an article about bespoke ideas for your garden in the Telegraph. There are some great crafts people there, so check it out. Click Here To See The Article About my Topiary Work In The Telegraph