THE MODERN MINT BLOG
Just a quick note to share these choices of roses for their hips, from the RHS magazine. The rose choices were…
Rosa rugosa 'Alba' – yes, lovely. choice
Rosa filipes 'Kiftsgate' (not sure who has the space to grow this one!)
Rosa 'Francis E Lester'
Rosa 'Generous Gardener' (though the article noted if you leave the hips on you will get fewer flowers later in the season)
Rosa 'Morning Mist'
Rosa 'Cupid'
Rosa sericea subspecies omeiensis f. pteracantha (not just a mouthful of a name, but the hips drop off quickly too, within a few weeks)
Rosa 'Geranium'
Rosa californica
Rosa rubiginosa (sweet briar! Crush those leaves for the scent!)
Rosa virginiana
Rosa 'Shropshire Lass'
Many of these roses are species roses, because they have a need to set seed, in order to live on and prosper!
Uses of Rosehips
Loved this part of the article, as we have a special interest in skincare and the use of plants for helping the body stay healthy.
Hips were used for:
Itching powder
An excellent source of Vitamin C
The pulp for jams and juices
As a tea – recommended to alleviate headaches, cramps, dizziness and osteoarthritis.
It is also said to improve your mood, your energy levels and the quality of your sleep.
Those hips don't lie, huh?
---
For more on roses, take a look at a blog about our visit to David Austin Roses.
November 14 th 2017
Sep21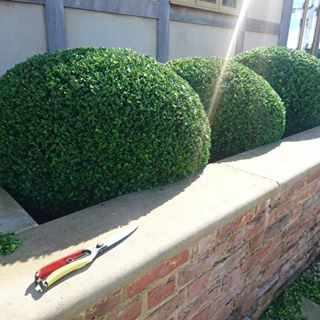 I was asked by the European Boxwood & Topiary Society to help out with answering a common question – How to sharpen your shears? So we spent a fun day making a video, that hopefully will help you make sure you have sharp, shiny blades to do your topiary pruning with. And you can find here more examples of the topiary I make with my sharp blades.
Aug16
You can get a ticket for this new talk I'm giving at the European Boxwood And Topiary Society here – TALK TICKETS It is on the 25th August at 6pm. It should be great fun and I'm very excited to be sharing some recent thoughts about topiary with people – and how it might work in a modern garden.
Jun14
If you have a subscription, you can check out an article about bespoke ideas for your garden in the Telegraph. There are some great crafts people there, so check it out. Click Here To See The Article About my Topiary Work In The Telegraph