THE MODERN MINT BLOG
Robinia is often forgotten – by me, actually! – when thinking of plants for topiary.
But when I work on it I do love it, brittle and soft as the wood is if you climb into it. But that danger of snapping a branch with a heavy step and falling out of the tree aside, I love it for the dappled light it allows into the garden space.
Robinia Near The Sea
Below is a Robinia I have gently clipped over the last few years, down near Leigh-on-Sea in Essex. The tree was large when I arrived, although it is in scale with the garden, but the client needed it thinned, the branches edited down, to keep the garden private from the neighbours yet allow the warmth of the sunshine to hit the patio.
My favourite kind of job, where you can prune a plant but make it look barely pruned, natural.. and this is where Robinia is such a strong choice, because it has a natural character of openness, of branching wide and layering stem upon stem.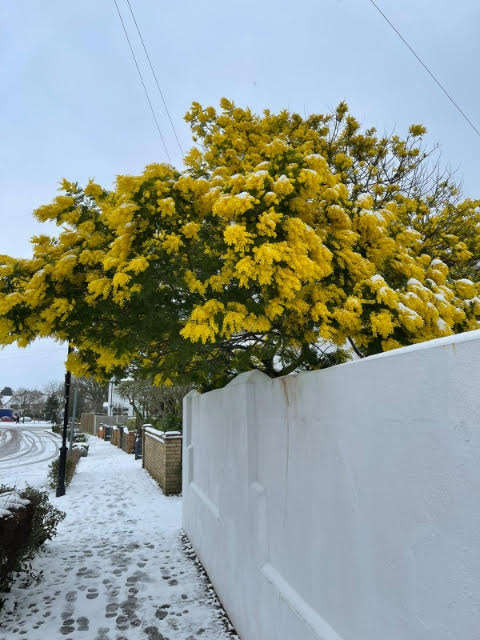 The best time to clip them is in April, after they have finished flowering. As you can see, this photo was taken by the client in February of this year, as the snow and ice had settled on the street.
Although the flower is a harsh yellow, almost like the ever-popular (why?) Forsythia, it has a much softer leaf than that shrub, so I prefer Robinia as a specimen in the garden.
I'm not sure it works in a country garden (why not prove me wrong and give it a go?) but in a modern landscape, or city context, or here by the sea, I think it looks a burst of joy for early in the year.
Robinia As Topiary
Often I see Robinia used as a standard 'lollipop' topiary, a bare, straight stem with a blob at the top about 6 or 8 feet high. This looks fine (and is of course useful for screening above a fence) but in my head I see Robinia the way I look at an Acer…. as a small tree or large shrub that needs to slowly grow up… and out… and fall back down.
As if giving a gentle shrug to the horizon.
So when deciding on a topiary, look at the inherent nature of the plant and use its strength. Drawing out what it does best is a simple recipe for success.
There are more photos of some topiary I clipped recently that ended up under snow and ice here.
Or if you need help with your topiary (Robinia or otherwise) check what else I do on the topiary page.
April 27 th 2021
Sep29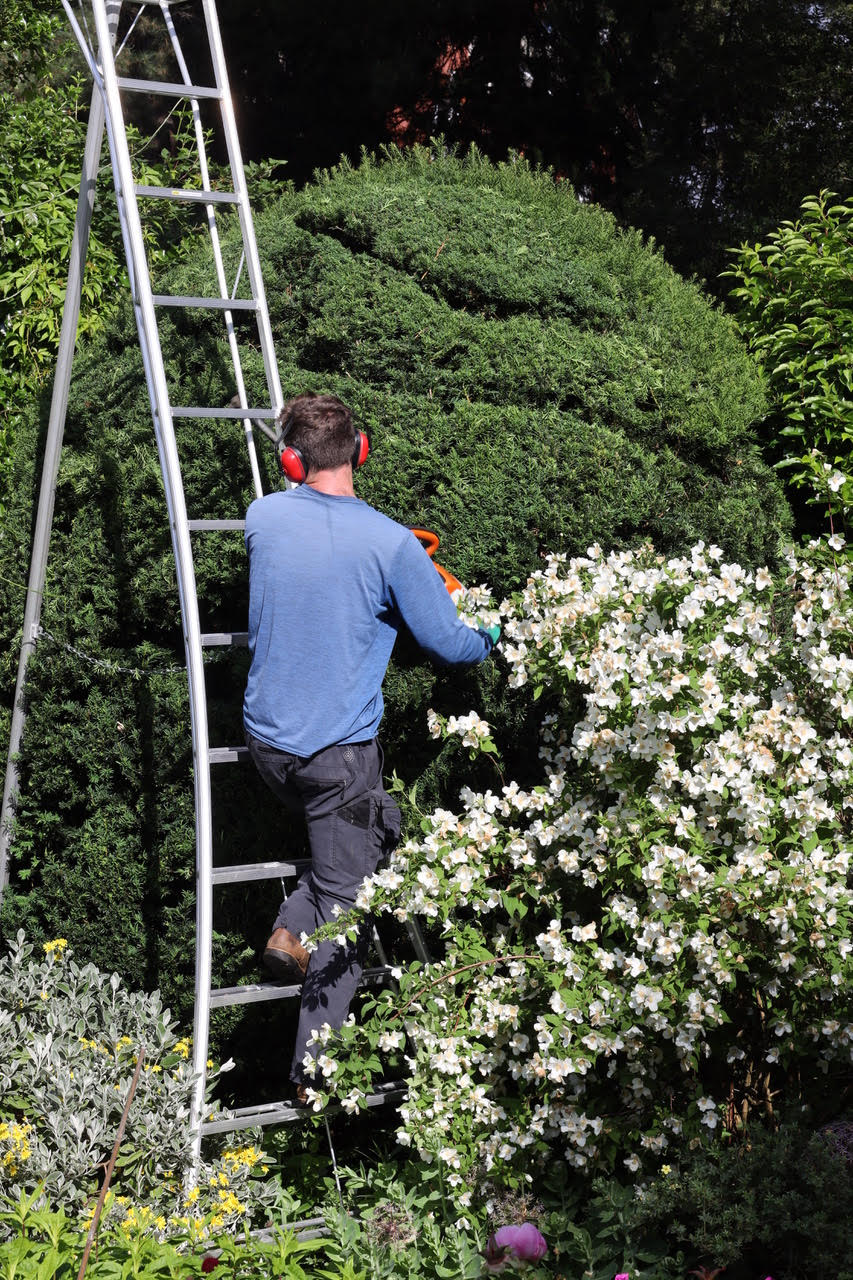 Making a new topiary out of the large, dull facade of a Taxus blob… My work was to change it up from a 'jelly drop' shape and give it texture, open it out and let the light through, and make it a sculptural feature in the background of the garden in summer… yet a major part of the garden in winter. A few more years before it becomes something special, but there was far more leaf and growth inside the plant than I thought and so it will not take too long for it to gain in character and become …
Sep27
Two weeks ago I was invited to teach topiary at the garden of Griselda Kerr, the author of The Apprehensive Gardener. I love teaching and sharing skills, but I was placed on the spot in the afternoon and asked to show how I would make a new topiary from an existing shrub. So below is a speeded-up video of me creating a cloud-pruned topiary from an old boxwood tree. I particularly love the ending when the class get involved….! See the video here. One hour was all it took, and though it needed a little tidying-up, it was made by …
Sep27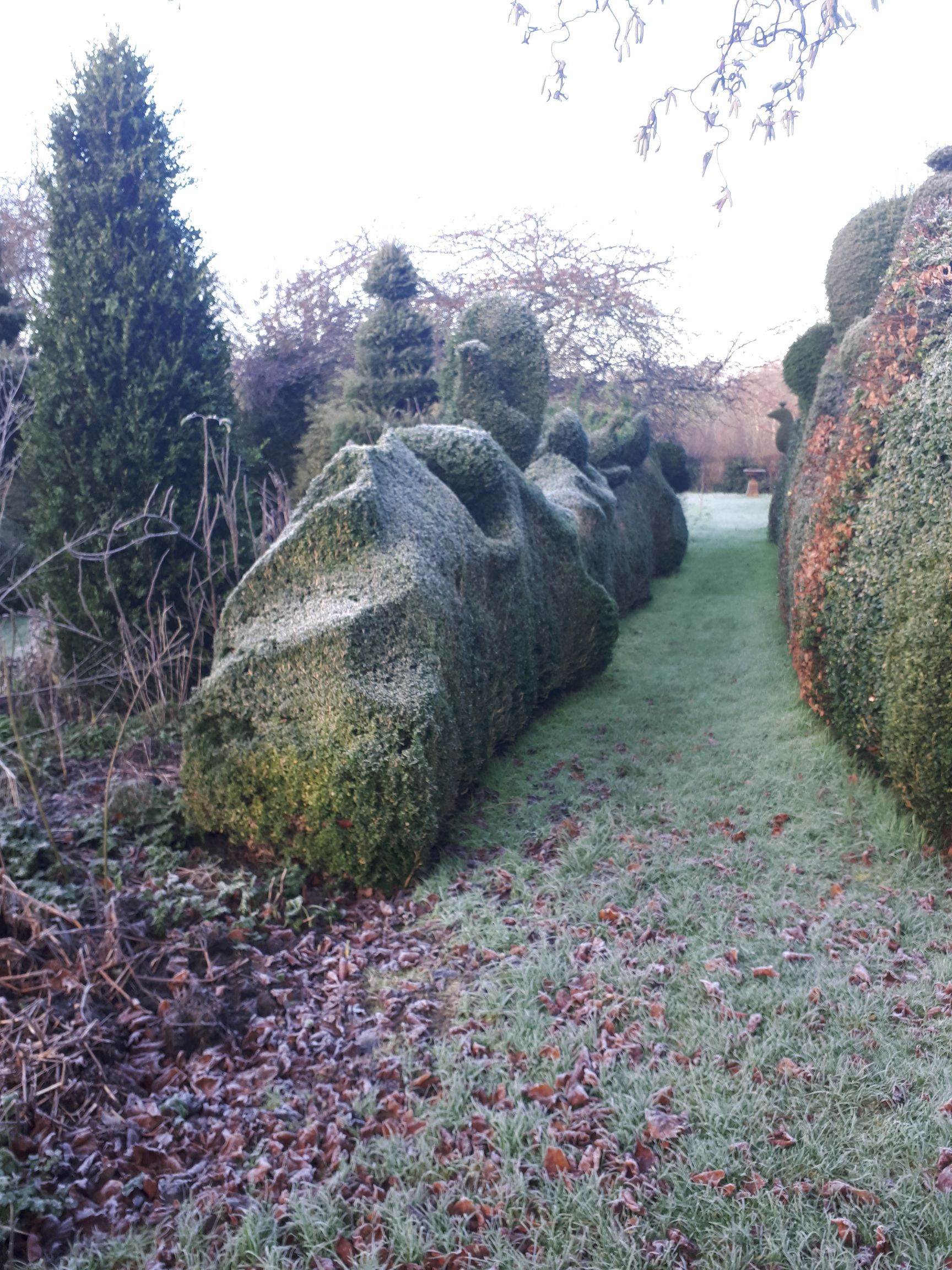 Charlotte Molesworth, my topiary mentor, and I are running our popular topiary workshop again in 2022. You can email me for details – or go here for information, your ticket and to find out about dates. Book A Spot On A Topiary Workshop, September 2022