THE MODERN MINT BLOG
Plastic 'dalek' compost bins. Peppered through the gardens in our country as a free gift from the councils. My guess is they gave out these bins because they wanted people to compost more, saving them money as they would have to take away less garden waste.
Thinking to be applauded, right?
But is there a design flaw in them and has it put people off making their own compost?
The Great Reviews For A 'Dalek' Compost Bin
Here is the one I mean…
The 'Dalek' bin. They call it a compost converter online. It is made from recycled plastic, so that is good. Can it be recycled when yo have finished with it? It doesn't say, I will have to look that up.
It is getting great reviews on Amazon from people. Though when they break it seems people just throw them away or if the lid gets bent that seems to be the end of it, according to the first few reviews I read. So that plastic probably does end up back in landfill, though it has had a second life.
Many people are also buying it because council rates for removing green waste have gone up. But I'm sure what they really mean is 'I'm doing this because the environment matters, as does the footprint I leave on this earth, so sure, financially I will be better off because the council won't charge me as much, but mostly I want to help the planet by recycling my waste….'
That is what they are saying, right?
I wonder how many of these reviews are written after the first week, or few days of receiving it. When it gets filled up quickly and it seems you are making progress. Then 6 months later when the fruit flies buzz around the top whenever you open it to place more peelings inside, or the ammonia smell from the bottom when your sludgy grass clippings are still not properly composted when you open the hatch to check, who is leaving reviews then about how well it works?
No-one, by the look of it. (Note – I have barely looked…. I can barely conceal my contempt, can I? Yikes!)
Why The 'Dalek' Bin Is Not So Good
The reviews that say it is not so useful (not looking at the ones where people have complained it has not arrived on time, or with all the pieces) are saying that the shape is not very useful or easy to get material into or out of it, that the plastic of the bin does not retain heat and that four pieces of wood nailed or strung together would probably do a better job of making compost.
But for me, it is:
Not big enough.
Doesn't let the rain in, so your compost can dry out.
The plastic is not breathable, so no air gets through. I like oxygen in my heap.
The hatch seems too small to get compost out.
If you only need a spoonful of compost every year, then this is probably perfect. But I need more. More I tell you! More!
I think a big bit of plastic sat in your garden looks rubbish. I mean, so does a Heath Robinson effect compost heap of recycled pallets, but at least they make the compost you need at the end of it.
I want my compost heaps to look more like this….
Or, and oh my god this is fun, what about this….!
Cor! Yeah! Now we are talking about compost…!
What I don't want is something like this at the bottom of the garden…
What I Would Do With My Dalek Compost Bin
If I already had a compost bin shaped like a Dalek, I would keep it and use it. It can be a little additional heap for something, perhaps. You can never have enough compost after all.
But I would concentrate on making wooden bins, wider and deeper than the dalek ones. I would keep these heaps warm and wet. That is the key for me. The plastic 'dalek' bin (sorry – compost converter!) would sit alongside these useful bins full of life, quietly reminding me why I chose to make my own out of wood, and give up that bit of extra space in the garden to make compost properly. Even if it was a small garden.
Compost is your life force. It improves your soil, makes you a better gardener and when used on the beds helps to lower your carbon footprint.
Plus a decent compost heap brings creatures like this slow worm to your garden….
These legless lizards (they are not drunk, they are just without these lower limbs) are brilliant at getting rid of slugs in your garden. Compost heap by the hostas, perhaps?
Dalek compost bins are rubbish. I'm making the call. Make your own compost in a proper bin and do your bit for a better garden.
(And if you want to do your bit for the planet, switch to a green energy supplier. Details here!)
January 14 th 2019
Sep29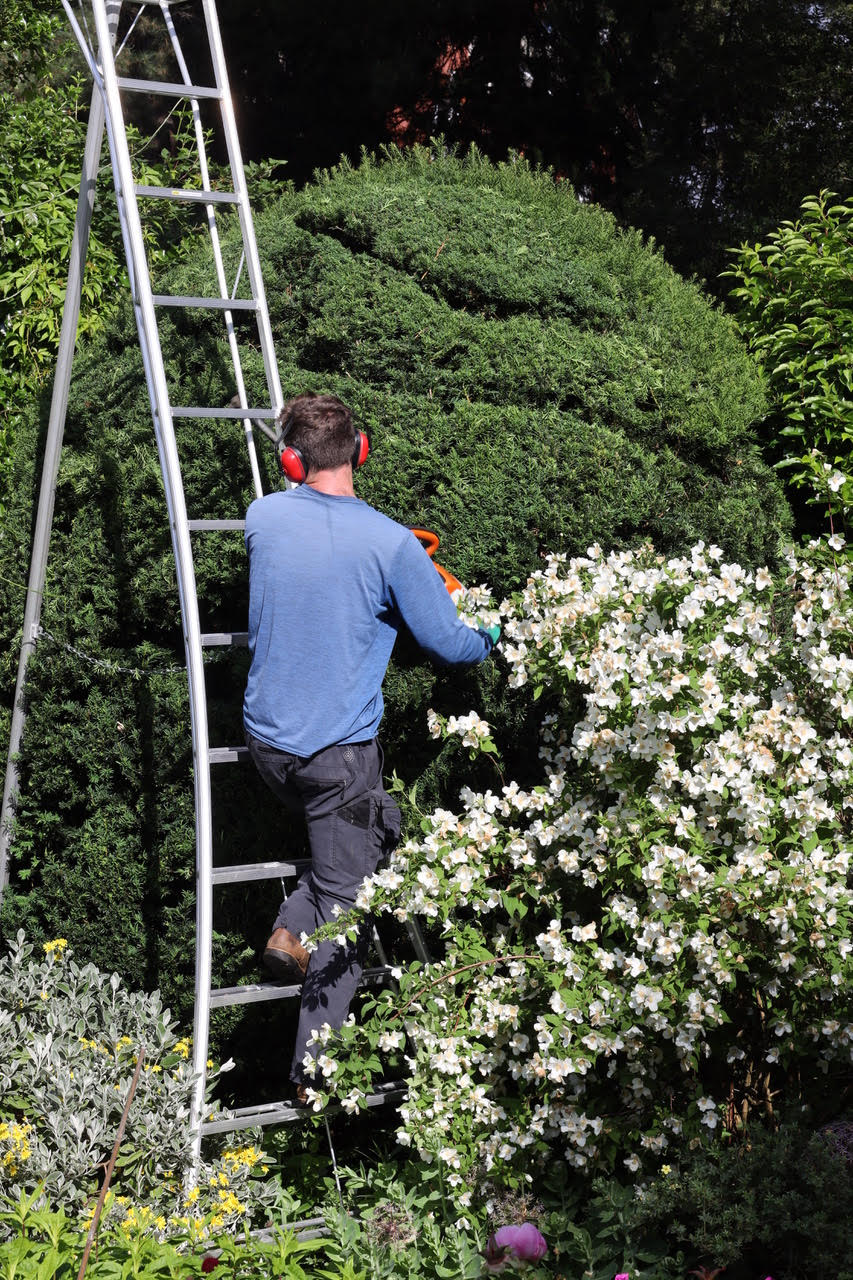 Making a new topiary out of the large, dull facade of a Taxus blob… My work was to change it up from a 'jelly drop' shape and give it texture, open it out and let the light through, and make it a sculptural feature in the background of the garden in summer… yet a major part of the garden in winter. A few more years before it becomes something special, but there was far more leaf and growth inside the plant than I thought and so it will not take too long for it to gain in character and become …
Sep27
Two weeks ago I was invited to teach topiary at the garden of Griselda Kerr, the author of The Apprehensive Gardener. I love teaching and sharing skills, but I was placed on the spot in the afternoon and asked to show how I would make a new topiary from an existing shrub. So below is a speeded-up video of me creating a cloud-pruned topiary from an old boxwood tree. I particularly love the ending when the class get involved….! See the video here. One hour was all it took, and though it needed a little tidying-up, it was made by …
Sep27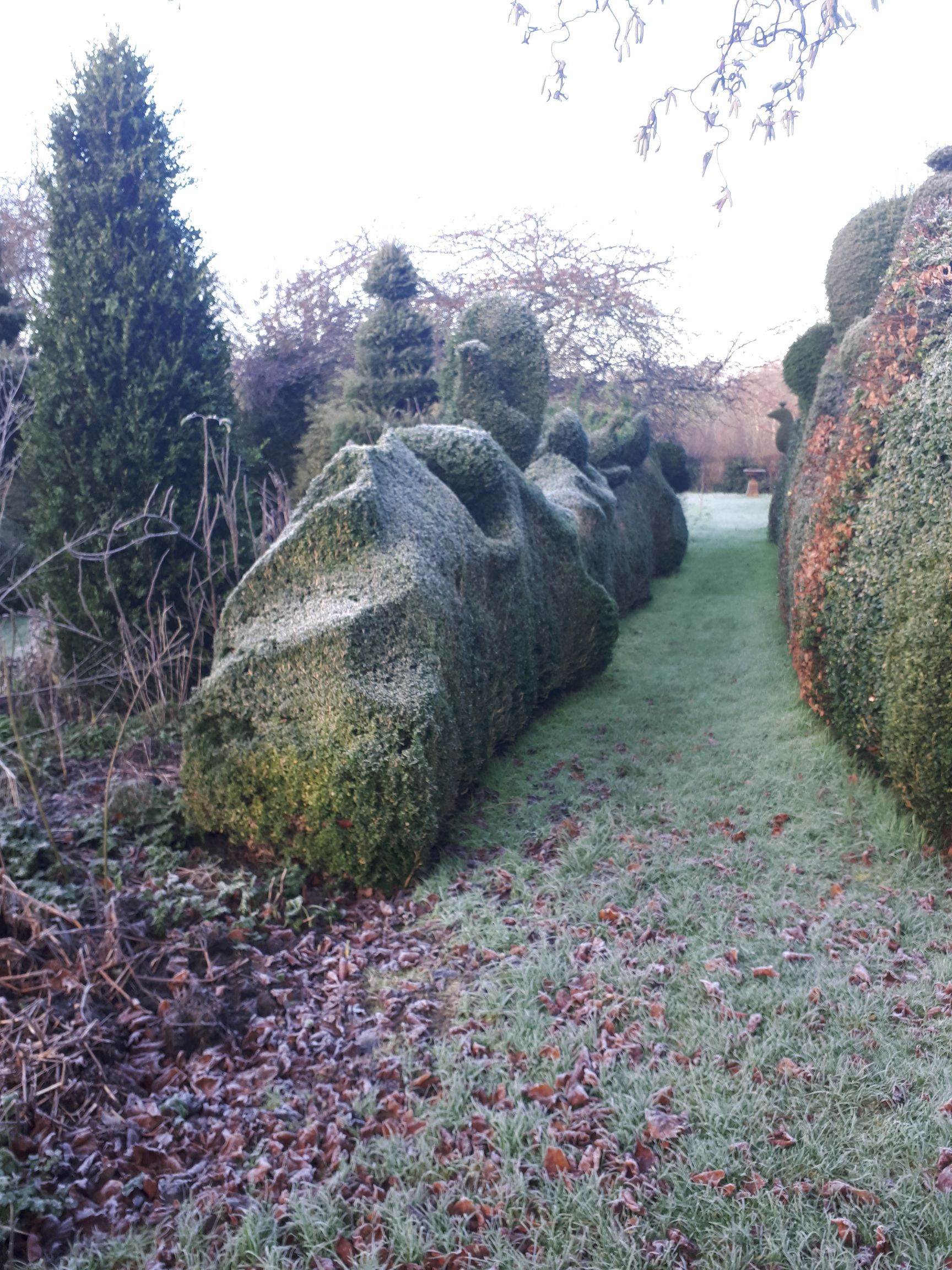 Charlotte Molesworth, my topiary mentor, and I are running our popular topiary workshop again in 2022. You can email me for details – or go here for information, your ticket and to find out about dates. Book A Spot On A Topiary Workshop, September 2022