THE MODERN MINT BLOG
Planting Trees At Modern Mint
Through the charity Trees For Life, Modern Mint are planting trees.
I spend my days working with trees and shrubs, shaping and pruning them into odd shapes. Like this abstract duck, for example…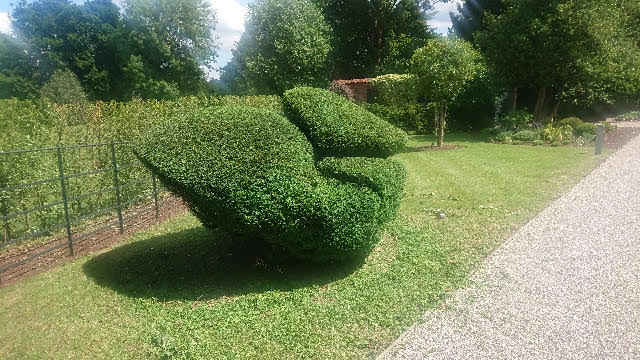 But it is not just clipping trees – I love planting trees too.
Planting Trees To Save The Planet
Modern Mint should be doing more to encourage the planting of trees.
When I see articles like this one about the melting glaciers in Iceland, read the words of warning about climate catastrophe by Greta Thunberg or note the denials that humanity has done anything wrong to the planet by men in privileged positions, it makes me want to do everything I can to green up the landscape.
It may seem futile or silly, when you look at the uncaring way some people treat the natural environment, but each step will help.
Trees For Life – Plant A Tree Today
Trees For Life are a charity I came across when I first read about rewilding the UK in the book Feral.
Since 1993 Trees For Life have been trying to restore the Caledonian Forest in the Scottish landscape, in the process not just bringing back trees like Scots Pine, Willows, Aspen and Birches but enhancing life all the way across the land.
Growing trees means the impact of climate change can be reduced by storing carbon, preventing flooding and erosion through the tree roots slowing down water and allowing wildlife to thrive – such as the red squirrel returning to the North West Highlands.
Planting trees creates life. Something we love about gardening and try to encourage all of our clients to do, whether we are making topiary in their garden or giving a talk at their group.
We Support Trees for Life
This is the easiest way we can make a difference.
Support the Trees For Life project by visiting the grove of trees Modern Mint has donated, and adding your tree to the grove. It costs £6 per tree and I hope that, over the next few years, we can make a massive difference to the world.
September 25 th 2019
Sep21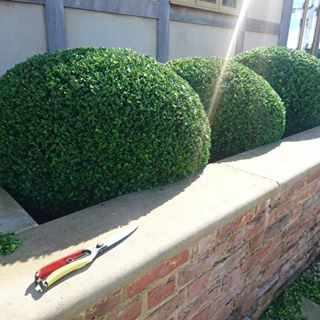 I was asked by the European Boxwood & Topiary Society to help out with answering a common question – How to sharpen your shears? So we spent a fun day making a video, that hopefully will help you make sure you have sharp, shiny blades to do your topiary pruning with. And you can find here more examples of the topiary I make with my sharp blades.
Aug16
You can get a ticket for this new talk I'm giving at the European Boxwood And Topiary Society here – TALK TICKETS It is on the 25th August at 6pm. It should be great fun and I'm very excited to be sharing some recent thoughts about topiary with people – and how it might work in a modern garden.
Jun14
If you have a subscription, you can check out an article about bespoke ideas for your garden in the Telegraph. There are some great crafts people there, so check it out. Click Here To See The Article About my Topiary Work In The Telegraph