THE MODERN MINT BLOG
This post on organic gardening started with us chatting to a vegan. He was suggesting that the moment you mentioned to people you were vegan, they labelled you, judged you on the kind of person you are and the problems you would cause them if they invited you to dinner.
We feel the same happens when you mention to people you are an organic gardener, or you work your garden on organic principles.
They seem to lean away from you, as if you are dirty, and most definitely untidy (who could allow weeds in their garden? And it is no excuse just to grin and call them 'wildflowers!') They seem to turn away from you, as if you are about to spit an argument about not using pesticides right into their faces. They breathe in sharply, readying themselves to tell you why they spray a herbicide (to ease maintenance, to annihalate the roots of the plants they don't want… and because organic gardening 'just doesn't work'…)
If they are an organic gardener mind, they will smile and laugh and clap you on the back as if you are their oldest friend, just returned from 6 months at sea. It is a lovely thing, to know you are part of the gang.
But still, that tense moment when you tell someone you garden organically, you have to be ready for it, because you just don't know which way they will respond. This is a problem, this judgement, all because of the word organic.
What about just calling it gardening?
As with our vegan friend, who feels put into a box the moment he suggests he lives a life without animal products, we would love to see a change in attitude from the one side who garden with chemicals, and the other side who garden without. Instead of creating these tribes, affiliating ourselves with those who believe in what we believe, how about we strive to just see each other as an important (yet small) part of the natural world – its custodians?
Three cheers to the day then, when organic gardening is called gardening (just like it used to be called, before anyone had ever heard of something like weedkiller!)
Three cheers to the day when a vegan diet is called eating food.
And three cheers to anyone who gets out into their garden, rolls up their sleeves, and gets stuck into growing plants as well as they possibly can. And we, us organic gardeners, might just find that the more people garden the less chemicals they will use – after all, it happened to us, didn't it?
June 3 rd 2015
Feb22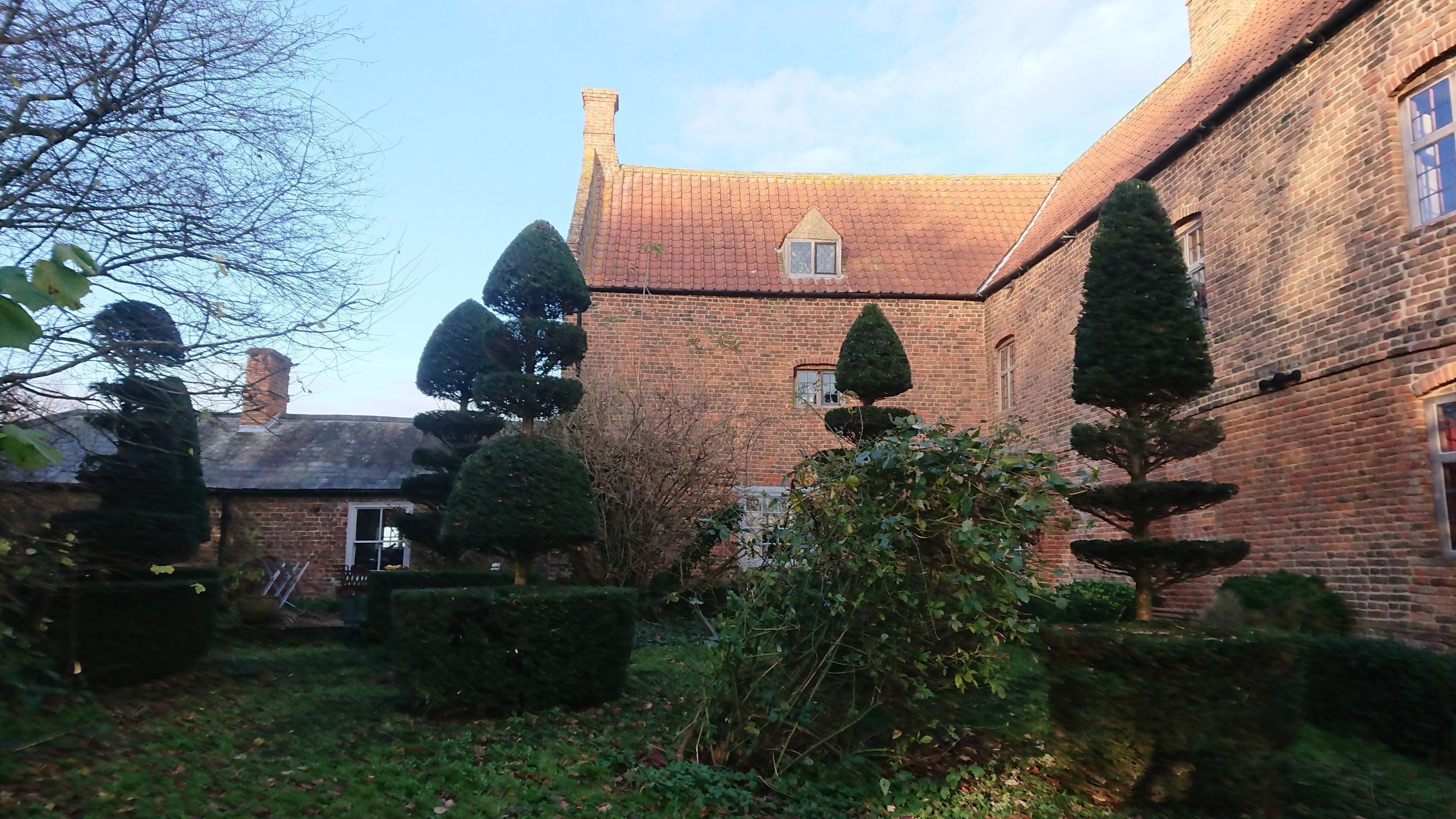 Guanock House needs a trainee topiary artist! Some of you may know it as the first home and garden of designer Arne Maynard, but is now owned and maintained by Michael Coleman and his wife Michelle. They offer meditation workshops and retreats there and it is as beautiful a house and garden as you could wish to visit. They called me in last Autumn to help shape up some of the topiary as it was all getting out of hand, but what it really needs is someone with a steady hand and lots of patience to take over the clipping …
Feb09
Here are some photos of work I have been doing at the garden of Charlotte Molesworth in Kent. Snow and ice brings out the depth of the different planes and angles carved into the boxwood. A garden has to look beautiful in winter – and topiary (green architecture)  helps do that! For more topiary pictures, click here.
Feb01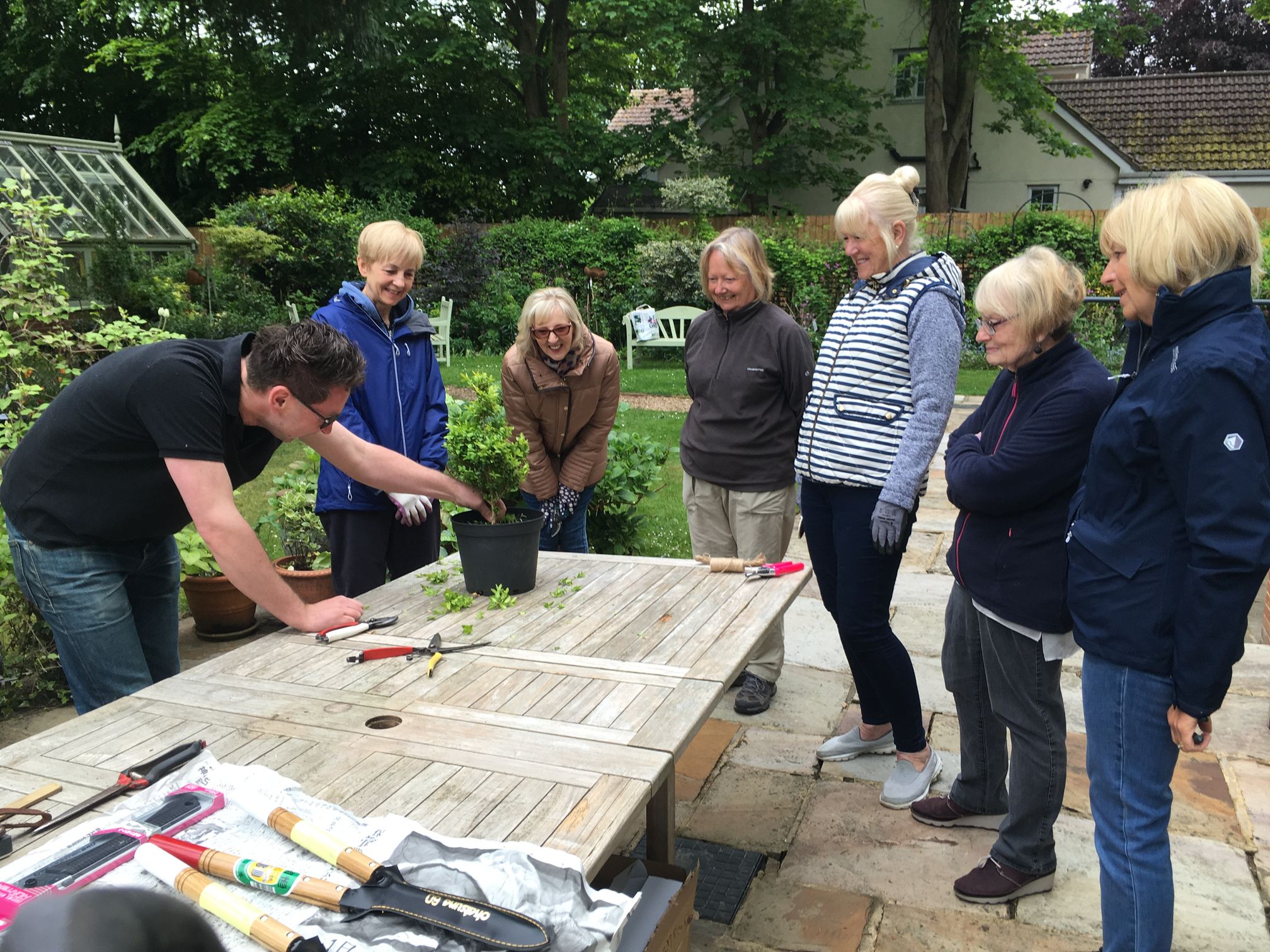 I am an experienced teacher of topiary and pruning, running workshops in the topiary garden of Charlotte Molesworth in Kent, as well as for The English Gardening School and The European Boxwood And Topiary Society. So if you are a keen gardener, a garden club, a group of friends who want to know more or even an absolute beginner who has been bitten by the gardening bug, then do contact me about what you might like to learn. What a laugh we are having in this workshop session I ran for a group of friends in Essex… Many people employ …