THE MODERN MINT BLOG
Growing fruit is ideal when you want your own produce. It is low maintenance, tastes great and because you are growing it yourself you can choose varieties you just won't get in the shops.
The best place to start is to read Joan Morgan's Fruit Forum. We only recently discovered it when we saw a blog post asking 'Where Have All The English Cherries Gone?' after buying the tastiest, freshest cherries we have ever eaten and wanting to know more about British fruit.
(Essex, where we now run our garden design studio from, was always a big fruit producing county and apparently the UK climate suits growing fruit, especially for plums which need a winter chilling… although a warming climate may change things!)
Joan Morgan is a fruit expert – you can get her book The New Book Of Apples: The Definitive Guide to Over 2000 Varieties
 on Amazon, and as apples are likely to be the first fruit you add to your garden it will help you decide exactly which type to grow.
UPDATE: The Apple Book
 by Rosie Sanders, which garnered a glowing review recently in Gardens Illustrated as "an attractive introduction to the joys of British apples…" also mentioned how superb Joan Morgan's 'New Book of Apples' is. Good to know these books are out there and the information you want is at hand!
Great nurseries to buy fruit from in the UK are:
Grow at Brogdale. They also have the National Fruit Collection.
Orange Pippin Trees. They have lots of advice online.
Keepers Nursery. Where you can find cobnuts!
Places in Essex to learn more about growing fruit are:
Crapes Fruit Farm – near Colchester, they have a regularly updated blog and specialise in lesser known varieties of apples.
Tiptree Jam Factory – this must be world famous by now, surely? We have friends in Paris who come to the UK just to stock up on their jam, and now we live in Essex we won't buy anything else. They grow fruit for the exact reason you should – because they can get varieties no-one else can provide them. They even have mulberries… a tree we would love to plant more of for our clients.
Clay Barn – a quince orchard no less! Unusual fruit and beautiful trees, an old client of ours has two in their 54 tree orchard and the fruits always felt like a gift when ready to be harvested. For cooking suggestions try Jane Grigson's Fruit Book (Penguin Cookery Library)
A reader of this blog also sent a link to Oxford Wild Foods. It is a website mapping places you can find food growing for free. Are there any other websites like this? Do let us know via our contact page.
For more information on growing fruit either speak to the nurseries above or buy these books we have added below – mostly by Bob Flowerdew and Mark Diacono – which should give you the confidence and a few tips and tricks to make the best of your garden for growing fruit!
August 5 th 2014
Feb22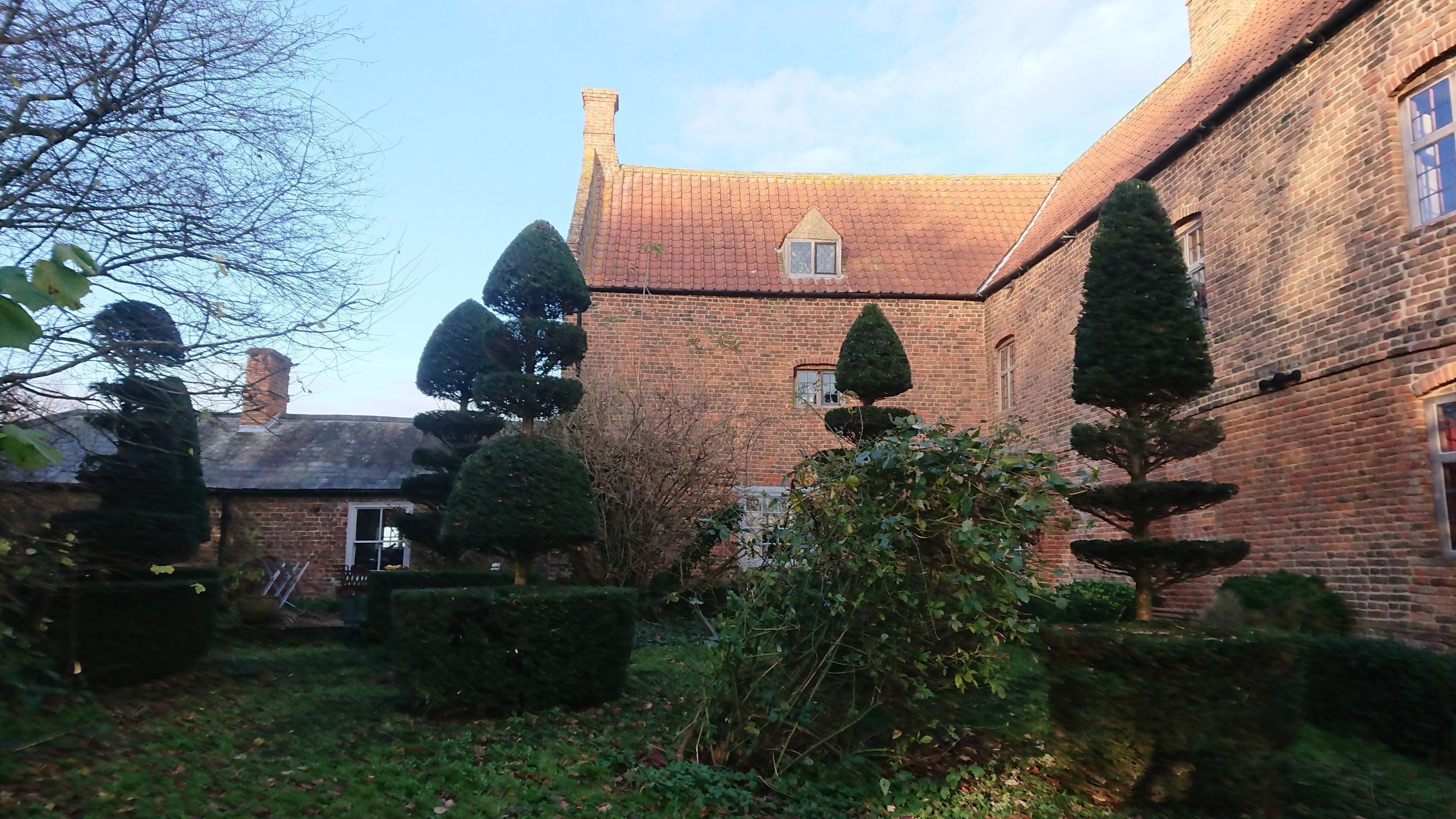 Guanock House needs a trainee topiary artist! Some of you may know it as the first home and garden of designer Arne Maynard, but is now owned and maintained by Michael Coleman and his wife Michelle. They offer meditation workshops and retreats there and it is as beautiful a house and garden as you could wish to visit. They called me in last Autumn to help shape up some of the topiary as it was all getting out of hand, but what it really needs is someone with a steady hand and lots of patience to take over the clipping …
Feb09
Here are some photos of work I have been doing at the garden of Charlotte Molesworth in Kent. Snow and ice brings out the depth of the different planes and angles carved into the boxwood. A garden has to look beautiful in winter – and topiary (green architecture)  helps do that! For more topiary pictures, click here.
Feb01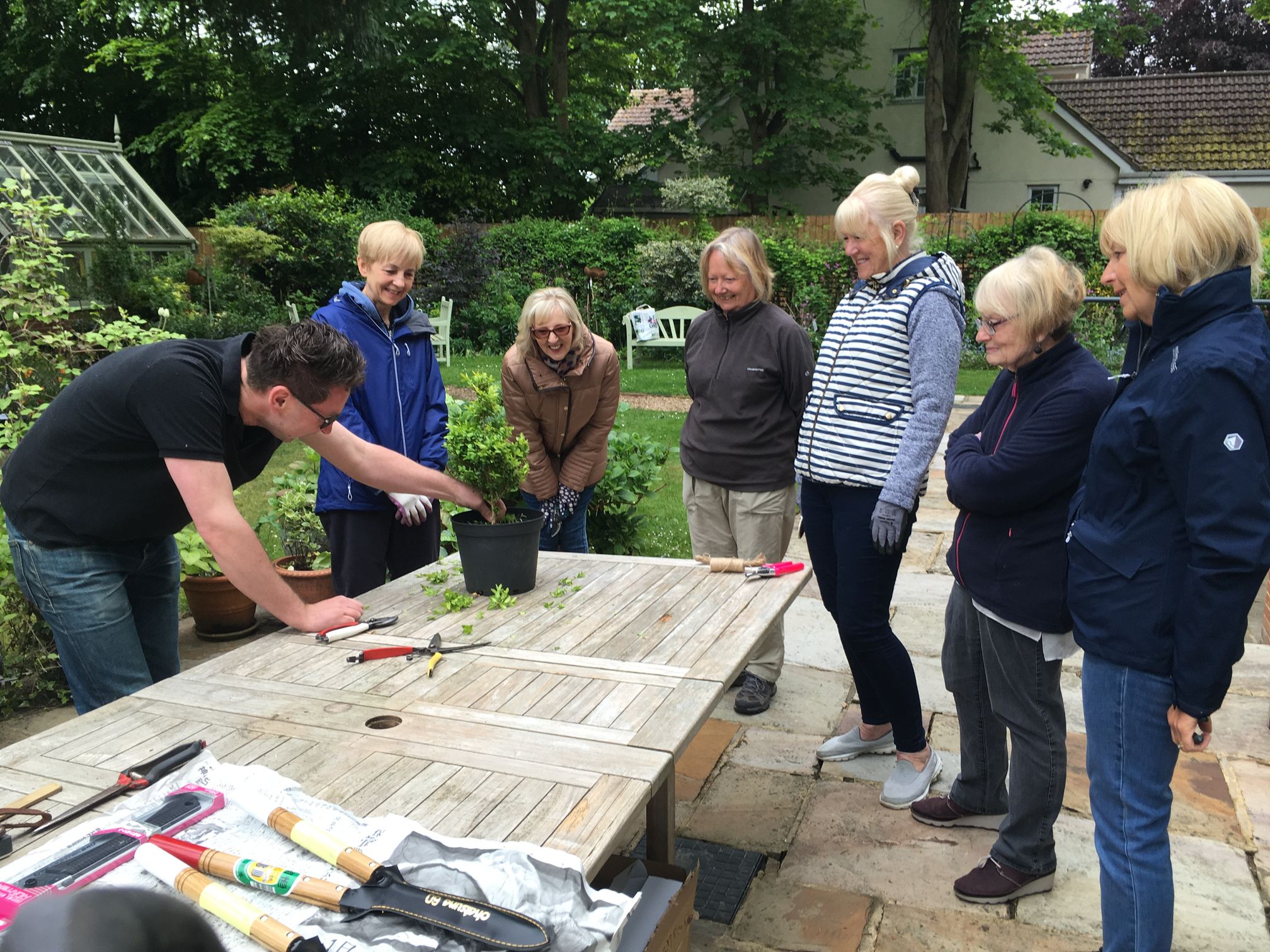 I am an experienced teacher of topiary and pruning, running workshops in the topiary garden of Charlotte Molesworth in Kent, as well as for The English Gardening School and The European Boxwood And Topiary Society. So if you are a keen gardener, a garden club, a group of friends who want to know more or even an absolute beginner who has been bitten by the gardening bug, then do contact me about what you might like to learn. What a laugh we are having in this workshop session I ran for a group of friends in Essex… Many people employ …