THE MODERN MINT BLOG
About the Author: Anthony Gallagher is the Managing Director of Easigrass. Under his stewardship, Easigrass became the first artificial grass company in the world to exhibit a show garden at the Chelsea Flower Show in 2010.
If you are investing in artificial grass, it is important to know how to maintain your lawn to keep it in the very best possible condition. Most artificial grass products come with a guarantee of between eight to ten years but if you take the time to look after it properly, it can easily last double this. One of the main attractions of artificial grass lawns is their low-maintenance, but they do require some care to ensure quality all year round.
Brushing
Once a month your lawn will require a brush. This helps to prevent blade compaction and encourages the pile to remain upright and plush. For the best results, brush your artificial lawn using a soft-bristle brush. In the summer higher traffic may mean you will need to brush your lawn slightly more regularly. Brushing your lawn should not take too long each month, and there is no mess to clean up afterwards.
Weather
Artificial grass stands up incredibly well to general wear and tear – much better than real turf in fact. But that's not to say it's totally immune to the forces of weather, small children and excitable dogs. As soon as your lawn has been laid, it becomes open to the elements. In autumn leaves will drop on to the lawn which, if left to rot, could encourage the growth of moss. Heavy snowfall also has to be removed as it can cause waterlogging when it melts. The summer months typically mean lawns are subjected to an increase in use, and without proper maintenance the pile can become flattened.
Pets
If you own a dog, you may need to carry out additional maintenance on your artificial grass lawn. To prevent damage, any mess should be immediately picked up and any residue removed by washing down with hot water. For stains which are slightly more stubborn, a household detergent can be used.
In addition, if your dog plays on the artificial grass a lot, you may need to carry out some additional brushing to ensure the pile remains upright.
Autumn
Autumn is the season in which artificial lawns require the most maintenance. If you have trees in your garden or overhanging it, then falling leaves may well find their way on to your lawn. These will need to be removed regularly to minimise the risk of weeds or moss growing on it. Large numbers of fallen leaves, or the growth of moss on your artificial grass lawn, could also have an effect on drainage so it's important to give your lawn a quick sweep on a weekly to two week basis to prevent this happening.
Protecting Your Artificial Lawn
When carrying out any general garden maintenance on or around your artificial lawn, it is important to protect it. Activities such as painting fences, building or hedge cutting could potentially damage your artificial grass. Using power tools on the surface has the potential to damage the lawn, and paint can be difficult to remove if spilt. Therefore it is a good idea to place plastic sheeting over the area before commencing work.
What to Avoid
As with a natural lawn, there are a few things that should be avoided in order to ensure your artificial lawn stays intact and in good condition:
Never place a naked flame anywhere near the artificial grass. This includes fireworks, bonfires, smoking and lighting BBQs.
Adhesives, paint, chewing gum or similar substances should also be kept well clear of your artificial grass lawn. Once these come into contact with the lawn they may be difficult or in some cases impossible to remove.
Metal furniture and other sharp objects should also not be placed directly on the lawn's surface. These have the potential to damage the turf or rip the grass latex.
As tempting as it may be, never use a vacuum cleaner on your artificial grass lawn. This will not only damage your lawn, but it may also damage your vacuum cleaner, as well as put the safety of the user at risk.
Artificial lawns have come a very long way in the last few years. Due to advancements in the manufacturing process, modern artificial turf is now incredibly realistic and soft to the touch and is no longer regarded with the disdain it once was. In fact, those who make the leap to fake grass are invariably extremely happy with their investment.
About the Author: Anthony Gallagher is the Managing Director of Easigrass.
Alternatively, for a meadow look try our 'Seedballs'…
December 29 th 2014
Sep29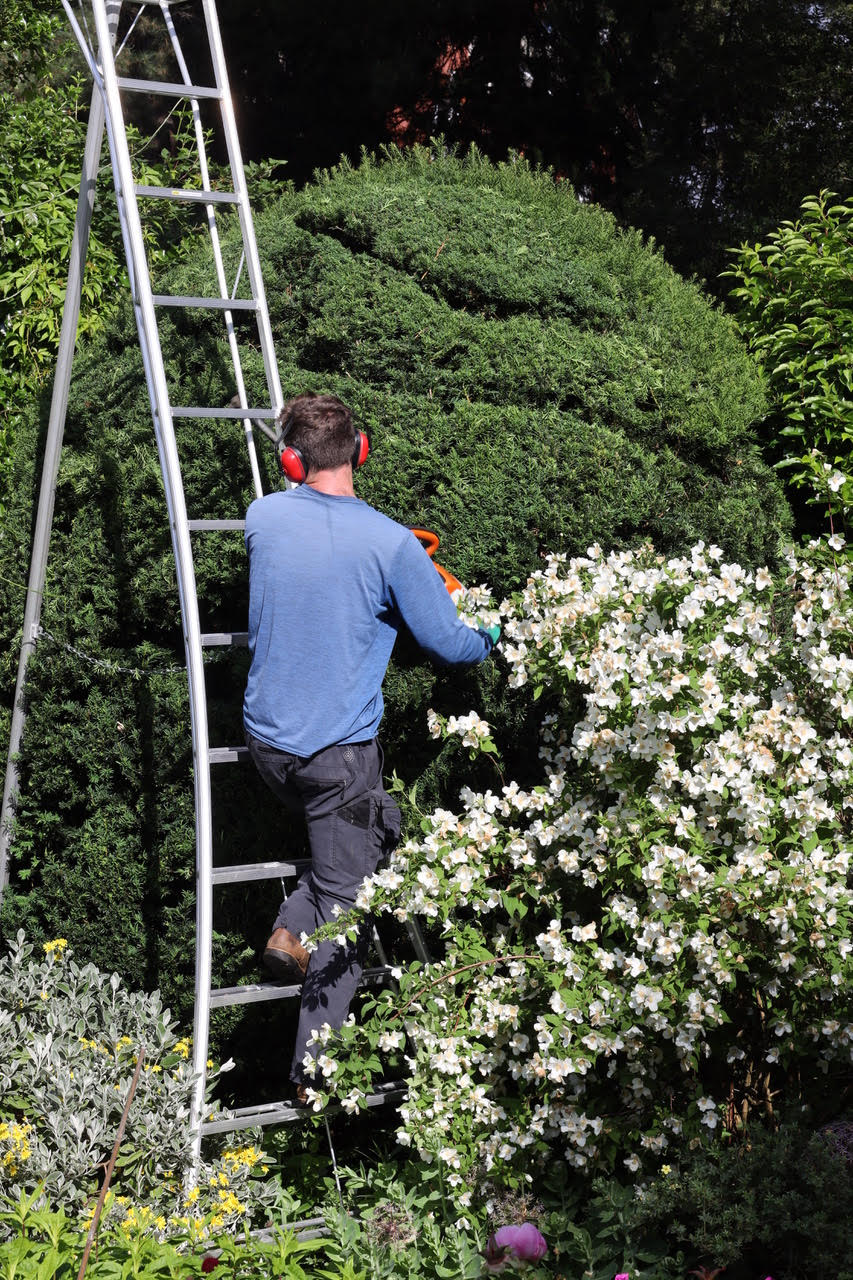 Making a new topiary out of the large, dull facade of a Taxus blob… My work was to change it up from a 'jelly drop' shape and give it texture, open it out and let the light through, and make it a sculptural feature in the background of the garden in summer… yet a major part of the garden in winter. A few more years before it becomes something special, but there was far more leaf and growth inside the plant than I thought and so it will not take too long for it to gain in character and become …
Sep27
Two weeks ago I was invited to teach topiary at the garden of Griselda Kerr, the author of The Apprehensive Gardener. I love teaching and sharing skills, but I was placed on the spot in the afternoon and asked to show how I would make a new topiary from an existing shrub. So below is a speeded-up video of me creating a cloud-pruned topiary from an old boxwood tree. I particularly love the ending when the class get involved….! See the video here. One hour was all it took, and though it needed a little tidying-up, it was made by …
Sep27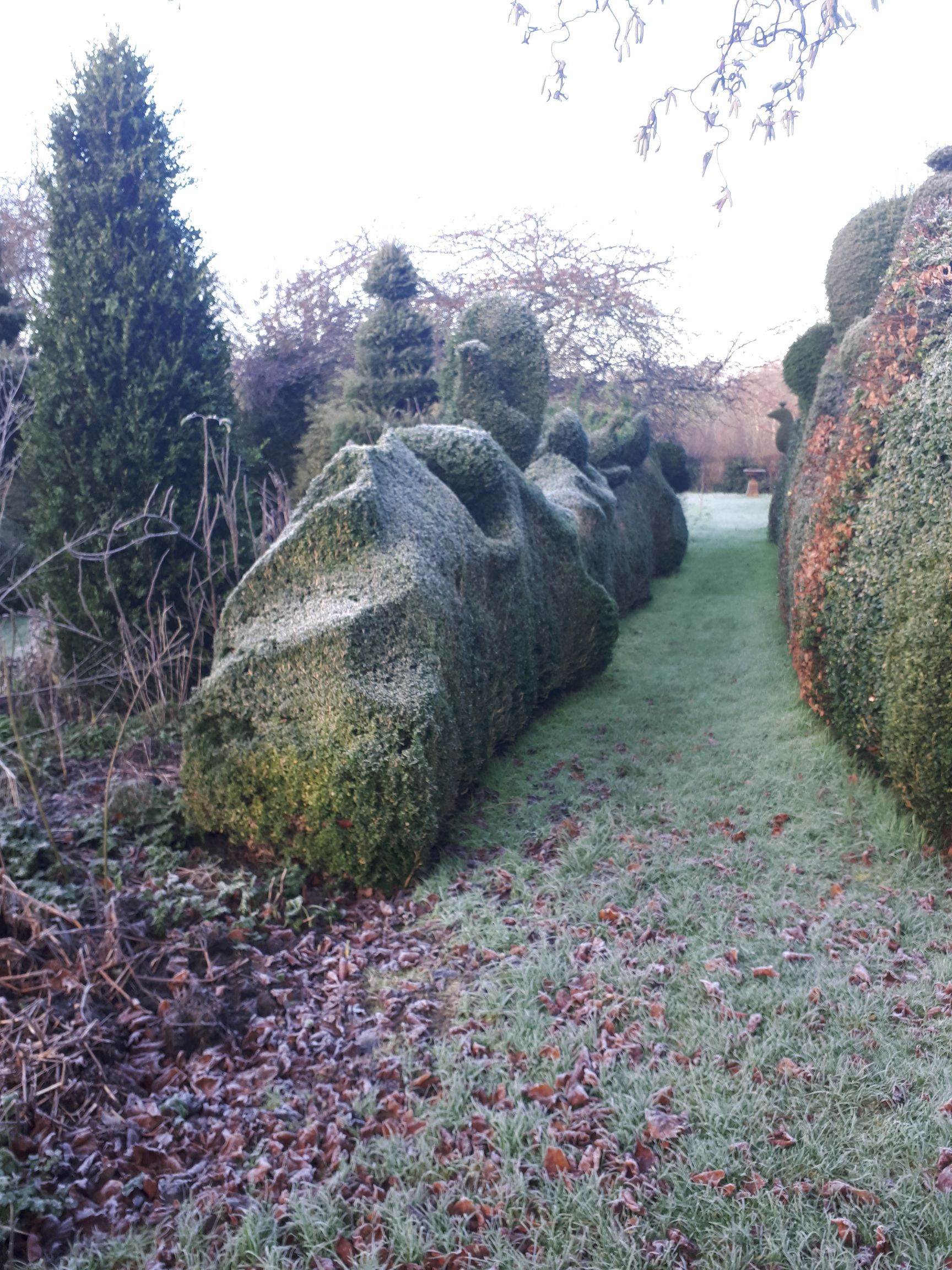 Charlotte Molesworth, my topiary mentor, and I are running our popular topiary workshop again in 2022. You can email me for details – or go here for information, your ticket and to find out about dates. Book A Spot On A Topiary Workshop, September 2022