THE MODERN MINT BLOG
A Magazine Rack? Or Something Else?
We are rapidly expanding the products we offer on the Modern Mint Shop – you may have noticed the new trug/carriers go up this week? But we are finding that we don't just want to sit here letting someone else do all the hard work of designing and making a product… we want to do this ourselves!
Enter our new designer (he's Italian, so surely he must have style?) who has started developing new product ideas with us.
As ever, we start from a broad canvas and try and discover what it is we want to make, what it is you want to buy, what style we can bring to the piece and how it can be designed in a way that reduces waste.
We find out the rules to design by as we go along, and when we find these rules, we can use them to inspire new products. This is what we have so far…
A) Minimal design, maximal effect.
B) Closed loop material usage (to reduce waste.)
C) Can the packaging hold as much value as the item itself?
It is an exciting journey, with no guaranteed reward – perhaps we design a load of rubbish, or never find the funding to make anything, or the products just don't thrill people the way a new mobile phone does… who knows? But that is what is lovely, and spurs us on – who knows? We are in this to unearth treasure!
Here are the first designs for a magazine rack. A magazine rack may sound a little dull, but we are forever needing somewhere to put all the post that comes in, so that is why we have started here. We think this could be made of green oak, or maybe cork…
What do you think?
Below is a take on our logo here at Modern Mint, using wood. It could be the basis for a wine rack, a shoe rack, a letterbox, a cutlery tray, a toothbrush holder… you get the idea right? We are exploring…
We have a few designs up our sleeves for ashtrays, letterboxes and cantilevered pergolas (this one is incredibly exciting!) and would also like to make a dog house and a spice tin. We have just been to India, which is why we think we need a spice tin.
If you have any products you are in need of at home or in the garden, want them to be funky, a piece of art, while also being practical… get in touch with us here at Modern Mint!
Look forward to this design journey from magazine racks to… who knows what?!?
April 2 nd 2015
Sep29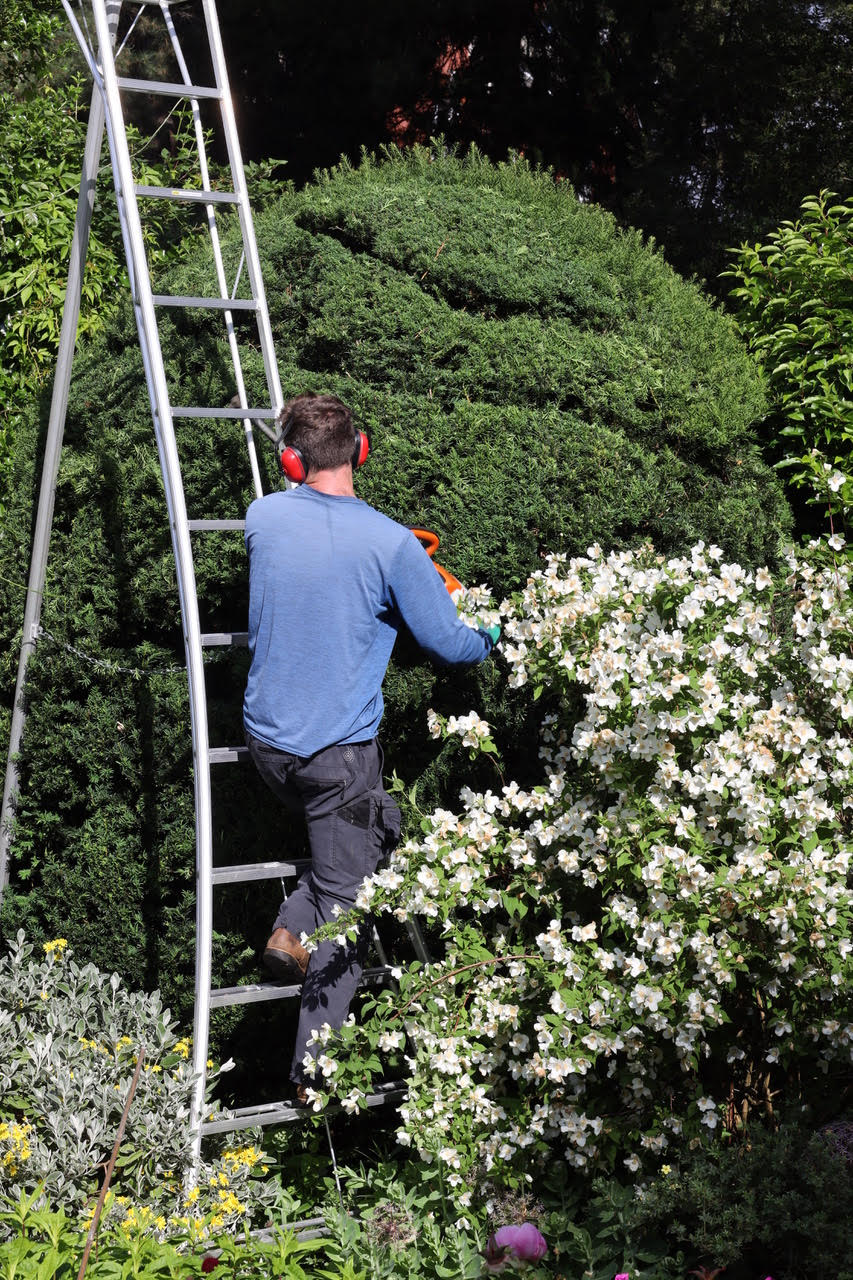 Making a new topiary out of the large, dull facade of a Taxus blob… My work was to change it up from a 'jelly drop' shape and give it texture, open it out and let the light through, and make it a sculptural feature in the background of the garden in summer… yet a major part of the garden in winter. A few more years before it becomes something special, but there was far more leaf and growth inside the plant than I thought and so it will not take too long for it to gain in character and become …
Sep27
Two weeks ago I was invited to teach topiary at the garden of Griselda Kerr, the author of The Apprehensive Gardener. I love teaching and sharing skills, but I was placed on the spot in the afternoon and asked to show how I would make a new topiary from an existing shrub. So below is a speeded-up video of me creating a cloud-pruned topiary from an old boxwood tree. I particularly love the ending when the class get involved….! See the video here. One hour was all it took, and though it needed a little tidying-up, it was made by …
Sep27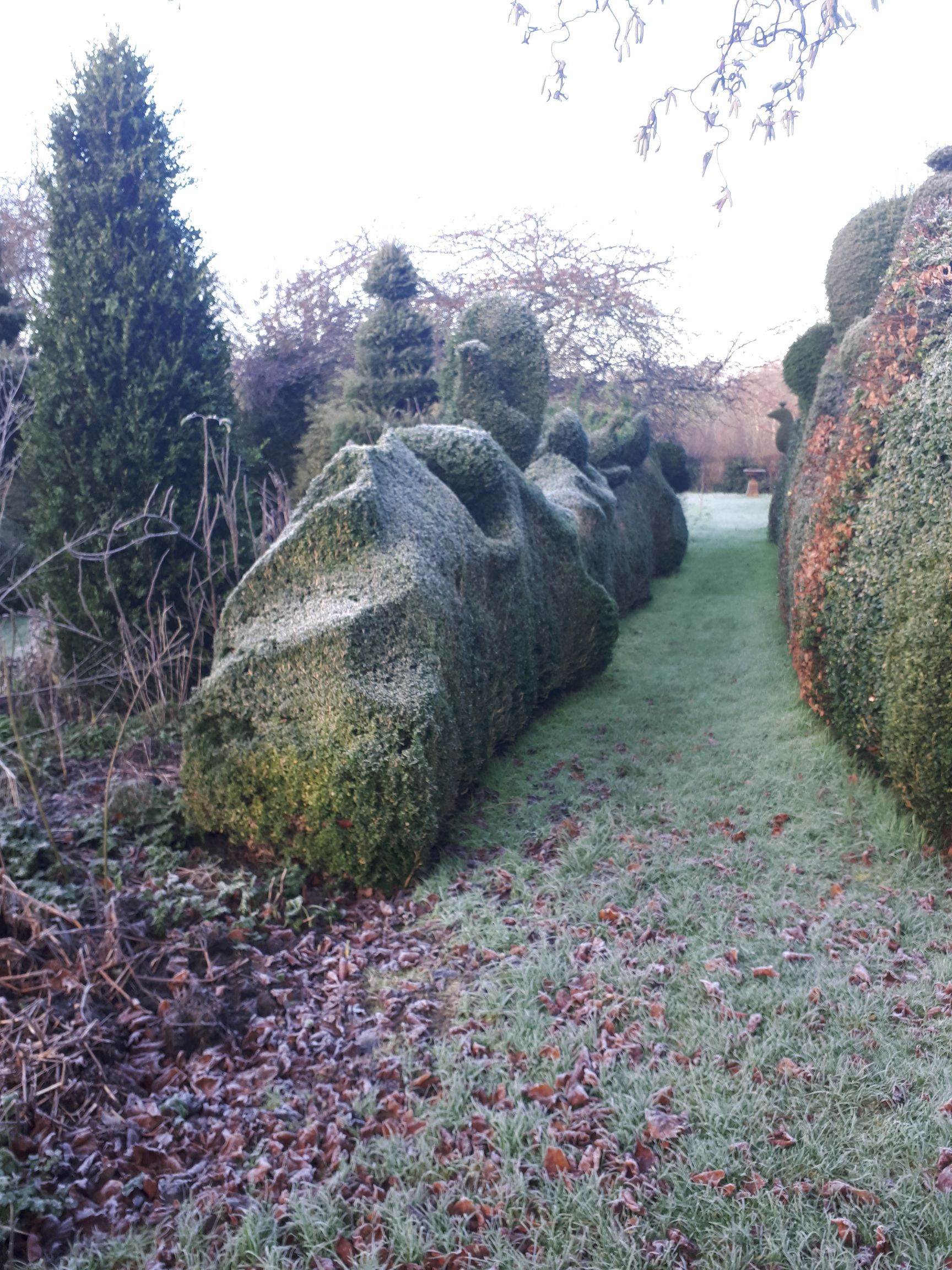 Charlotte Molesworth, my topiary mentor, and I are running our popular topiary workshop again in 2022. You can email me for details – or go here for information, your ticket and to find out about dates. Book A Spot On A Topiary Workshop, September 2022