THE MODERN MINT BLOG
Working at Modern Mint we have made it part of our mission to visit gardens and landscapes all over the world. By seeing these different places and allowing ourselves to be influenced by what we come across we believe it will make us better gardeners.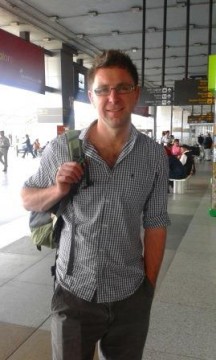 Finland opened our eyes to the use of loud, bright colours during the summer months, while Japan offered us the care and thought necessary to look after a garden, and appreciate the atmospheres you can create with simple, natural elements used thoughtfully.
But last week when we visited Agra in India – well, nothing can prepare your neural pathways for immersing yourself in the colours, noise, chaos, beauty and madness of India. These first pictures from the Taj Mahal truly do make you reassess what it is possible to create in a garden, what scale you can work to and what images you can create when you have enough resources, enough time, and a burning ambition to create a masterpiece.
"A teardrop on the cheek of time."
Rabindranath Tagore on the Taj Mahal
The Taj Mahal is one of the major landmarks not just of India, but the world. It took 22 years and somewhere around 20,000 people to build it. This was 400 years ago. What an incredible feat of belief, to take that long to make sure you get it right. It is completely symmetrical in every way – apart from the tomb of Shah Jahan, which sits to the side of the tomb of his wife. The ornate caskets you see as you enter are false graves, built above the simple ones the bodies are actually laid in. A special 'mud' from Afghanistan is put on the marble every few years, allowed to dry, before being swept off. This cleans the marble the Taj Mahal is made of, which is of such good quality the mud leaves no stains.
The gardens too are constructed on a vast scale, inhabited by squirrels and with water as a central theme, it is a pleasure to walk through them and allow yourself to get lost in the view of the Taj Mahal as the sun beats down on you, reflected back by stone floors and pathways. And it is not just the magnificent Taj Mahal to view – you have the gateway building to look at (the one you entered by) and the mosques of red sandstone that sit each side of the white marbled Taj, which balance the view and help to give purpose and majesty to the masterpiece Shah Jahan commissioned for his wife.
We only got to see the Moonlight Garden from one side of the river (the side the Taj Mahal sits) but from the photo we took you can see it is laid out in line with the Taj Mahal. A magnificent idea splitting the garden across the river – it would need an Emperor to be able to do this to the landscape, rather than just 'borrowing' a view as we may do nowadays.
We have read the lawns in the gardens at the Taj Mahal were laid by the British, probably one way of cutting labour and making them easier to manage (as well as marking ownership?) – we would love to have seen these lawns laid out with roses, fruits, flowers and trees. In fact, it reminded us a lot of the gardens Spanish designer Fernando Caruncho has made, using water and terraces, stone and shade and simple squares of pathways. These are the heavy influences of Islam and Persia, which suit gardens in hot climates.
The Taj Mahal left us stunned. We look forward to discovering how our time spent in India will affect our garden design work.
March 28 th 2015
Aug19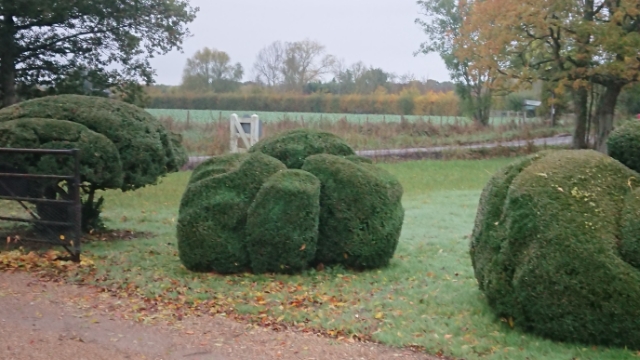 Topiary Composition and design is a major part of my work – which is why I have created an online seminar for keen gardeners and creatives to learn how to compose a piece of topiary. There are several dates available so please head here to buy a ticket. The seminar lasts two hours (including q and a) and will explore the process needed to look at a shrub or hedge and work out what you can design from it. These principles have been learnt the hard way – through mentoring, experimenting and years of practise. Hopefully, it will help you shortcut …
Jun10
Brought By Bike is an excellent website I found last month, where businesses offer their services by (of course) bicycle. Modern Mint and my topiary work is now live on the site offering my topiary services, via bike, to the following two postcodes – CM1 CM2 Now I can imagine I will need to borrow a ladder should anyone have a larger shrub, but most town gardens in the Chelmsford area have a need not just for privacy but to let light into the house… so a balance must be struck when shaping hedges and shrubs to cover both needs. …
May10
Transforming Topiary – a video made for the European Boxwood And Topiary Society by Charlotte Molesworth and I, in her garden. We take a dog topiary and work out how to update it, turning it into a bird. Worth a watch I think, and hopefully useful to you! You can see more of my clipping on the topiary page. Or read my Spring 2021 Topiary Provocation here.