THE MODERN MINT BLOG
Here are some low maintenance garden ideas for busy people…
1) Design well.
For example, don't do this…
Or this…
You will spend an age having to drag the mower around awkward corners (straining your back and shoulders while you do so) and then having to strim against walls where the mower blades don't reach… or worse yet, you leave the grassy tufts, just like in the picture above (and we often see this when we go and meet a client.)
Cutting the grass is the most time-consuming and labour intensive job of the summer. Remove all that grief and get yourself a 'one-cut-a-year' meadow. You'll see the benefits in time immediately.
Organising a space can be hard – save yourself time and effort by getting help from a designer.
2) Have a bigger patio (with less pots)
You only need to sweep a patio to keep it tidy – no cutting, no machinery, no petrol – just grab a stiff broom and away you go!
Do make sure your patio is large enough – garden furniture is bigger than you might think, as is the space you need when lots of people are over and enjoying a barbeque, so scale up. (As a bonus tip: get all of this work done at the start, before you think about the flowers…)
Less pots? Plants prefer to be in the ground. In pots they rely on you to be sensitive to their every need. But the reason you want a low maintenance garden is because you are busy, right? So you can't put in the effort watering and feeding morning and night… so choose fewer pots, but buy bigger (so the plants have more room to put their roots into) and better quality. Then make sure you fill them up with flowers – a brilliant display of a few flowers makes more impact than lots of half dead plants.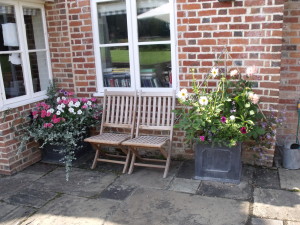 (Another bonus tip for you: in pots, use the best compost you can – not the cheap bags from the garden centre!)
3) Don't leave soil bare
Bare soil is going to get disturbed, exposing weed seeds to the light. When they get light and water they will germinate. Then you will have to get out there and weed.
It looks rubbish too. If you aren't sure what to do, or are struggling to get anything to grow, why not try Seedballs – the easiest, lowest maintenance garden product we have ever seen!
4) Plant shrubs
Once established they look after themselves. They cover lots of ground, create useful habitats for insects (as well as providing them with valuable food) and if well chosen offer both flowers and scent to delight us.
Choose well though – ceanothus is wonderful when it flowers, but keep away from laurel, a normal choice offered to clients by unimaginative landscapers. They offer a heavy, dense feeling to a space, so although their waxy leaf helps to soften noise pollution we don't really like them.
The discerning characteristics of a shrubbery should be something the eye wants to linger on, while providing form in winter when other plants have disappeared below ground.
For more ideas of what to grow see what Dan Pearson had to say.
(And here is a third bonus tip… (can you believe what you're getting today…?!) Even though shrubs are a low maintenance garden solution, we hope you will be inspired to learn more about them. That inspiration comes from getting your hands on the plant and working with it, seeing how it responds to different weather patterns, the soil it grows in, the way it is pruned. So get out there with some shears and prune it, experimenting with what shapes you can make…)
5) Grow perennial fruit and vegetables
An allotment sounds like a good idea to people in their 20's, 30's and 40's. But let's face it (and if you've had an allotment or attempted to grow your own, you'll know how this works) you dont have the time to keep yourself in salad 52 weeks of the year.
But you can still have fresh, home-grown produce without all the effort – by planting perennial fruit and vegetables. These are plants that grow every year, so there is no need to prepare seedbeds, pot on seedlings, or hunt for slugs that want to nibble all your efforts.
Start with the fruit – apples, pears, strawberries, raspberries, gooseberries and rhubarb.
Then add herbs like lavender and rosemary, before finishing off with asparagus, cardoons, wild garlic and jerusalem artichoke (which is not actually an artichoke, but a member of the sunflower family. Which is another bonus (oh yes) because you can cut the big yellow flowers for a vase. Double your money and not even half the work!)
There you go – a few ideas to get you going. For the more experienced gardener, we might talk about soil amplitude and dynamics, but then you are getting into garden philosophies rather than definite actions you can take, that make a difference straight away.
Happy low maintenance gardening! Have a cup of tea… relax… and read a few of these books for more ideas!
June 25 th 2014
$last_class = " list-blog"?>
May03
Over the last two years I have been involved with a couple of projects that have ended up being recorded, then placed on Youtube or Instagram. I'm hoping they will be useful to you, so I have decided this morning to pop them together in one handy blog post so that you can bookmark the page and revisit when you need some inspiration for your topiary. See below then, a few videos about topiary I have recently been involved with… Garden Masterclass – Provocations of a Modern Topiarist Transforming Topiary Topiary Teacher Put On The Spot https://www.instagram.com/p/CTj-EfOKRL6/ In the above …
$last_class = " list-blog"?>
May03
Mark Zlotsky is an artist based in New York, and today I just wanted to share his project 'Topiary Tango'. In his introduction to the project he talks of topiary being a forgiving art, which I love and is soooooo true…..! For proof, just take a look at some projects I have made with a sharp pair of shears, a hedgetrimmer and a pruning saw. Do check out Mark Zlotsky's project, because although his interest began by looking at topiary through the prism of architecture and the relationship of one building to another, he touches directly onto a way of …
$last_class = " list-blog"?>
Apr27
Gardenista, the online magazine about gardens and design, have interviewed me about topiary. The article is called 'Rethinking Topiary: A Garden Tradition Loosened Up' and was published this morning. Written by the excellent garden writer Clare Coulson, I share some thoughts on using deciduous plants, how to clip (name-dropping Anne Lamott and her book on writing at one stage… oh, how I wander off subject sometimes!) and how to improve topiary by what you plant around it. Do take a look at the article in Gardenista. Or for more about my topiary work, check out the topiary page.