THE MODERN MINT BLOG
Landscaper Essex? Here are photos from a project Modern Mint have been working on over the last few years – do contact us if you want to chat about how we, as a garden designer or landscaper, can help you with your garden.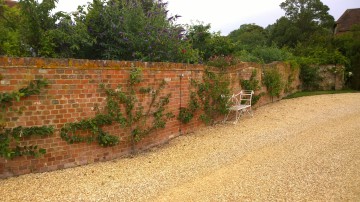 Alternating cherries and apples along a serpentine wall of this long driveway helps to soften the landscaping…
 Low maintenance planting against the house to repalce a rose that had died. Ceanothus will grow taller to add a better sense of scale and interest to the wall.
 Check out the rosebay in flower over the wall – nightmare weeding the seeds that land in a traditional border, here any that are missed look integrated into the landscaping…
 Slowly turning a traditional herbaceous border into something more akin to a meadow…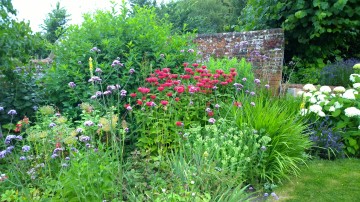 This monarda has grown beautifully this year…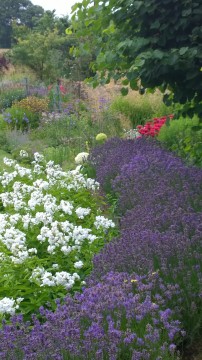 Phlox and lavender look good together, but don't enjoy the same growing conditions – however, here the lavender is planted at the top of a wall above the border of phlox!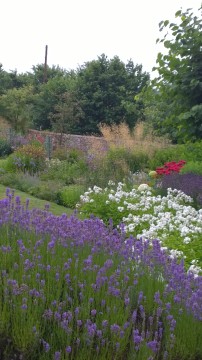 The view down from the rose garden…
We started gardening in Hampshire, learning our trade as landscapers on large estates – designing them to look good while also making them easier to maintain.
You can now find us working as a landscaper in Essex, as we moved to the county at the end of 2013. See the Modern Mint About Us page to hear our story.
If you have a garden that isn't as great as you want it to be, or are finding it difficult to express what it is you want, do check out our portfolio for the work we have done as a designer and landscaper in Essex, Hampshire and Berkshire.
Then contact us now for an informal chat about how we can help.
Happy gardening!
July 31 st 2014
Feb10
There seems to be some underhand shenanigans going on here. Bob Flowerdew is threatening to resign. We face losing the UK's cornerstone organic garden. So please take a look at what is going on via the Facebook group…. go on! Go Now! Save Ryton Organic Gardens!
Feb06
Today we will be looking at Garden Design Trends in 2018. Just so you are in the know about what is cool and what is not cool in the 12 months ahead…. For the past like, million years I have shared my thoughts on what the gardening industry tell us the latest trends are going to be. If you are interested, you can see here the garden design trends for 2017. Or take a peek at my favourite of all the posts I have written – Alternative Garden Design Trends. This is my individual take on what the latest garden design …
Feb06
Well now, this is interesting…. UK Plans 50 Million New Trees in Northern Forest Likely? See the pitfalls? We love the idea and wholeheartedly support as much tree planting as possible. But are seriously doubtful that this is more than a sticking plaster solution to England being so vastly 'under-treed'…. or should that be 'overfelled?' Yet whether this idea happens or not, all we ask is that you please make sure you plant as many trees as you can in your garden!