THE MODERN MINT BLOG
This video is a Ted talk by author Elizabeth Gilbert, who wrote Eat, Pray, Love: One Woman's Search for Everything
She asks how are you supposed to create something if you fear the paralysis that comes from knowing you will be judged on it?
In the days of the Renaissance the individual became the supreme artist/creator – and so began to rise the idea of the tortured writer and the artistic ego.
But before that the Greeks believed 'daemons' helped them in the creative act. This disembodied figure released the trepidation felt at producing something and being criticised (or lauded) for it… no tormented genius needed, because someone else did the job and you were just the conduit for it to come through.
It is this idea that she offers us as a coping mechanism for the creative act. Remove the 'genius' from yourself and place it next to you. Make 'genius' something you have, not something you are (with all the impossible standards that proposition asks you to live up to!)
It seems to us gardens can be looked at in this way. By separating the place from the maker, we realise the garden (the daemon) has the most influence, is the 'genius' telling us what to do. The garden speaks, all we must do is listen.
This gives the gardener great power. Turn up, do your work, live entirely in the constant process of order and chaos, renewal and relaxation, genius and disaster. By getting out there and just going for it you will allow yourself the chance (with your daemon/gardens help) of creating something breathtaking and transformative. By staying inside and worrying about how stuck you feel you will forever be incapacitated.
We will leave you with the words of Elizabeth Gilbert, with how she ends her speech, because they are beautiful words and we hope they give you the courage to find your own genius and allow it to flourish…
"…don't be afraid. Don't be daunted. Just do your job. Continue to show up for your piece of it, whatever that might be. If your job is to dance, do your dance.If the divine, cockeyed genius assigned to your case decides to let some sort of wonderment be glimpsed, for just one moment through your efforts, then "Olé!"And if not, do your dance anyhow. And "Olé!" to you, nonetheless…. just for having the sheer human love and stubbornness to keep showing up." 
(Our favourite Elizabeth Gilbert book is this one… about self-sufficiency and making best use of what you have… absolutely brilliant!)
March 12 th 2014
Sep29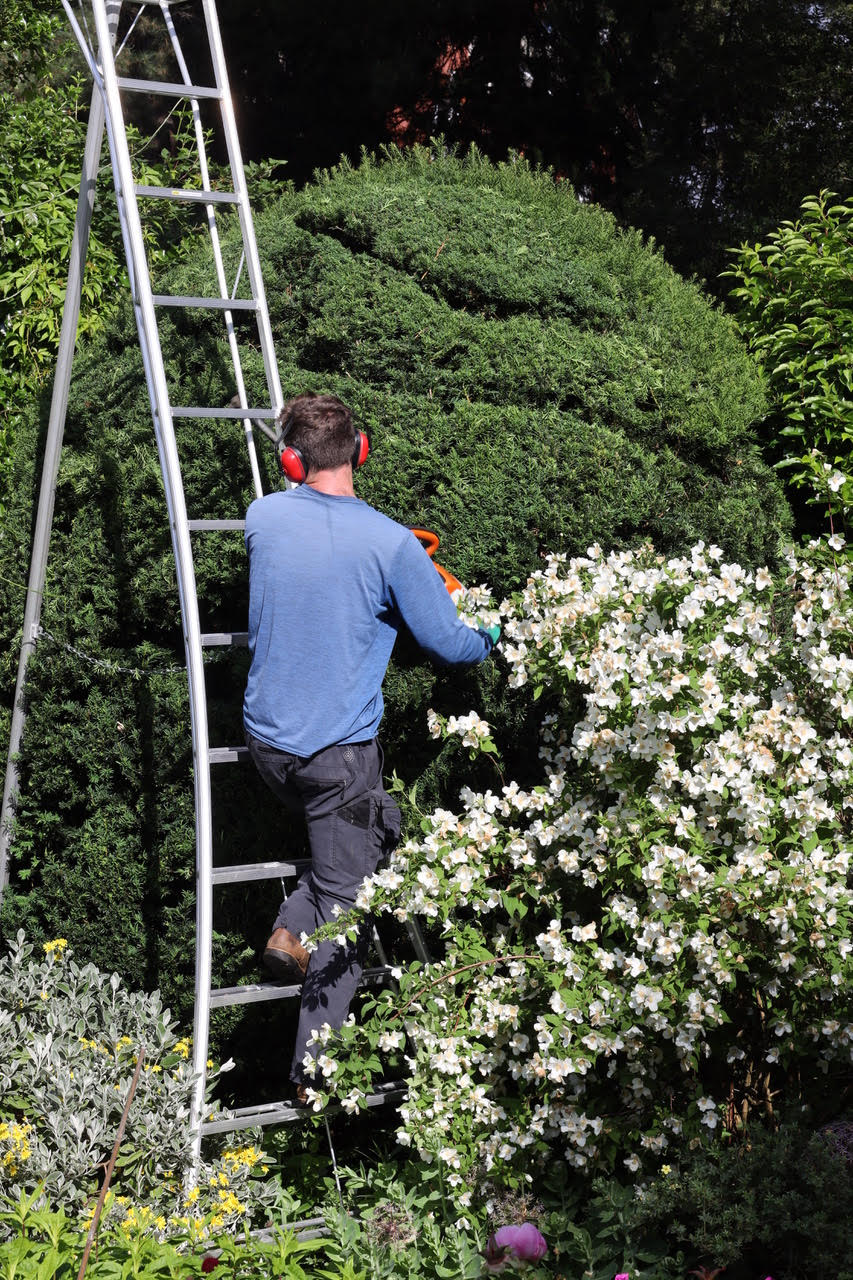 Making a new topiary out of the large, dull facade of a Taxus blob… My work was to change it up from a 'jelly drop' shape and give it texture, open it out and let the light through, and make it a sculptural feature in the background of the garden in summer… yet a major part of the garden in winter. A few more years before it becomes something special, but there was far more leaf and growth inside the plant than I thought and so it will not take too long for it to gain in character and become …
Sep27
Two weeks ago I was invited to teach topiary at the garden of Griselda Kerr, the author of The Apprehensive Gardener. I love teaching and sharing skills, but I was placed on the spot in the afternoon and asked to show how I would make a new topiary from an existing shrub. So below is a speeded-up video of me creating a cloud-pruned topiary from an old boxwood tree. I particularly love the ending when the class get involved….! See the video here. One hour was all it took, and though it needed a little tidying-up, it was made by …
Sep27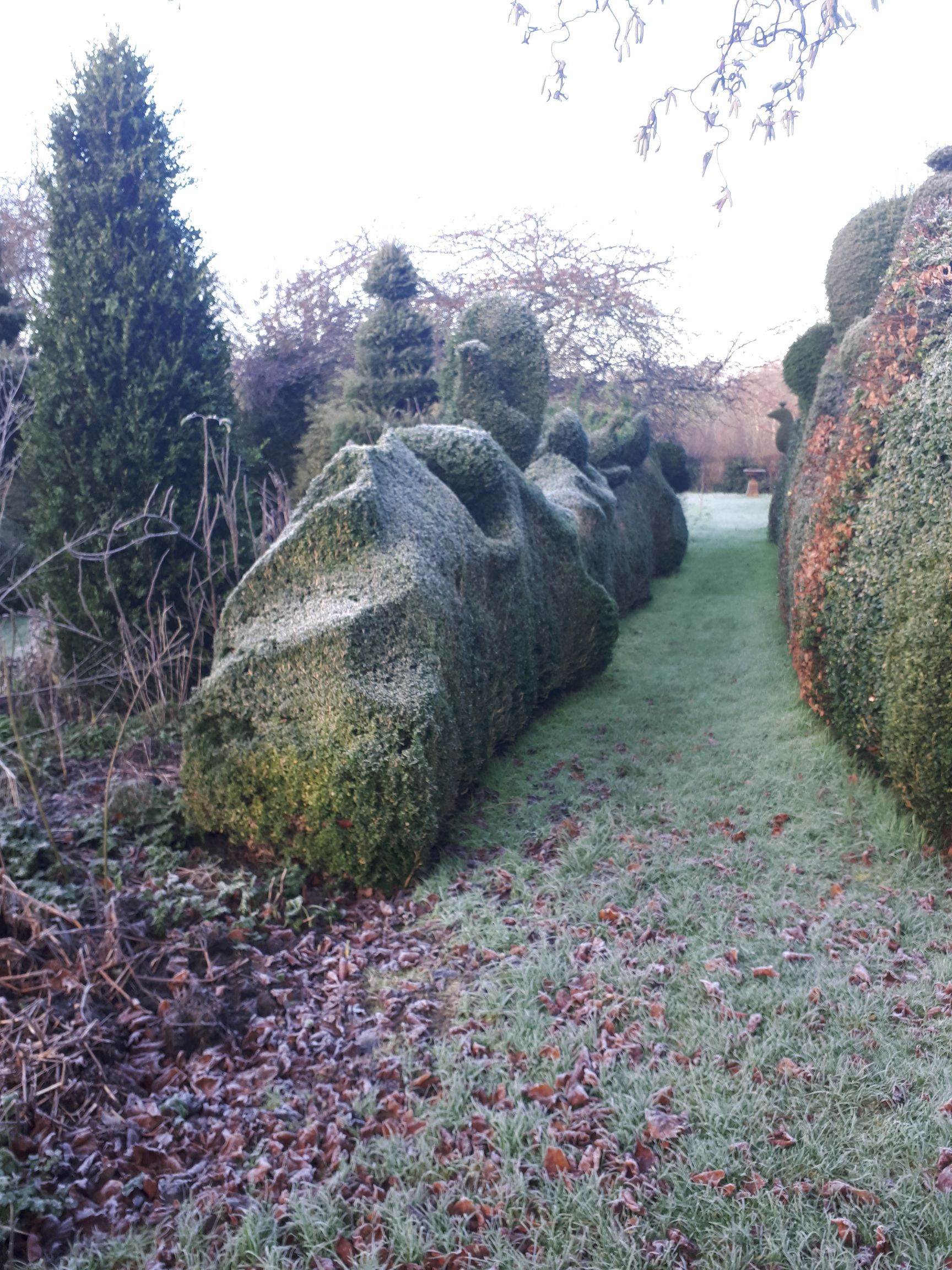 Charlotte Molesworth, my topiary mentor, and I are running our popular topiary workshop again in 2022. You can email me for details – or go here for information, your ticket and to find out about dates. Book A Spot On A Topiary Workshop, September 2022