THE MODERN MINT BLOG
The Chelsea Fringe is about all things gardening, but that doesn't mean you always have to be outside. One of the online projects you can see at this years festival is 'Hypertufa High Jinks'…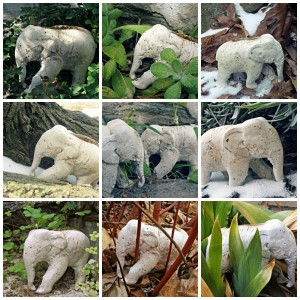 … 'Hypertufa High Jinks' is run by garden writer Ansel Oommen and science artist Cynthia Nguyen.
Follow Hetty the hypertufa elephant as she travels the 'world', magnifying the tiny spaces around us that often go unnoticed. So come down and take a closer look: that patch of weeds may as well be a jungle or that pebble, a treacherous mountain. You never know what stories lurk in the undergrowth when you let your imagination wander.
A brilliant idea!
Hetty's adventures will be updated from New York City during the run of the festival (May 17th – June 8th.)
And don't forget Modern Mint have their own online project "You Should Have Seen It Last Week…" if you crave even more online gardening fun… or it's raining outside.
If it is raining outside… then get yourself a gardening book… we recommend…
May 1 st 2014
Sep21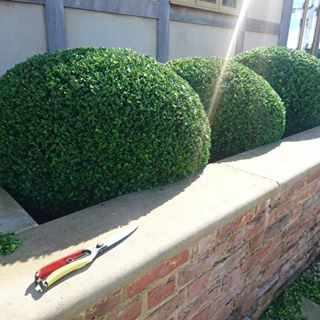 I was asked by the European Boxwood & Topiary Society to help out with answering a common question – How to sharpen your shears? So we spent a fun day making a video, that hopefully will help you make sure you have sharp, shiny blades to do your topiary pruning with. And you can find here more examples of the topiary I make with my sharp blades.
Aug16
You can get a ticket for this new talk I'm giving at the European Boxwood And Topiary Society here – TALK TICKETS It is on the 25th August at 6pm. It should be great fun and I'm very excited to be sharing some recent thoughts about topiary with people – and how it might work in a modern garden.
Jun14
If you have a subscription, you can check out an article about bespoke ideas for your garden in the Telegraph. There are some great crafts people there, so check it out. Click Here To See The Article About my Topiary Work In The Telegraph