THE MODERN MINT BLOG
This week I gave a talk – Helping The Honeybee – to the lovely beekeeping group at Southend on Sea.
Here are some notes for those who didn't have a chance to write down some of the ideas we spoke about and shared….
The Top Plants For Bees
Helenium
Sedum
Echium
Marjoram (which you will find in your seedballs)
Oregano
Eupatorium, also known as Joe Pye-Weed
Borage
Nepeta
Veronicaastrum
Teucrium
Phillyrea
If you want a hedge for around your apiary, you will not go too far wrong with planting the amazing, tough as old boots, Phillyrea.
Read plenty more about this shrub here.
Rosybee Nurseries
To stay up to date with the latest research on the best plants for bees, speak to Rosi Rollings at Rosybee Nurseries.
We interviewed her a few years ago now. But her nursery has grown plenty since then….!
Helping The Honeybee
I am currently researching and writing a book on plants for bees for Northern Bee Books. It is already late to the publisher (whoops!) but would love to hear from anyone who can suggest to me the most valuable bee friendly plants in their garden.
Please do contact us if you have any thoughts about this!
Finally….
I was asked about rabbit proof planting. Take a look at these, but… good luck with that!
And the nurseries I recommend you look for plants from, would be:
Great Dixter Gardens
Beth Chatto Gardens
Marchants Hardy Plants
Knoll Gardens
Phoenix Perennial Plants, Marina Christopher's nursery
Thank you everyone at Southend on Sea Beekeepers – enjoy your summer of helping the honeybee!
March 30 th 2018
Feb22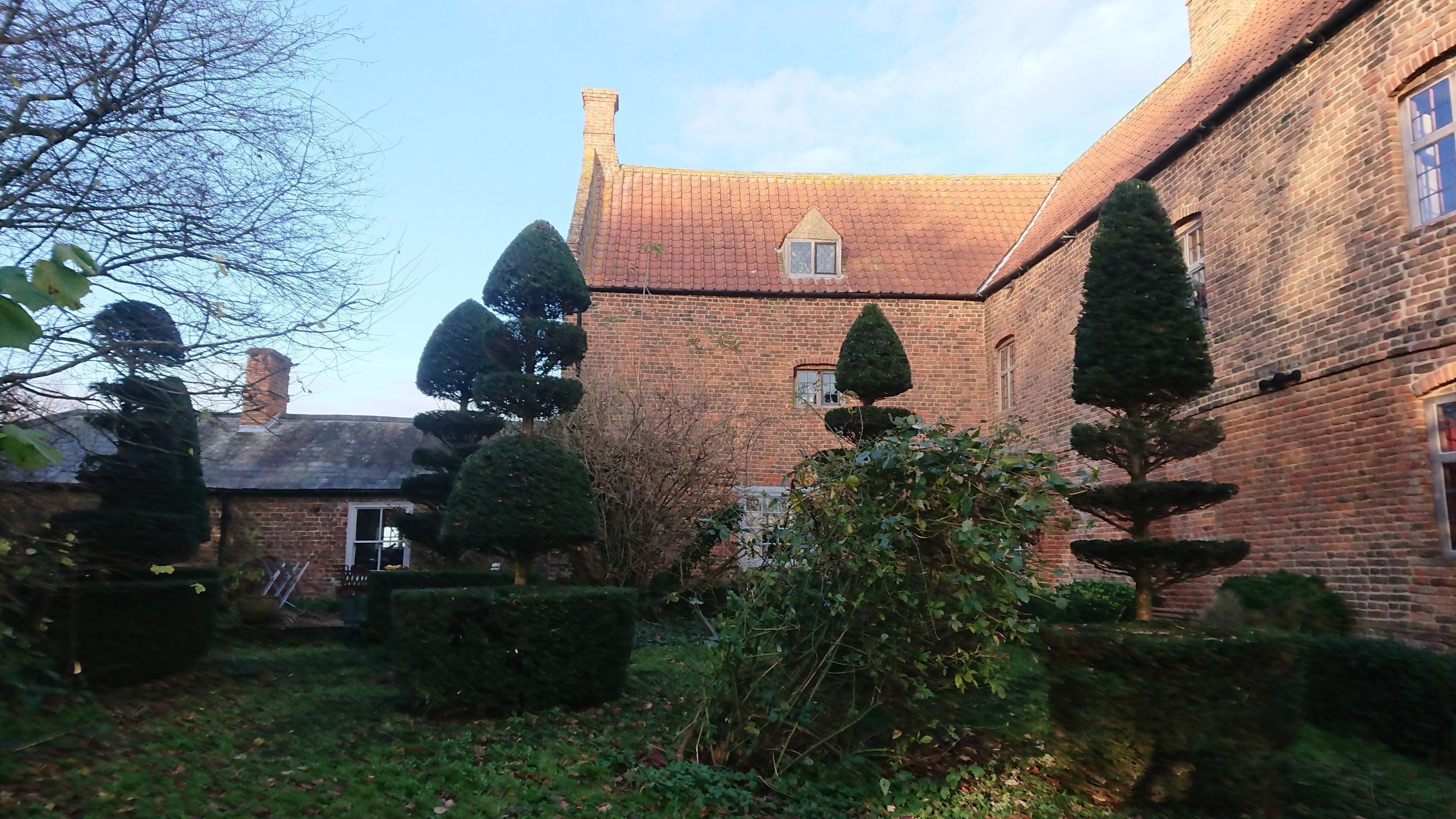 Guanock House needs a trainee topiary artist! Some of you may know it as the first home and garden of designer Arne Maynard, but is now owned and maintained by Michael Coleman and his wife Michelle. They offer meditation workshops and retreats there and it is as beautiful a house and garden as you could wish to visit. They called me in last Autumn to help shape up some of the topiary as it was all getting out of hand, but what it really needs is someone with a steady hand and lots of patience to take over the clipping …
Feb09
Here are some photos of work I have been doing at the garden of Charlotte Molesworth in Kent. Snow and ice brings out the depth of the different planes and angles carved into the boxwood. A garden has to look beautiful in winter – and topiary (green architecture)  helps do that! For more topiary pictures, click here.
Feb01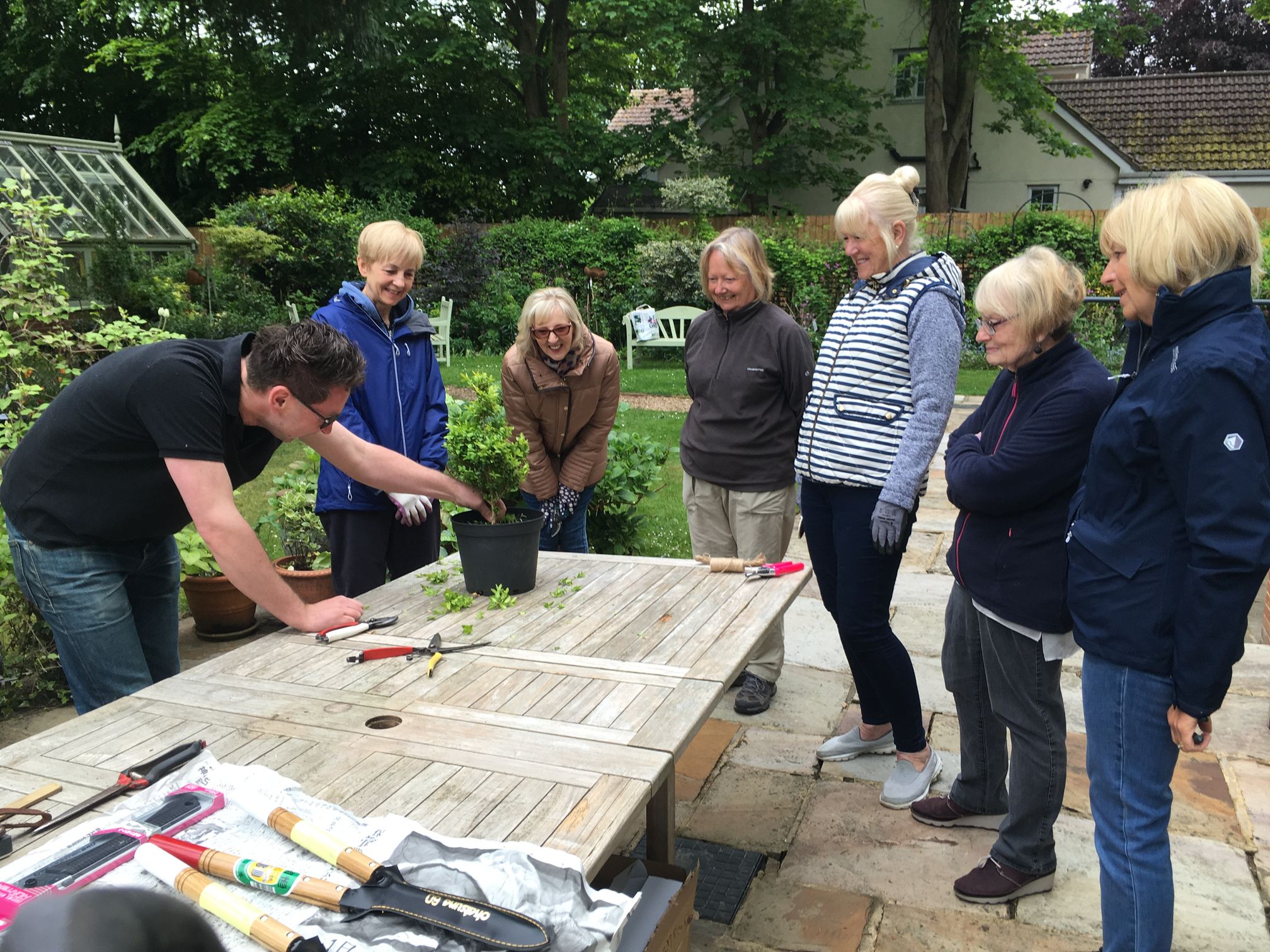 I am an experienced teacher of topiary and pruning, running workshops in the topiary garden of Charlotte Molesworth in Kent, as well as for The English Gardening School and The European Boxwood And Topiary Society. So if you are a keen gardener, a garden club, a group of friends who want to know more or even an absolute beginner who has been bitten by the gardening bug, then do contact me about what you might like to learn. What a laugh we are having in this workshop session I ran for a group of friends in Essex… Many people employ …