THE MODERN MINT BLOG
Here are more family garden ideas for those with children who want to know how they can improve their garden. This is a follow-up to a post we wrote a few days ago (and which opened up a lot of discussion) on Child Friendly Gardens.
The most important design idea is to have a place where you can relax and they can play. This could be a good-sized terrace to sit on with a comfy chair, while they have a space specifically for them within eyesight and easy reach.
Think about what garden furniture you get too – not too heavy, yet sturdy enough to use, and most of all please make sure it doesn't need lots of looking after – you don't want to spend time cleaning it or having to put it away every night, especially if you are trying to herd children indoors or out of the rain at the same time (this chair might do the trick…)
A swimming pool is a luxury – a good one, for sure – but we have noticed, for those of you who don't have the money or the space for one, that a hosepipe or a sprinkler is every bit as exciting for children. Running, skipping and leaping through a jet of water on a hot day is guaranteed fun!
We wrote in the original post about trees and how useful they are, and the addition of something like a ladder makes them even more interesting. Safety concerns aside (it is not a tall ladder, nor a weak tree) what these objects do is 'invite' children to play and to discover. Logs that have been cut into seats, yew hedges cut into castle walls or with gaps in to make windows, huts, dens and teepees all appeal to children (and perhaps the child in us?)
Our curiosity makes us look around corners or poke our heads into shady spaces. It is the 'secret garden' effect, and your children will be drawn there too.
We are currently designing a garden in Upminster, Essex. On our initial visit we found a number of cairns around the garden…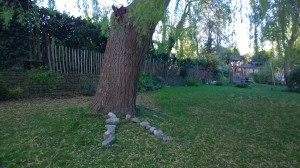 We loved them and spoke to the client, whose 3 girls built them, about actively encouraging them in this activity. They are building a relationship with the garden, which will lead onto other things like planting seeds and studying wildlife. There was no expense here on toys or games – just found, natural objects and the space (under a gorgeous weeping willow) and the time to play.
As well as having a tree in the garden, we also recommend fruit. They are easy maintenance plants, requiring no more than one prune a year, and generally just get on with the job of producing sweet, tasty food. Many adults will have the memory of eating raspberries, strawberries, apples and plums from a grandparents garden, but our generation often lack this. Growing up we got our fruit from the supermarket, but there really is nothing better than picking a raspberry off a cane and eating it then and there.
We try and plant orchards in all of the larger gardens we design, but if tight on space just one apple tree will do the job. Add a few fruit bushes in a corner and you are creating a little piece of magic for children, a memory of growing and picking your own that will live with them all their lives.
Other plants you might want to try are the easy annuals – sweetpeas and sunflowers, which have big seeds making it easier for small hands to work with, while providing bright, recognisable flowers within a few months. Pumpkins, eschscholzia and nasturtiums are wonderful too.
If you are worried about plants being broken or trodden on by a child or a stray football, try ornamental grasses. They are robust, need pruning just once a year (like the fruit) and will just get on doing what they do without your help. They are also recommended if you have an energetic dog that doesn't respect the difference between lawn and flowerbed…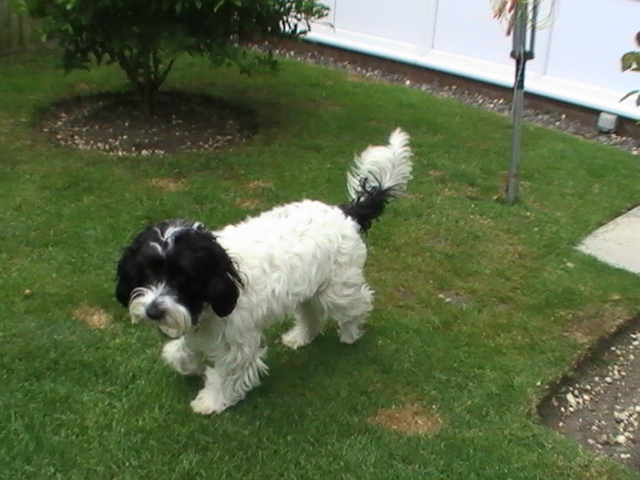 The final word goes out to lawns – artificial or real? Both have an element of maintenance about them, the artificial lawn less so than a grass lawn but it is not totally work free.
Artificial lawn is better for parents – you don't need to find time to cut it every week, nor have large or expensive (and potentially dangerous) equipment sat around waiting to be used. This saves on space too – the shed can now store the bikes and trikes that are accumulated as children grow!
But for children we think a lawn is best – real grass beneath their feet, that smell in the morning or when it has just been cut – the senses are thrilled by a lawn. Even better if it is full of daisies too… hours can be spent making chains with them, to go around wrists and necks like jewellery.
The perfect green lawn may be something to strive for, or be envious of, but please remember that is a grown-ups ideal not something a child wants. Save the 'bowling green' look for when they have grown-up, as to achieve it you will need to weedkill and feed… and do you really want your children sat playing amongst the chemicals you yourself have sprayed?
We hope these family garden ideas are useful. Please do get in touch if you come up with anymore – we can be found on Twitter – and best of luck with the garden this summer, we hope you enjoy being outside in the sunshine as much as we do!
(For an easy gardening experience with children we recommend Seedballs – see how many you can collect and scatter. And these books below are worth trying for even more ideas…)
June 28 th 2014
Sep29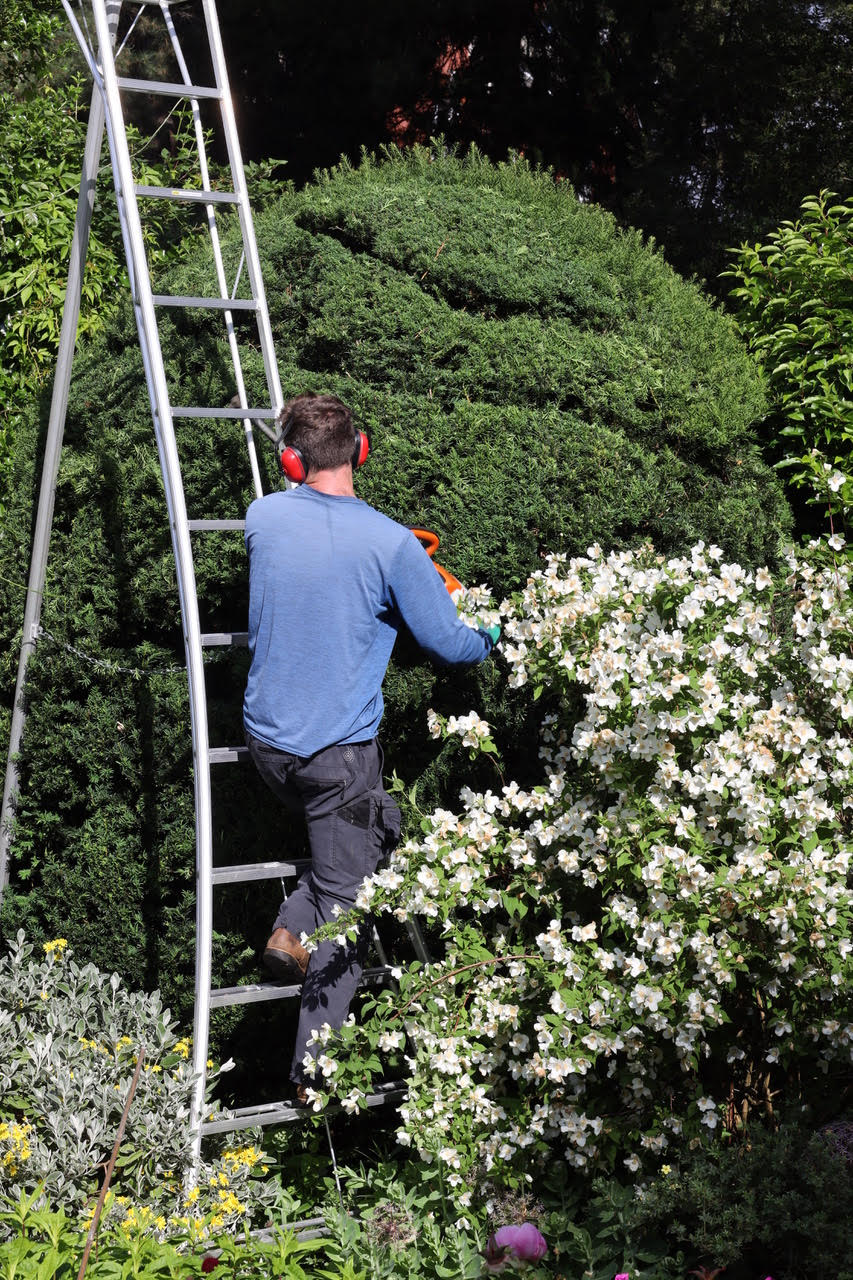 Making a new topiary out of the large, dull facade of a Taxus blob… My work was to change it up from a 'jelly drop' shape and give it texture, open it out and let the light through, and make it a sculptural feature in the background of the garden in summer… yet a major part of the garden in winter. A few more years before it becomes something special, but there was far more leaf and growth inside the plant than I thought and so it will not take too long for it to gain in character and become …
Sep27
Two weeks ago I was invited to teach topiary at the garden of Griselda Kerr, the author of The Apprehensive Gardener. I love teaching and sharing skills, but I was placed on the spot in the afternoon and asked to show how I would make a new topiary from an existing shrub. So below is a speeded-up video of me creating a cloud-pruned topiary from an old boxwood tree. I particularly love the ending when the class get involved….! See the video here. One hour was all it took, and though it needed a little tidying-up, it was made by …
Sep27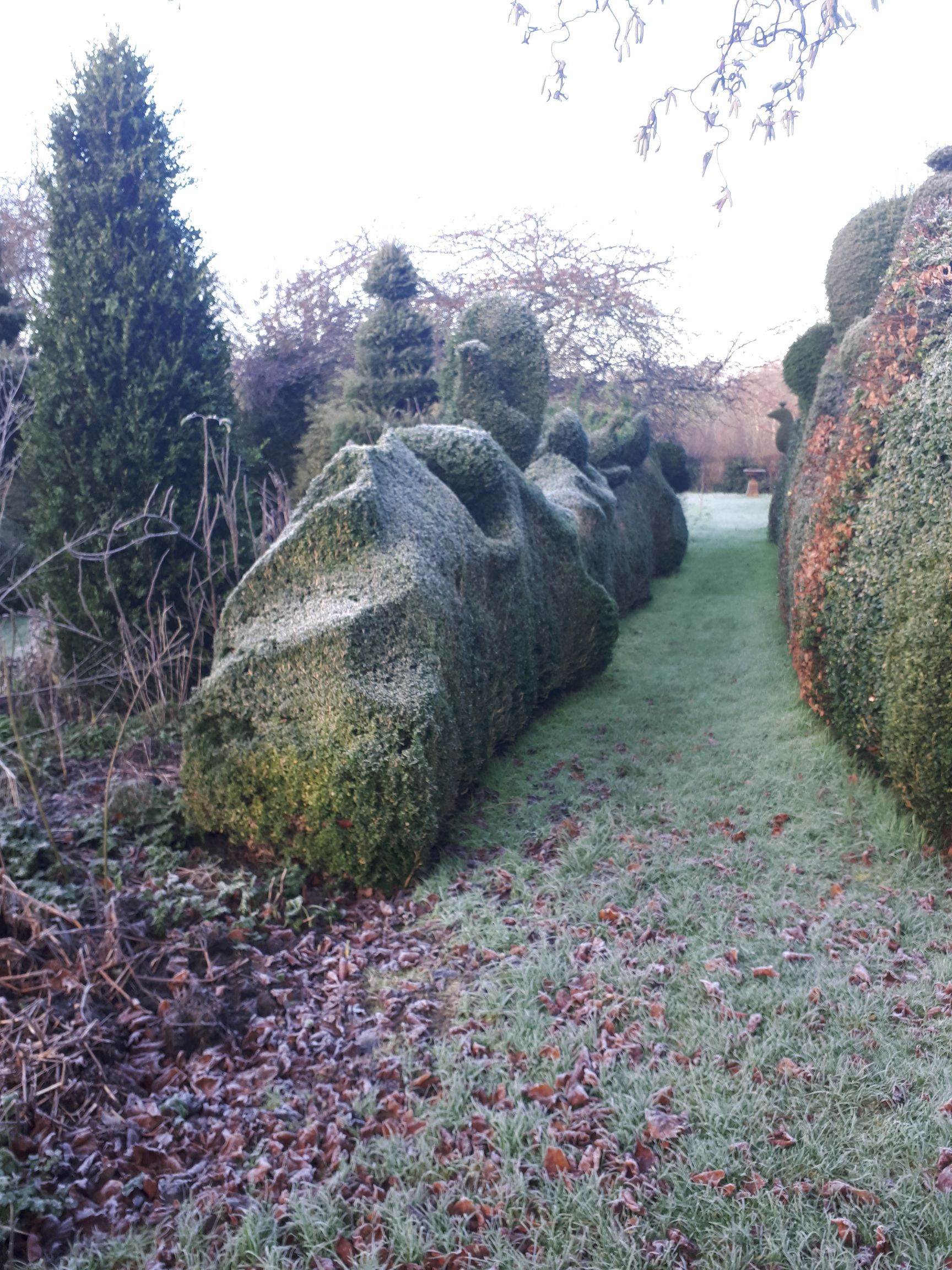 Charlotte Molesworth, my topiary mentor, and I are running our popular topiary workshop again in 2022. You can email me for details – or go here for information, your ticket and to find out about dates. Book A Spot On A Topiary Workshop, September 2022