THE MODERN MINT BLOG
One thing we've learned is that people in horticulture really are welcoming and keen to share their knowledge. And some people have a wealth of knowledge…
Essex Wildlife Trust ran a wildflower id and survey skills course earlier this week, with local botanist and fern fanatic Tim Pyner. The day was spent wandering through the nature reserve at Leigh-on-Sea noting down what plants could be found, the results then being submitted to Plantlife in order to map the spread of species – and find out what has left and what has arrived!
Tim was completely self-taught. He said, "I went out on weekends and studied plants. I would learn by spending twelve months just looking at grasses, getting to know them. Then in the winter when nothing was growing I would study mosses and lichens."
In October Tim will visit Japan to study ferns in the mountains. What an adventure that will be, for this self-confessed pteridomaniac… but before he goes, in September he will be taking another wildflower id course. We recommend you go and listen well, to learn all you can from Tim Pyner, the fern fanatic.
Recommended Reading:
The Wild Flower Key (Revised Edition) – How to identify wild plants, trees and shrubs in Britain and Ireland
Sarah Raven's Wild Flowers
British Wild Flowers: A photographic guide to every common species (Collins Complete Guide)
And for any other fernophiles…
Fern Fever: The Story of Pteridomania
May 16 th 2014
Sep21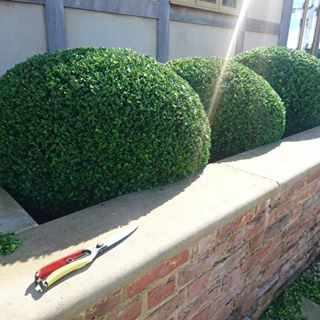 I was asked by the European Boxwood & Topiary Society to help out with answering a common question – How to sharpen your shears? So we spent a fun day making a video, that hopefully will help you make sure you have sharp, shiny blades to do your topiary pruning with. And you can find here more examples of the topiary I make with my sharp blades.
Aug16
You can get a ticket for this new talk I'm giving at the European Boxwood And Topiary Society here – TALK TICKETS It is on the 25th August at 6pm. It should be great fun and I'm very excited to be sharing some recent thoughts about topiary with people – and how it might work in a modern garden.
Jun14
If you have a subscription, you can check out an article about bespoke ideas for your garden in the Telegraph. There are some great crafts people there, so check it out. Click Here To See The Article About my Topiary Work In The Telegraph