THE MODERN MINT BLOG
Some inspiring pictures of an Essex Meadow, from just outside of Chelmsford – this should give you an idea of the meadow you can create in your own garden.
We love meadows because they are a haven for wildlife. To be fair, even undisturbed long grass will attract insects and other animals, who aren't as fussy about their postcode as humans are. Though long grass is great, when you see flowers that are also providing nectar and pollen you know you are somewhere special.
Meadows are a recent addition to the gardeners armoury, but are in fact nothing more than a man-made agricultural system that has been used for years – take a large tract of land that gets lots of sun, let it grow until July/August, then cut it down and store it for farm animals winter feed.
They are dynamic, ever-changing tapestries – one year may see a huge display of cowslips, the next year the golden yellow buttercups take over – and this is one reason they have become fashionable recently, because they appear to be hugely diverse, with more species per metre squared than you would find in an average flower border.
Biological diversity is the current Governmental watchword!
(The other current trend is a zeal for 'Native Planting', which appears to contradict entirely the lust for diversity – the native British flora is so small (about 1000 flowering species, around 200 of which are described as 'doubtfully native') that if we created a meadow of the most common UK plants all we would get is a big patch of nettles!
These opposing Government aims for the natural stewardship of our country are a tacit version of a naive Farage policy – we want to protect what is ours, 'rightfully' ours… except when it benefits us to fill the gap with 'aliens' who are more useful and harder working…)
The first benefit a meadow will bring to your garden is that of a lifestyle choice – once established, the maintenance regime is one hour per year for every ten square metres of meadow. The creation of the right plant community means each flower will be able to co-exist with little input from you. As mentioned above, some years one species of flower may prefer the weather conditions and be the most visible, but the following year a different weather pattern will stop it dominating and allow something else to flourish.
A perennial meadow (one which comes back year after year e.g. rhubarb is a perennial because you plant it then leave it alone, while broad beans are not because you have to harvest the seed and re-sow them every spring) will, once established, be long lived and resilient. Once in motion and growing you may not have to plant or add anything else for at least ten years.
If this interests you, please do see about becoming one of our Ten Meadows.
And last of all, for more information on making meadows try these books – they are an excellent place to start…
Making a Wildflower Meadow
Meadows
August 14 th 2014
Feb22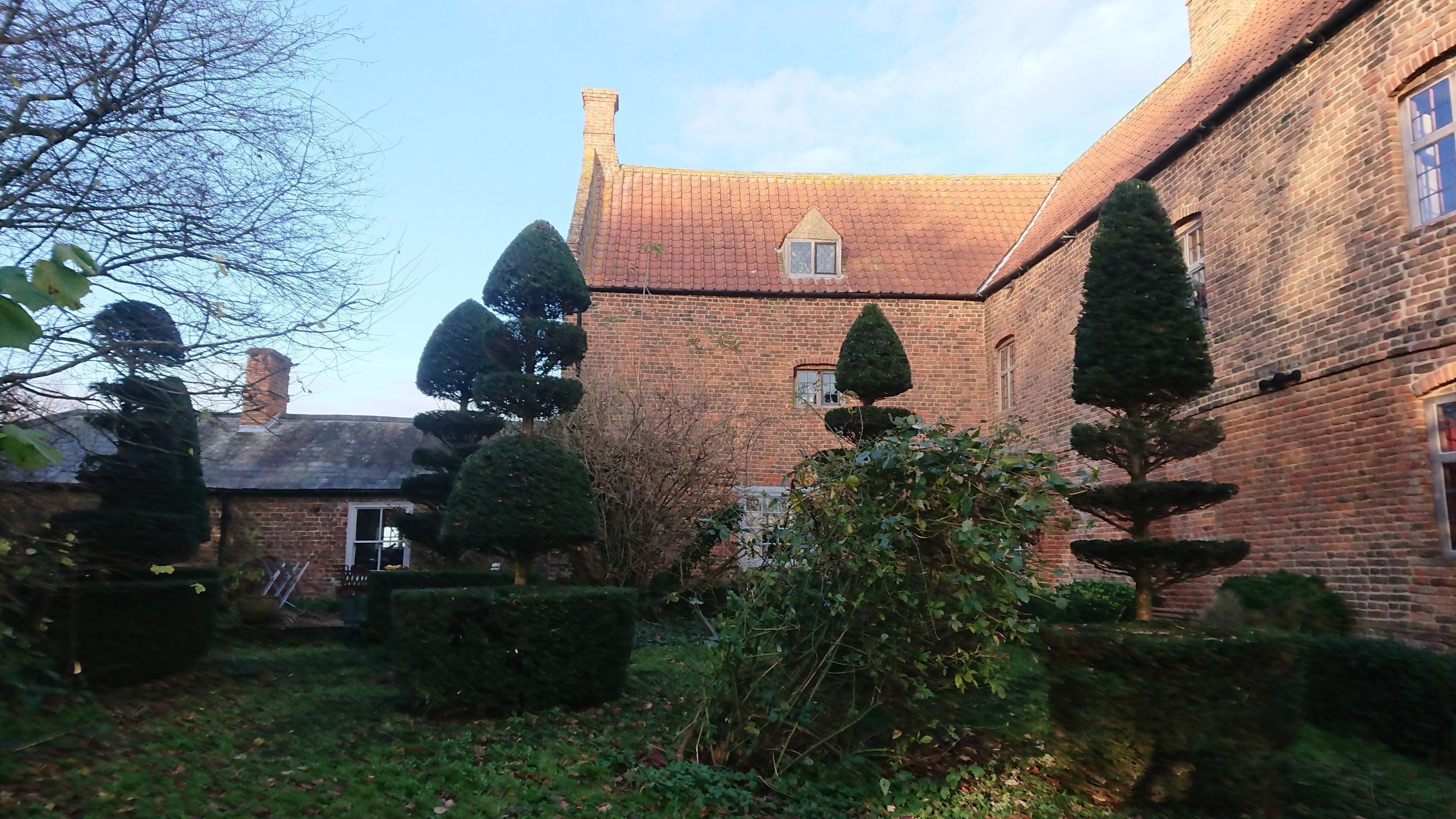 Guanock House needs a trainee topiary artist! Some of you may know it as the first home and garden of designer Arne Maynard, but is now owned and maintained by Michael Coleman and his wife Michelle. They offer meditation workshops and retreats there and it is as beautiful a house and garden as you could wish to visit. They called me in last Autumn to help shape up some of the topiary as it was all getting out of hand, but what it really needs is someone with a steady hand and lots of patience to take over the clipping …
Feb09
Here are some photos of work I have been doing at the garden of Charlotte Molesworth in Kent. Snow and ice brings out the depth of the different planes and angles carved into the boxwood. A garden has to look beautiful in winter – and topiary (green architecture)  helps do that! For more topiary pictures, click here.
Feb05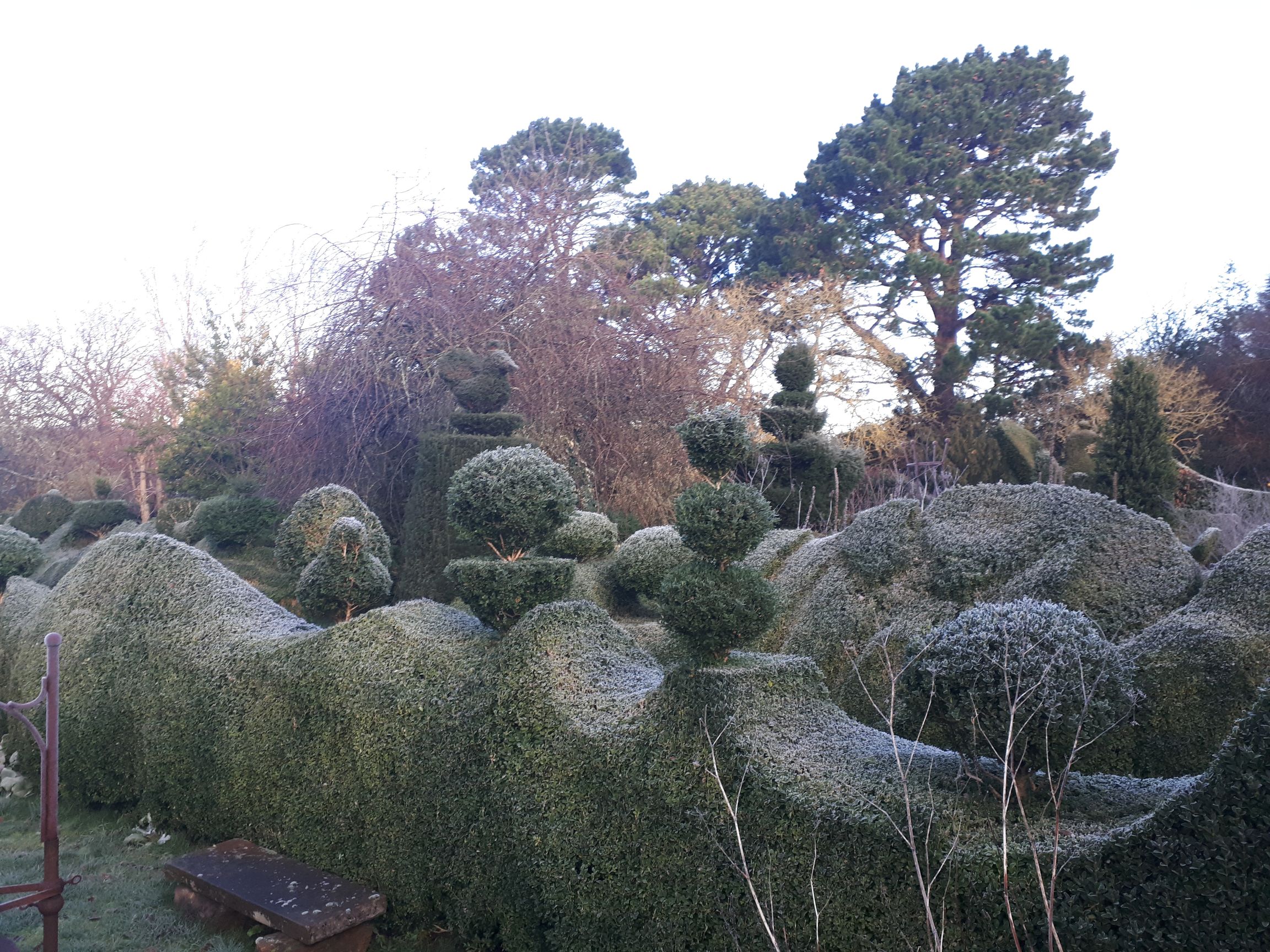 How To Use Topiary In The Garden is my new talk, which I first gave last year via Zoom for the European Boxwood And Topiary Society. Returning to Zoom again, there are two dates available to see and hear the talk: March 16th – Book your ticket here April 6th – Book your ticket here The talk is great fun, perfect for keen gardeners or people who want to know how to improve their garden with hedges and architectural plants. How To Use Topiary In The Garden looks at how to move away from the idea topiary is twee or old-fashioned, …