THE MODERN MINT BLOG
Easy topiary for a beginner to start with?
Here are the two shapes you should learn to make first….
1 – Balls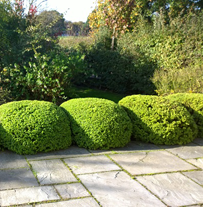 2 – Cones
Even wonky cones like in this photo!
(With thanks to the European Boxwood And Topiary Society (EBTS) for most of the photos in this blog post. Please do check out the amazing work they do researching ways to stop Boxwood Caterpillar!)
Easy Topiary Shapes – Balls & Cones
By starting your topiary making with balls and cones, you make your life easy. They are simple shapes, but they are also strong, effective templates for more original ideas.
Master these and you can develop anything in your garden!
For example, cones can become:
Pyramids
Cubes
Rectangles
Chimney stacks
Spirals
Tiers
Wedding Cakes
Square plinths, with figures on the top
Or even Mexican Gods!
Well-pruned God. Easy Topiary Yes?!!?
A cone gives you a great starting point for the weird and wonderful topiary in your garden, because you get height and width. The height allows you to play, to make something that reaches up and helps draw your eyes to the skies…
The width of a cone (certainly having width at the base of the plant) allows you to scale your design as you go up the plant – look again at the Mexican God figure above, it is built on several levels:
It starts at the bottom with a squared off plinth. Sitting on a wide base gives it a formality, as well as being a nod to us that this is meant to be figurative, nothing less than a piece of art.
Next up, above the plinth, is originally the bottom of a cone shape, but instead of keeping this area a cone they have pruned to make this beautiful 'marshmallow' design with an added twirl.
Was The Mexican God Topiary Really Just A Cone?
Yes!
You can tell the figure was originally a cone because from the base it tapers up, narrowing at the head. The arms of course bulge out, giving the design an extended form and bringing an extra dimension of fun to the topiary but that basic shape was a cone, the easy topiary template to start from.
You need a good eye to transform the cone into this, but also you need time.
Time is so so important!
You are working in 4-D, thinking ahead 6 months, 12 months, 2 or even 5 years. The wonderful snap upwards in the right elbow of the Mexican God topiary's arm could well have taken a few years to develop – the basic thrust of that shape back upwards at the elbow could have been cut and angled early on, from the simple cone, but the character and movement in the arm needs time to develop.
The branch (branches?) grow and thicken and improve with each years clipping. The softness and roundness in the bicep improves each time it comes under the shears, as does the accentuation of that lower arm going back up to the sky.
Patience and regular clipping. So important in making topiary.
Time? I Don't Have Time!
Ok ok! Not a lot I can do about that, other than suggest you start with the easy topiary shapes – the ball and the cone.
Then if, for example, it turns out the cone is shaping up well and looking healthy, you may find the time and wish to go ahead and be a little more imaginative in the topiary you make.
Who knows?
Start today anyway, and explore that sense of humour of yours to create your own piece of topiary – either figurative like the Mexican God or perhaps even something more organic.
But remember, easy topiary is best started with the simple template of a ball or a cone.
March 17 th 2020
Sep21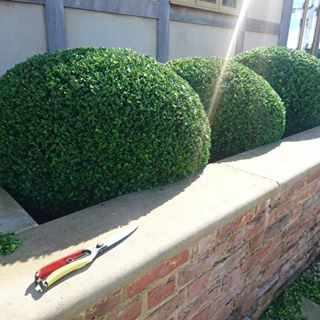 I was asked by the European Boxwood & Topiary Society to help out with answering a common question – How to sharpen your shears? So we spent a fun day making a video, that hopefully will help you make sure you have sharp, shiny blades to do your topiary pruning with. And you can find here more examples of the topiary I make with my sharp blades.
Aug16
You can get a ticket for this new talk I'm giving at the European Boxwood And Topiary Society here – TALK TICKETS It is on the 25th August at 6pm. It should be great fun and I'm very excited to be sharing some recent thoughts about topiary with people – and how it might work in a modern garden.
Jun14
If you have a subscription, you can check out an article about bespoke ideas for your garden in the Telegraph. There are some great crafts people there, so check it out. Click Here To See The Article About my Topiary Work In The Telegraph