THE MODERN MINT BLOG
This is a guest post from Naomi Webb – – Naomi Webb is a freelance writer specialising in lifestyle content who has written for a wide range of publications, focusing on providing home and garden tips/advice for a variety of audiences.
Squirrels may look adorable as they scurry up and down trees, jumping from branch to branch in search of nuts. But, you won't think they are so cute when they start destroying all your hard work in the garden.
Once you have seen them digging up your bulbs, raiding the bird table and damaging your plants, these bushy tailed critters will become the source of frustration for even the most novice of gardeners.
So, if you do have squirrels in your garden that are being a nuisance, how do you deal with them? Well, firstly you can relax because that ongoing battle with these cheeky creatures is about to come to an end…
Here are a few humane ways you can deter the two most common problems and keep you garden safe from their sharp claws and ever-growing teeth.
Stealing the bird's food
Squirrels like nothing more than to raid your bird feeders – this doesn't only mean there is no food left for the birds you are trying to attract (and as a result you are spending an awful lot of money topping them up almost daily) but it will also make a mess of the garden.
The first thing you might want to do is get rid of the bird table – which isn't really the end of the world for you or the birds as these are often used for unsuitable food, and can become incredibly unhygienic if not cleaned regularly. They also can also attract mice and rats, as well as squirrels!
If getting rid of the table might feels like a shame, remember that you can still feed the birds. Did you know that you can actually get squirrel proof feeders?
You may also want to try not feeding the birds for a short period – so the squirrels stop seeing you as a food source, or you could even add chilli powder to the feeder – this will deter the squirrels without harming the birds.
There are squirrel repellents available at most garden centres such as – 'Squirrel Stop' – described as the equivalent of feeding them a vindaloo – this natural blend of capsicum peppers and plant extracts leaves them with a hot mouth – something they definitely won't want to risk getting again!
Digging up bulbs and plants
Squirrels will dig holes in your garden to either stash food away or try and find the food they have already stashed – and the fact that you have just planted a bulb isn't going to stop them! As a result, you can go out into your garden to find chaos – pots knocked over, soil and flower heads across the patio, bulbs missing and so on. But, what can you do (besides watching your garden 24/7) to stop this happening?
Again, you can use squirrel repellents to protect your plants from their crafty claws – simply sprinkle these around problem areas. You could also use scarers, ribbons and balloons (preferably with eyes drawn on) to deter them from your trees and bushes.
A few simple changes means you can carry on feeding the birds and growing beautiful flowers without having to worry that all your hard work will be undone in a matter of minutes by those pesky squirrels.
July 9 th 2016
Sep29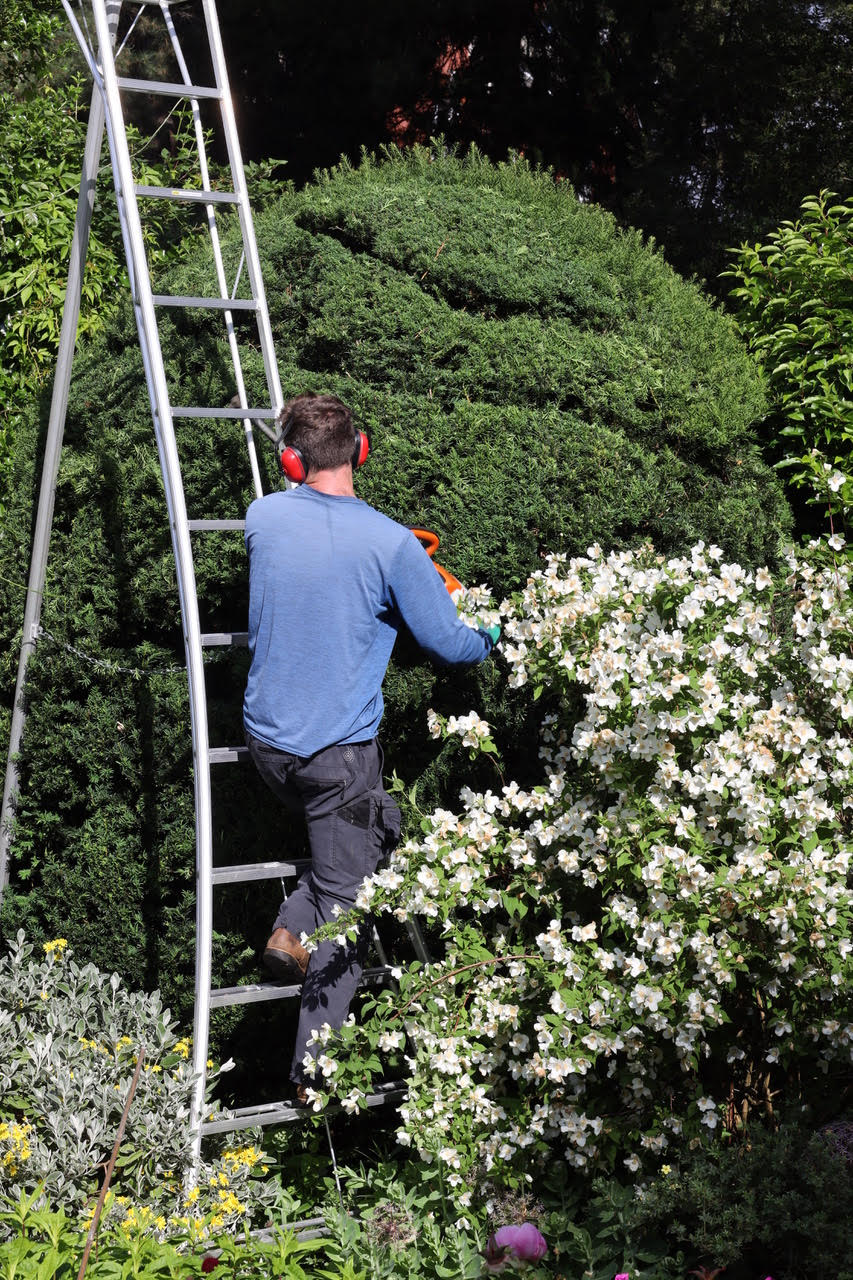 Making a new topiary out of the large, dull facade of a Taxus blob… My work was to change it up from a 'jelly drop' shape and give it texture, open it out and let the light through, and make it a sculptural feature in the background of the garden in summer… yet a major part of the garden in winter. A few more years before it becomes something special, but there was far more leaf and growth inside the plant than I thought and so it will not take too long for it to gain in character and become …
Sep27
Two weeks ago I was invited to teach topiary at the garden of Griselda Kerr, the author of The Apprehensive Gardener. I love teaching and sharing skills, but I was placed on the spot in the afternoon and asked to show how I would make a new topiary from an existing shrub. So below is a speeded-up video of me creating a cloud-pruned topiary from an old boxwood tree. I particularly love the ending when the class get involved….! See the video here. One hour was all it took, and though it needed a little tidying-up, it was made by …
Sep27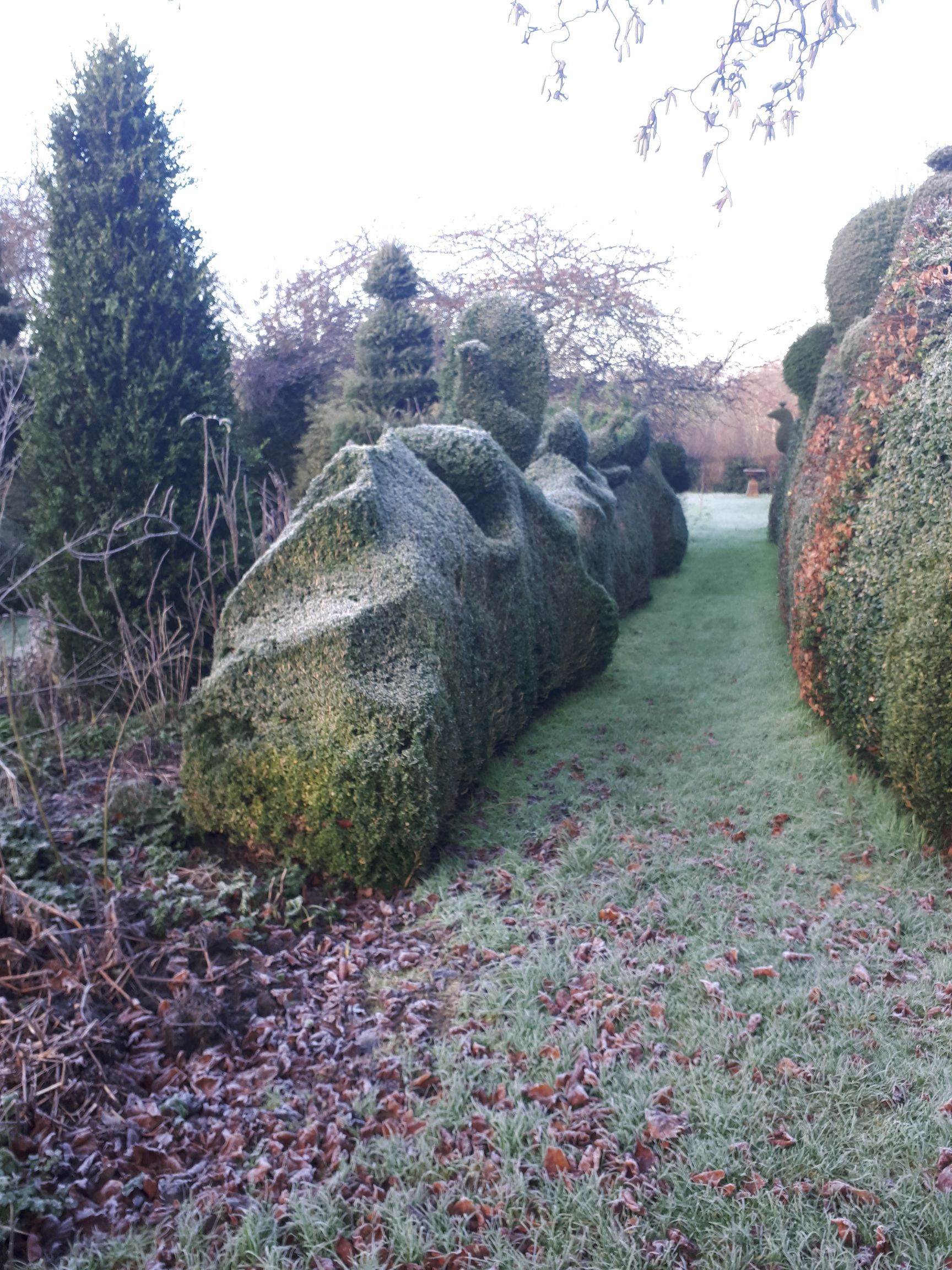 Charlotte Molesworth, my topiary mentor, and I are running our popular topiary workshop again in 2022. You can email me for details – or go here for information, your ticket and to find out about dates. Book A Spot On A Topiary Workshop, September 2022